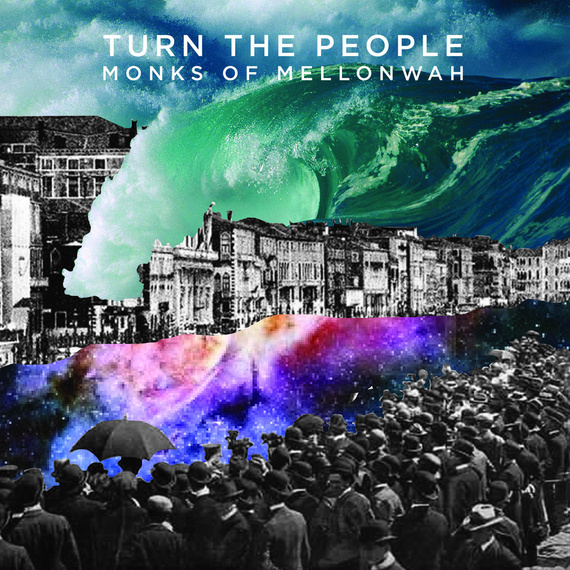 The Sydney, Australian band Monks of Mellonwah, also known as MOM, have recently released their first full length album. On the music scene since 2009, this progressive rock quartet has produced six EPs since their beginnings. Nonetheless, this new twelve track album, which begins with a short intro, will not sound new to their followers. The tracks have already appeared as part of a trilogy that contained four songs in each EP. This begs the question: Why go through the trouble of rehashing old material when all a fan has to do is dig up one or all of the three?
To their credit, the band toured nationally and internationally, showing-off their merging of alternative rock, pop, electronic and progressive sounds, picking-up some awards on the way. Additionally, their music has received global airplay on radio and television and has caught the attention of the renowned producer Keith Olsen who brought fame to Ozzy Osborne and Fleetwood Mac. Some music critics have gone so far as placing them on the same plateau as other prominent rock and roll bands of the past and present. My first impression of them a year ago was that they were trying to find their way while building up a fan base -- their sound reminiscent of Red Hot Chili Peppers.
At this juncture, the problem might be that they are trying too hard to sound like those bands that have already made names for themselves. And I'm afraid that MOM risks becoming imitators and not innovators. The truth, the Red Hot Chili Peppers have so much going for them that no one would argue that they are a model to be respected. But, let's face it; most people more often than not enjoy something new, even from those they follow.
The Monks do demonstrate an understanding of the formula that makes bands like the Chili Peppers very appealing. It's not as if the Monks should consider abandoning the blueprint, but instead use the knowledge to open up the door for new creative possibilities. This new album, Turn The People, is disappointing because it doesn't turn into anything other than a repeat performance. And if you already know the soundscape, there's just one new song "Tear Your Hate Apart" on this effort; which, by the way, sounds like the other pieces on the album with only some minor deviations.
The album starts off with a short instrumental introduction before moving on to its first track "Ghost Stories," where vocalist Vikram Kaushik chimes-in. By the third track, the MOMs are grooving to a charming danceable piece "Vanity." You might lose your pulse on the fourth track, but then on songs like "Escaping Alcatraz" and "Afraid To Die," the Monks deliver some orchestral drama. Overall the album is just too long to devote time to and, for followers, too familiar.
There is a myth that some musicians find themselves adhering. And this falsehood is that a large body of work in one album will be more successful than shorter projects. Maybe this is the reason why MOM followed this trend. But, it seems like they were better off sticking to twenty minute EPs as opposed to an hour-long effort. This album begins to sound messy and hard to get through in its entirety. In fact, the tracks at times appear disjointed. But, most of all, Monks of Mellonwah have yet to locate that special something that will make them stand apart from bands like them.
You can stream Monks Of Mellonwah's music on BandCamp.