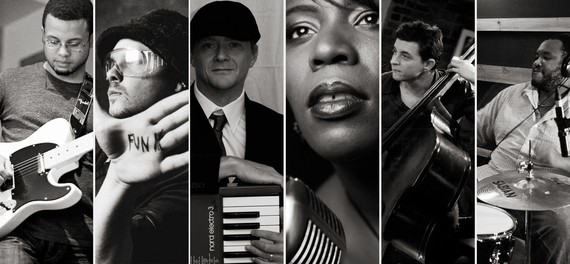 When members of a band are bold enough to call themselves The Funk Embassy, one might think that the enfant terrible, James Brown resurrected. That the hypnotic effect of "the cape" is about to unfold. That the Funk is about to make people feel good, maybe even inciting someone to stand precariously on the edge of an upper balcony and dance. At best, one would expect to get a brand new bag out of The Funk Embassy. But instead, a fusion of Blues, Soul, Rock, Jazz, R&B, a bit of hip hop, and a bit of rap is what one gets. But, please, please, please don't fret because this is the stuff that Funk is made of.
But to understand this point, we have to back step a bit. We have to go back to the rural south of 1940s when the Mojo men migrated northward to cities like Chicago, Detroit, Cleveland, Pittsburgh, Philadelphia, Newark, and New York. Rural musical customs, cultivated in places like the Mississippi Delta, soon transformed the rural blues into the urban blues. By the mid 60s, the amalgamated musical happenings in the big cities eventually led to the mojo becoming the funk. It would not be far stretched to find several types of American roots influences embedded in the "stank", a term commonly used in Funk circles implying sexual licentiousness.
The Funk Embassy's new eight track album Shinning On was created by Thierry Matrat. The members of this group all flock together by the same musical current, their love for American roots music and awareness of early soul-funk recordings. Soulful singer Ron Littlejohn (lead singer) and the gospel funk of Alana Bridgewater transport Thierry's vision into a musical collaboration. And if the core meaning of funk is making something out of nothing, then the fifteen musicians on this album did just that. For this reason, they do live-up to their chosen moniker, delegates of a musical past.
The first track on the EP Shining On is a soulful blues song with a smooth vocal relationship between the male and female emphasizing a message of self-determination and offering a spiritual uplift in the face of naysayers. The next track "Seems Like Yesterday" quickly shifts into a 70s, 80s, R&B, Hip Hop revival--turntables and all--and a James Brown-esque rap sermon. The closest the album gets to "stank" comes along on the third track where the sex-drenched vocalists get down and dirty on "Light Me Up''. A nostalgic jazzy tune with a little bit of spoken word comes along toward the end of the effort. But the closing moment is a groovy rock and roll piece "Emma Lee" a song about overcoming the Femme Fatale archetype, which has a uncanny resemblance to The Rolling Stone's "You Can't Always Get What You Want".
One could say the EP is retro, or perhaps even stuck in a time warp. Maybe the Funk Embassy started off wanting to get funky, but ended up not quite getting what they wanted. And if James Brown resurrected and performed these songs, he might turn away from some and go on to the next before he lost his audience.
You can listen to Ron Littlejohn & The Funk Embassy's album Shining On on BandCamp.
SUBSCRIBE AND FOLLOW
Get top stories and blog posts emailed to me each day. Newsletters may offer personalized content or advertisements.
Learn more