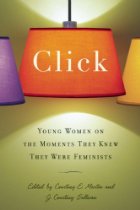 A number of years ago, I had a part-time gig at an elementary school where I taught afterschool classes in art and film classics. One warm June day, it was decided that the kids could spend thirty minutes in the playground. As I watched a scene that was a combination of raw energy and mayhem, I observed a small girl of about eight years old walking away from the three-tiered jungle gym. She was crying. I quickly approached her to find out what the problem was. She pointed to a skinny boy with black hair perched at the pinnacle of the metal bars. He was grinning proudly. She said, "He told me only boys were allowed at the top."
SUBSCRIBE AND FOLLOW
Get top stories and blog posts emailed to me each day. Newsletters may offer personalized content or advertisements.
Learn more