$1.08 trillion. As you may have heard, that incredibly large number was our country's amount of student loan debt in 2013.
With unemployment rates still well above pre-recession levels, some college graduates are wondering if their degree was worth the price. Millennials, those born after 1982, were one of the hardest hit groups during the economic downturn. Many took out student loans to pay for the rising costs of tuition but were unable to secure jobs after graduation. Instead of a six-figure salary, over one million Americans boast a six-figure student loan balance.
A recent UBS Investor Watch survey revealed that the effect of these economic events has inadvertently turned millennials into the most financially conservative generation since the Great Depression. This leads me to wonder if the combination of frugality and regret could prevent them from encouraging their own children to attend traditional college.
Is a four-year college education really worth the high price tag when there are cheaper options available? It's no surprise that the popularity of more affordable alternatives is on the rise. It can be tempting to consider pursuing an associate's degree from a community college when the cost of a private school education is currently around $45,000 a year (Source: College Board).
It's actually more important than ever.
According to a recent study released by Pew Research, a four-year degree is more valuable today than ever before. "The Rising Cost of Not Going to College" found that of the millennials surveyed, college graduates who are working full-time are earning about $17,500 more per year than workers without a degree. This earnings gap has been widening with each generation and has nearly doubled since the nineteen sixties.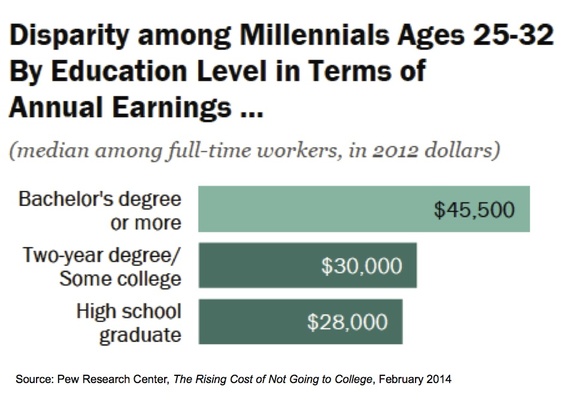 The report also concluded that the majority of millennials, including those who took out student loans, feel their degree was worth the price. Those who earned bachelor's or postgraduate degrees were more likely to expect the cost of their education to eventually pay off than those with two-year degrees. More graduates of four-year universities also claimed that their education better prepared them for their career and they had more overall job satisfaction than those who completed a shorter program.
Those with a two-year college degree may have paid less money to attend school, but it appears they have a lot more regrets.
Save now, thank yourself later.
One of the best things you can do to prepare your child for college is to start a savings plan. Although many realize the value of a university degree, the growing price tag keeps it out of reach. Don't let this discourage you. Any amount you save will offset the amount of money you will need to borrow. Plus, if you invest in a 529 college savings plan your money will earn tax-free interest (versus a loan that will charge you interest).
You may also want to consider starting a college fund if you are concerned about the possibility of "debt without diploma." According to a report released by the University of Kansas's Assets and Education Initiative, opening a college savings account increases the likelihood your child will attend and complete college. Students who saved for college were at twice as likely to complete their degree program on time than those who relied on borrowing.
Strapped with their own student loan debt, millennials may be reluctant to invest for the future costs of college. Fortunately, even a small amount will make a difference. The University of Kansas's study revealed that a dedicated college savings account of as little as $1 would increase the chances that a child will attend college from 45 percent to 71 percent. Another way to boost savings is to ask family members if they are willing to contribute in lieu of birthday and holiday gifts.
The recent state of the economy has been difficult, but the fact remains that those with a college degree have a growing advantage over those who do not.

Do you feel that the money spent toward your post-secondary education was worth the cost? What are your regrets? Do you agree that millennials are becoming one of the most financially responsible generations?
5 States Where Tuition Is Rising
Average tuition and fees for in-state student: $9,022 in 2011-12 Increased: 20.5% from a year prior and 98.3% from five years prior The worst could be yet to come for students in California's public universities. If California residents vote against state tax increases in the November elections, the school system will have to come up with money fast to fill the $375 million budget gap that would ensue, says Dianne Klein, a spokeswoman for the University of California's Office of the President, which is the headquarters for the 10 UC campuses. Under that scenario, tuition could rise 20.3% for the second semester of the upcoming academic year. Much of California's growing college-cost burden has been placed on out-of-state students. The 10 most expensive campuses for out-of-state students in the U.S. are all in California, where tuition, fees, room and board in total ran up to roughly $51,000 last year, according to the Chronicle for Higher Education. Klein says that despite the rising costs, overall applications to the UC system are going up; she also says that because of the system's financial aid programs, about half of all UC undergrads pay no tuition.

Average tuition and fees for in-state student: $9,428 in 2011-12 Increased: 16.8% from a year prior and 101.7% from five years prior Since 2008, Arizona's public universities have laid off faculty and staff and eliminated academic programs in order to make ends meet. This year, state funding will total $708 million, compared with nearly $1.1 billion for the 2007-08 academic year, says Katie Paquet, spokeswoman for the Arizona Board of Regents. As tuition costs have risen, the largest universities in the state have rolled out lower-cost ways that students can attain a Bachelor's degree. This fall, Arizona State University will open a new campus in Lake Havasu City, where annual tuition for state residents will cost $6,000, nearly 40% less than at its campus in Tempe. Also, Arizona's largest universities -- ASU, University of Arizona and Northern Arizona University -- are offering students who transfer from community colleges a lower-cost way to complete their Bachelor's degree; in some cases, students will be charged the cost of tuition during their freshman year in community college rather than the tuition the four-year school charges when they enter it. "Our goal is to provide more options to students across the state at varying price points," says Paquet. Separately, for the first time in two decades, Arizona State University and the University of Arizona have frozen tuition for in-state undergraduate students for the upcoming academic year. Tuition for out-of-state students will rise by roughly 3%.

Average tuition and fees for in-state student: $6,808 in 2011-12 Increased: 15.9% from a year prior and 74.2% from five years prior Beyond tuition hikes, Georgia college students are also facing cutbacks to a popular state scholarship program. Last year, the state reduced the amount of money it doled out to students through its merit-based Hope Scholarship, amid concerns that the program was underfunded. The program, which used to cover 100% of tuition costs at the state's public colleges for qualifying students, covered roughly 87% last year; this year, as tuition continues to rise, the scholarship will cover 81% to 85% of costs in the university system. The state is also looking at cutting direct funding to higher education. Georgia Governor Nathan Deal recently proposed a $54 million cut through June 2014, which if enacted would reduce spending over that period to roughly $1.7 billion. A decision is expected early next year. John Millsaps, spokesman for the University System of Georgia, says public institutions have had to shift much of the cost burden onto students as state funding dwindles. Over the past seven years, state funding went from covering 75% of the cost of educating students to 50%, he says.

Average tuition and fees for in-state student: $9,484 in 2011-12 Increased: 15.7% from a year prior and 67.3% from five years prior Unlike most states, Washington doesn't have an individual income tax; instead, it relies on sales taxes for much of its revenue. Income from that source slumped during the recession, leaving the state with less money to go around. To make up for the shortfall, the state granted permissions to its public universities to raise tuition, and students have felt the impact: Six years ago, it cost roughly $5,700 on average for an in-state student to attend a public college in Washington. That's hovering around $10,000 this year. In June, the University of Washington announced a 16% increase in tuition and fees for the upcoming year, following a 20% increase last year. The state is covering just 30% of the cost of educating its students, the lowest share ever, says Norm Arkans, a spokesman for the University of Washington. He says the institution's relatively low tuition and fees provided some leeway to raise costs, but adds that the strategy isn't sustainable in the long term.

Average tuition and fees for in-state student: $6,044 in 2011-12 Increased: 13.7% from a year prior and 65.8% from five years prior Few students have been immune to tuition spikes in Nevada. During the five academic years ending this past spring, Nevada raised tuition and fees at its community colleges by 48% on average, one of the highest increases in the country, according to the College Board. Costs at four-year public colleges rose 66% over the same period. And midway through the last academic year, the state approved an 8% tuition increase for all undergrads, which will kick in this fall. Still, despite the increases, the cost to attend a public college in Nevada remains lower than the national average, says Dan Klaich, chancellor of the Nevada System of Higher Education.
Follow Marcos Cordero on Twitter: www.twitter.com/saving4college