"Courageous Conversations" was the theme uniting the sessions throughout the agenda of the 11th annual Corporate Philanthropy Summit in New York City, hosted each year by the Committee Encouraging Corporate Philanthropy (CECP). The audience of more than 200 senior corporate giving officers from the world's most influential companies, who together represent $15 billion in annual corporate contributions to charity, came ready to be inspired, have their thinking stretched, and to get their toughest questions answered by their peers.
The event kicked off with Arianna Huffington galvanizing the crowd around what she as dubbed the "Fourth Instinct" to find spiritual fulfillment and meaning in our lives. She urged us to focus on building critical mass in the service of real, lasting community solutions.
A standing-room-only session on Impact Investing challenged giving professionals to consider funding programs that create a profit and a societal benefit at the same time. Leaders from the "A Billion+Change" project provided a road map for bringing the power of skills-based employee volunteer programs to life and Michael Smith of The Case Foundation led a social media panel on how to engage employees and consumers in a two-way dialogue on the company's community commitments. Nonprofit luminaries Nancy Lublin of DoSomething.org and Dr. Helene Gayle of CARE USA delivered rapid-fire best practices regarding how companies and their nonprofit partners can work better together, stressing candor about goals and a "gut check" at the outset of any partnership to ensure that the relationship between institutions unfolds in a mutually-strategic way.
Newark Mayor Cory Booker delivered electrifying remarks on the state of democracy and asked, "Will we seize the highest ground of our collective aspirations or descend into the gutters of a cultural tradition that undermines what we hope to be?"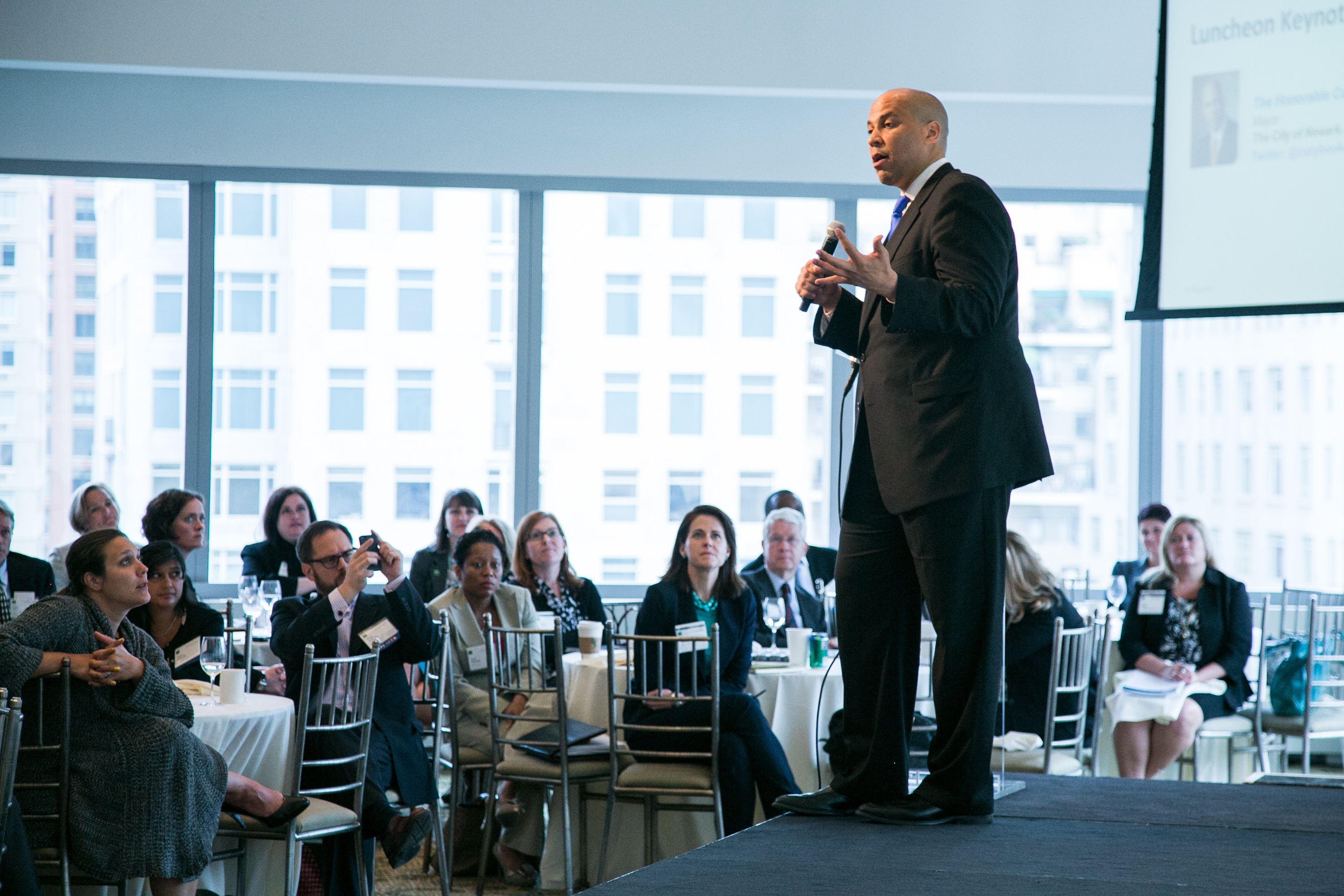 These exemplary organizations together recognized basic needs -- water, food and shelter -- in their communities and applied their core business competencies in distribution, delivery and logistics management. Applications for the 2013 award are online and we encourage companies and their nonprofit partners to share their stories for consideration by our independent selection committee later this fall.
CECP announced the leading story from an analysis of more than $100 billion in corporate giving data collected since 2001, through the Corporate Giving Standard survey, now conducted in association with The Conference Board. Corporate giving is up and is becoming increasingly focused. Despite persistent uncertainty in global markets, corporate giving has rebounded from a low point in 2009. Companies are making fewer grants, grant amounts are increasing, and companies are selecting social causes that tie to the company's expertise rather than spreading funding across many issue areas.
In crafting the Summit agenda each year, CECP looks across sectors for the topics, models, ideas, and thought leaders who are setting the pace for how everyone with an interest in how companies can better serve the greater good and reach higher levels of impact with their work. We invite anyone who shares this mission share with us what you're reading, thinking, and hearing so that we can ensure all "courageous conversations" going forward represent the most advanced and thoughtful perspectives on our world's most complex philanthropic issues. We look forward to hearing from you! @CECPTweets
SUBSCRIBE AND FOLLOW
Get top stories and blog posts emailed to me each day. Newsletters may offer personalized content or advertisements.
Learn more