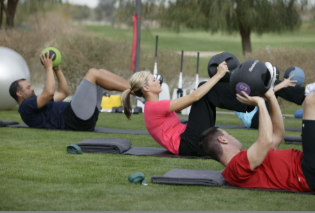 What doesn't kill you makes you stronger, I say to myself as Steve Heller, exercise physiologist, fitness director, and creator of FORE-MAX Golf Training Systems® grasps my ankle and pushes my heel closer to my butt. I'm not the only crazy one who does this killer workout at The Westin Kierland Resort & Spa in Scottsdale, Arizona. So do golfers Ryan Garko, Jeff Quinney, and Rickey Barnes -- which makes sense because Heller developed it twelve years ago to help golfers hit the ball further. Now everyone does it, from Major League Baseball players, triathletes, and elite runners, to wannabes and weekend warriors like me. FORE-MAX increases strength, endurance and flexibility while developing washboard abs and pecs of steel.
Only ten minutes into the 90-minute workout and my quads are screaming. This is the toughest class I've ever done, bar none, much harder than doing an Olympic-distance triathlon or running a marathon.
Steve Heller is slim, in his thirties, with movie-star good looks, and an encouraging tone ("C'mon, just a little more... breathe... you can do this"). Underneath his sweet exterior is a pit bull who does not let go of an opportunity to help you stretch just a millimeter further and hold a pose a nanosecond longer. The class has became so popular that there's a waiting list and Heller now teaches FORE-MAX five times a day, often outside. Eight-five percent of those who take it are locals and the other 15% are hotel guests, like me. The work-out is an intense combination of squats, lunges, push ups, crab walks, and spiders, either using your own body as resistance or with medicine balls, straps, and physioballs.
Another component is incline treadmill sprints, which is mainly why I've come: I want to run faster and injury-free. As a weekend warrior I've had just about every injury in the book.
I kneel and pull my arms backwards 25 times. "Lengthen your spine and keep your abs tight," Heller says. He turns to the guy next to me and I take a little break, thinking he's not looking, but he's got eyes in the back of his head. "Hey, did you finish those already?" he asks. Next are 100 pelvis raises with legs lifted to the ceiling, followed by 100 crunches with a 4-pound medicine ball.

We move into the gym to the infamous Woodway, a super high-speed treadmill that goes up to 25 miles an hour and has twice the incline of an ordinary treadmill. But first, two sets of lunges across the room. I climb onto the treadmill and he turns up the incline, then the speed to 7, then 8, and finally 10. My lungs are gasping, my legs are churning, I think I'm going to pass out. "Good, just a little more," he says. "Get out of your comfort zone." What comfort zone?
He slows down the treadmill and I suck in air as I stumble off. Another two sets of lunges, more treadmill sprints, even faster. Then, a new combination of a walking downward dog with pushups before a third set of treadmill sprints. "Great job," he finally says. "You're done."
I head straight for the Agave Spa bar for the fresh fruit smoothie included free with every FORE-MAX class. I slump into a chair. Yes, this is the hardest class I've ever done -- and I can't wait to do it again. But it will be a while before I'm back in Scottsdale, so I call to order a DVD of the workout (480-624-1202) -- even though I know that left to my own devices, it's dubious I'll do it on my own!
SUBSCRIBE AND FOLLOW
Get top stories and blog posts emailed to me each day. Newsletters may offer personalized content or advertisements.
Learn more