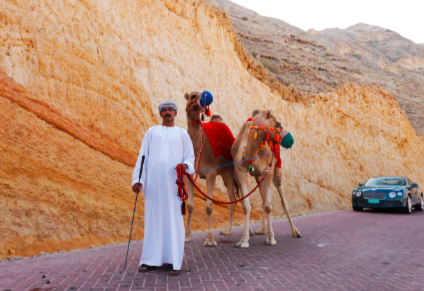 Camels on a Road in Oman (Photo: Bentley Motors)

I feel like a princess out of Arabian Nights as I walk towards a brand new Bentley Continental GT coupe , which is lined up in a row with seven other Bentleys in front of the Barr Al Jissah Resort & Spa in Muscat, Oman. Two Omani men in long white dishdashas stare in awe at the eight shiny sedans, identical except for color. There's Orange Flame, Liquid Mercury, Thunder, Moonbeam, Diamond Black, Onyx and Aegean Blue. Mine is Cambrian Green.
Alasdair Stewart, a Bentley Motors member of the board and my designated driving partner, takes the passenger side as I slide onto the buttery-soft driver's seat. I breathe in the heady aroma of brand new leather and reach for my seatbelt, unnecessary because it automatically slides forward. I turn the key in the lock but the car won't start. This is not an auspicious beginning. "It's keyless," Alasdair says. Relieved, I push a button on the console and the car purrs to life. Most of the other Bentleys have already headed out, so I move forward thinking, What if I crash this $200,000 vehicle?
I am not a petrol-head, car-junkie or auto-hack. But here I am in Oman with thirteen other international journalists to test drive the brand new 2012 Bentley Continental GT. The others are all guys and write for automotive publications. I'm the sole female, I don't write about cars, I don't even own a car, and except for one rental in Ireland, I haven't driven in ten years. I guess Bentley wondered what a female non-techie would think of their product -- truthfully, I'm partial to sports cars.
When I tried to read about the Bentley, my eyes glazed: "The engine is designed in a unique 'W' configuration, the most compact 12-cylinder engine in the world with four camshifts and 48 valves." Then I read, "The new Continental GT coupe is capable of devastating speeds. In tandem with a new six-speed Quickshift transmission, it will launch from standstill to 62mph (0-100m/h) in just 4.6 seconds and reach a top speed of 198 mph (318m/h)." Now that I can relate to, especially as I've gotten too many speeding tickets during my lifetime.
We crawl along in the traffic of Muscat and Alasdair says that all the leather is hand-stitched and the console is padded. I squeeze the dash -- it's got to be a half-inch thick. They don't just slap any leather onto the dash, either. At the Bentley factory in England, the craftsmen examine the hides, and if there's any imperfection, such as where a cow might have scratched against a fence -- the hide is rejected. Same thing goes for the handcrafted veneer. I cannot fathom anything being so completely hand-built in this day and age.
We pass the port where the Sultan of Oman's yacht is docked on our way to Nizwa, Oman's early capital, 210 kilometers away. Here, we'll have lunch, visit the fort, haggle at the souk, and then return to Muscat. Each car has two journalists to share the driving, but because I'm with a Bentley person, I get to drive the entire way. Yahooo! We stop for a red light. "Do you want to turn on the massage feature?" he asks.

"You're joking, right?" I say.

"Just push the button under your seat." I do, and the seat vibrates -- even better than the one where I go for my pedicure in Manhattan.
Once out of the city, we're on a road surrounded by jagged mountains on all sides. I go faster and faster to test the car's power. It's bigger than I'm used to, but it doesn't feel big at all. It drives like a sports car, though it's a lot quieter. I'm liking this! I look at the speedometer; I'm going 100 miles per hour, but it feels like 50. The road winds to the left -- then to the right. If I were in a sports car, I'd be downshifting.
I don't like automatic, I tell him.

"Use the paddles," he says.
Paddles? What is he talking about? This isn't a kayak!
Turns out, paddles are levers on both sides of the hand-stitched steering wheel. I can shift up or down by tapping, and can also double downshift. Cool! I fly around the bend. It corners like a sports car, sweetly hugging the bend. The road straightens out and I accelerate. One hundred thirty miles per hour! I can't believe it, And the car isn't making a sound!
Here I am in Arabia, flying in my magic carpet, surrounded by the endless sienna-colored mountains -- not a street sign, village, or any sign of life. I've never gone this fast before. If I weren't such a coward, I could push it to 198 mph. Where are all the other drivers, I wonder. Are they going so much faster that they're miles ahead? Oh my GOD! Up ahead on the side of the road, I see a man leading two camels. One of the camels looks back at me as I brake hard -- no squeak, no squeal, no screech, no laying rubber. Just a smooth stop.

I wait, then slowly pass, gaping at the beauty of the copper-colored mountains surrounding us. I don't speed up right away. Maybe because earlier, Alasdair explained what "touring" means -- going for a ride for no reason except for pleasure. We Americans need a destination -- a goal. Maybe if I owned a bespoke model like this lean, mean driving machine, I'd just take it out for a spin -- up the Hudson or to the Adirondacks, because in a car like this, a six hour drive would feel like nothing -- especially with the massage feature on.
But I'm getting itchy going slow, so I speed up, pretending I'm a racing car driver. After a while. I see the orange Bentley ahead of me. I wonder which petrol-head is driving it? Doesn't matter. I double downshift, push down on the accelerator, and without even trying to hide my huge grin, I pass him. Oh yeah!


Follow Margie Goldsmith on Twitter: www.twitter.com/margiegoldsmith