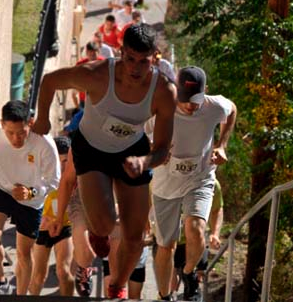 I am bummed. I planned a trip to Arizona to participate in the Bisbee 1000, a 4.2-mile race up 1,000 steps and back-roads on October 16th. I also planned to enter the Iceman Competition in which you climb a set of 155 stairs while carrying a ten-pound block of ice in a set of antique metal tongs.
The Iceman race started seven years ago as a way to entertain spectators and participants while awaiting the Bisbee 1000 awards ceremony. Now, it's a serious race. Truthfully? I was looking forward more to that race than the 1,034 steps climb. So why would I fly all the way out to Arizona to climb some stairs? Probably bragging rights.
I'm the slowest person in my NYC triathlon club and when the other athletes smoke past me on their bikes or a tempo run, it can get pretty discouraging (even though they couldn't be nicer about passing me). So, to make myself feel less like a loser, I challenge myself in other ways. I go off to New Brunswick and do wacky things like deepelling (upside down rappelling) or riding a bike on the ocean floor during low tide while wearing a kilt or heading out to Austin Texas to try paddleboarding, or even kite buggying in the Quebec Maritime.
I was really looking forward to the Bisbee 1000 and the Iceman climb this October, even though I hadn't yet done any serious training. Oh sure -- I made a feeble attempt at running up and down the stairs of Esephus when I was in Turkey last May -- but it was really too beautiful to try and train. And at Mii Amo at Enchantment Resort in Sedona a few weeks later, I would have run stairs had there been any, but it was all trails. Nor could I do stairs in Aspen, where I went for an altitude climbing bike clinic because I was much too tired after huffing and puffing up Maroon Bells and Ashcroft.
In June, I went to Quebec City for a conference, a perfect place for climbing stairs. There's an entire series of outdoor staircases including Breakneck (59 steps), Escalier du Faubourg (99 steps) Lépine (118 steps), Cap-Blank (398 steps), Escalier Escalier de la Pente-Douce (133 steps), and Charles Baillargé Stairs (35 steps) for a grand total of 842 Quebec City steps. This was ideal for training for Bisbee. But there was a problem: I was staying at The Fairmont, Le Chateau Frontenac just a block from Simon's a fantastic department store with the coolest, most inexpensive clothes I've seen in a long time. And with new merchandise arriving every day, of course I chose shopping over training.
Still, I wasn't going to let lack of training stop me from going to Bisbee -- until I broke a rib. I THINK it was from kayaking, but I don't know for sure. I do know that there's now no way I can climb 155 steps carrying a 10-pound block of ice in ice tongs or do the 4.2-mile Bisbee1000.
But YOU can enter the competition! And you still have time to train for either the stairclimb, the Iceman, or both. Prizes go to the fastest, the oldest, the youngest, or the one who traveled the greatest distance to get there. Leave me a comment if you go. And if you go and don't win? Well, you still get a great T-shirt. Does it get any better than that?

SUBSCRIBE TO & FOLLOW LIFESTYLE
Get top stories and blog posts emailed to me each day. Newsletters may offer personalized content or advertisements. Learn more