Despite coverage of the Occupy Wall Street, confusion about the protests' message abounds. And attitudes toward Wall Street, such as blame for the economic crisis, are volatile. Meanwhile polls also show blame toward Obama is largely constant, and voters continue to blame former President Bush most of all.
A recent USA Today/Gallup survey shows far more Americans blame the federal government (64%) than financial institutions (30%) for our current economic problems. Even Democrats (barely) give the federal government more blame (49%, 46%, respectively). A Washington Post/Kaiser survey from earlier this year showed similar results, with "the government in Washington" receiving far more blame (54% a lot, 30% some) than either "consumers who spent more than they could afford" or "Wall Street financial institutions."
It also seems blaming Wall Street is on the decline. The chart below shows tracking from CBS News of the percent who place most blame on Wall Street for the nation's economic troubles (above both Presidents Bush and Obama, and Congress).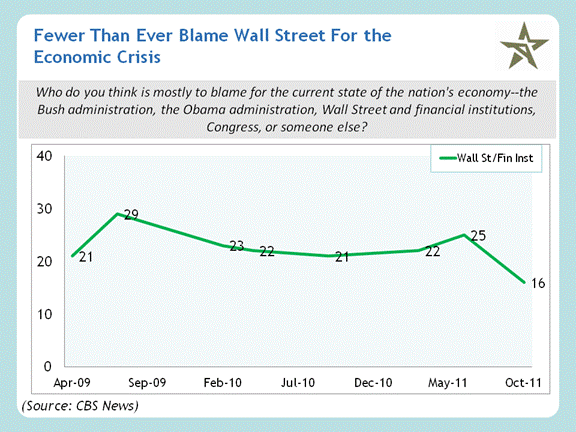 Other measures show different pattern. Democracy Corps asks a feeling thermometer of Wall Street, and they kindly shared tracking with us. Favorability toward Wall Street was low during the earlier days of the crisis (28 on a 0-100 scale in October 2008), rebounded some (39 in January 2011), and then fell again recently (34 in October 2011). And this CNN/ORC International poll shows attitudes toward Wall Street have worsened considerably over the last ten years.
So Occupy Wall Street may have come at a good time, to boost and stabilize concern about income inequality and its resulting power inequities. But other current USA Today/Gallup polling shows far more voters unsure of the movement's goals (63%) than can either express approval (22%) or disapproval (15%). The movement's message is not yet getting through.
At the same time, blame aimed at Obama is mostly constant. In September USA Today/Gallup showed a majority (53%) blaming Obama for the national economic crisis, a new high. But more place a "great deal" or "moderate" amount of blame on former President Bush (69%) than on Obama (53%).


Whether in Gallup's version of this measure (two separate questions), or in the CBS question above, there hasn't been that much change recently. Naturally, more blame Obama now than in 2009, but from 2010-2011 movement was minimal. In the CBS poll tracking from above (recall, a single question with four main choices) Obama continues to receive less blame than all other figures or institutions tested. Blame toward Bush is dropping more than blame toward Obama is rising. And despite the Republican advantage in the midterms, 2010 exit polls showed a plurality blamed Wall Street (35%) and slightly more blamed Bush (29%) than Obama (24%).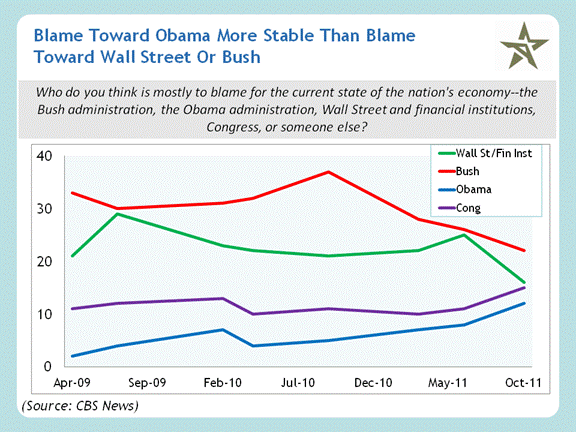 Obviously a continued slow build of blame toward Obama is bad news for the President, especially if blame toward Bush continues to slide downward. Yet blame aimed at Wall Street seems most volatile. This makes a clearly defined Occupy Wall Street message--yet to punch through--poised to move the needle in the other direction.