In an effort to raise awareness to food access and insecurity issues, the National Center for Public Research declared September National Food Desert Awareness Month. Careful, now: it's deserts, not desserts. Forget cakes and chocolate and instead picture large geographic areas with no or distant grocery stores. Research shows that residents of food deserts are more likely to die prematurely and suffer from diet-related conditions such as diabetes, cardiovascular diseases and certain kinds of cancer. Food deserts exist in every type of community across the United States -- urban, rural, and suburban.
Recently I went to Savannah, Georgia, to assess the city's food situation. Established in 1733, Savannah is known as America's first planned city. It is also famous for its picturesque port and lovely collection of historic structures. Early in Savannah's history, farmers discovered that the climate and soil were ideal for cultivating cotton, rice and lush backyard gardens full of great varieties of nutrient-rich produce. But just as in many other cities, small towns and even rural areas all across the country, local residents eventually became more and more disenfranchised from locally produced good food, many settling instead for readymade fast food high in salt, fat and sugar, and low in nutritional content.
One thing we found in Georgia, like in many communities around the U.S., is that gas stations make up a large and growing share of food purchases. Most of these "combination stores" offer several aisles of eat-and-run snacks. Unfortunately, most of this so-called food has very little if any nutritional value. Fast, cheap and easy is not a porn film; it's the new American diet.
At the beginning of my Georgian journey, I challenged myself to find a single fresh banana somewhere along the highway. Honey Buns, cupcakes, Pork Cracklins, fried and boiled peanuts, hot dogs, slices of pizza, candy bars and soda were all easy. Peach stands did occasionally dot the horizon but my banana quest was difficult. I eventually found one that cost 79 cents. Looks can be deceiving, but do you think it was worth eating or worth the money? You be the judge.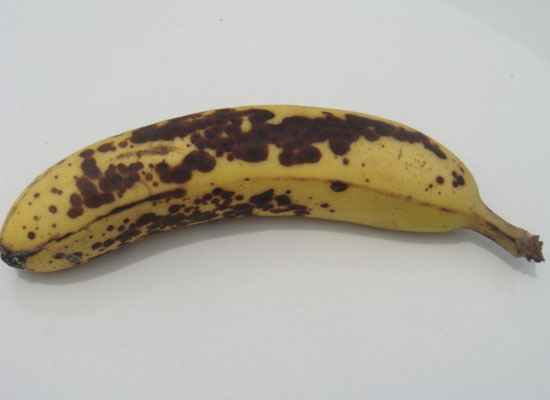 A fresh banana was hard to find on a recent road trip from Atlanta to Savannah, Georgia.
This one was purchased for 79 cents at a highway food and gas mart.
Stopping to get gas and a quick dinner at the same time can be convenient when traveling. But in some food desert communities, gas stations -- along with convenience stores, liquor stores and even dollar stores -- are the only purveyors of food. In those locations, it's expensive to be poor: the quality and availability of good food are often lower but the prices are often higher than in other markets. Finding a mushy banana isn't impossible but you're likely to pay too much for brown spots and bruises.
Not everyone in food deserts is poor, by the way. For example, Chicago has over 13,000 food desert residents whose households earn more than $100,000 a year.
The market is imperfect. Demand does not always equate with supply. And despite warnings from the surgeon general and other health authorities, you can't choose healthy food if you don't have access to it.
The National Center for Public Research launched the Food Desert Awareness campaign across the country with events in Boston, Chicago and Los Angeles. In each location, we are working with local partners on a poster contest that asks children to develop new messages for young people that explain the benefits of good food and exercise. We are encouraging everyone -- including you -- to take our Good Food Pledge:
I pledge that from this day forward I will strive to be an ambassador for healthy eating. I, from this day forward, will strive to choose fruit instead of candy, water instead of soda, baked goods instead of fried foods. I, from this day forward, will strive to educate myself, my family and my community about the benefits of good nutrition and exercise. I pledge that from this day forward I will be an advocate for healthier food options in my community, so that these positive "good food" solutions that I commit myself to today can be easier for me and for everyone to make.
The news isn't totally bad on food deserts, however. Progress is being made in cities like Chicago (see report here), and all over the country, community-supported agriculture, farmers markets (even at the White House!), and healthy corners stores (such as Johns Hopkins' work in Baltimore) are taking the place when grocery stores or other outlets with a full range of healthy options do not exist.
Even if you don't live in a food desert, take this opportunity to talk about the impact of food access and the actions you and others can take today, tomorrow and all year 'round to promote length and quality of life. Health reform is dominating the news; personal responsibility, prevention and wellness are at the forefront of debate. But communities cannot make some of the most basic choices -- such as an apple instead of French Fries -- if they simply do not exist. We'll only get there if we take action: follow Food Desert Awareness Month on Twitter, engage with like-minded groups, and talk to your local aldermen or city council members that make decisions about where and how your community gets its food.
SUBSCRIBE TO & FOLLOW THE MORNING EMAIL
The Morning Email helps you start your workday with everything you need to know: breaking news, entertainment and a dash of fun. Learn more