I've attended Davos for the last seven years and I start off today's blog with a true confession of a rookie error.
Last night was the first big night of Davos gatherings. I started at the Clinton Global Initiative reception with President Clinton. He was in great form as always. He had just gotten off three red-eye flights in a row and was full of tragic and insightful stories around Haiti. Kathy Bushkin Calvin, CEO of the UN Foundation, and an amazing partner in investing in girls, and I ended up in a big conversation with President Clinton about Haiti and I made sure to make the point that girls are on the front line of suffering and should be a priority through the disaster and rebuilding Haiti.
From there I was off to the Hotel Belvedere where the heads of state and CEOs stay. Stanford, Georgetown, Yale, Price Waterhouse Coopers, Hubert Burda Media, the list goes on for reception after reception. I joined my Nike colleagues at the Burda Media party though a few had already wisely called it a night. Michael Elliott of Time International, Charlie Denson, President of Nike, and Eric Sprunk, VP of Product for Nike and I had a very animated conversation about privacy and technology. Charlie shared that he had been told by Facebook Founder Mark Zuckerberg that privacy is no longer a social norm. This is a big concept and we went on and on with just how far that line goes.
From there, I responsibly returned to my hotel, the Europa, escorted by the Google team. Unfortunately, they were very convincing about having a nightcap at the Piano Bar. The Piano Bar is the last stop of the night--usually going on until the morning hours with conversations like the above that never seem to stop as another interesting Davos colleague joins in. Unfortunately, we were all west coasters, so at one point I asked someone what time it was--2:30 a.m. was not the response I was looking for. With a 6:30 a.m. wakeup call, I said 'Goodnight' and hit the sack for a few hours of sleep. Rookie error. Three more nights and four more days to go.
Today was a big day for gender issues. I walked through a heavy snowfall to the Congress Center for the 8 a.m. (ouch) session: "Achieving Gender Parity: What Works?" Despite the early start, the room was full of energy. It was a workspace session in which the group attacks an issue from all angles and comes up with a compelling action plan. We discussed how to close the gender gap through Board composition, women entrepreneurship, mentorship, quotas, and the talent pipeline. The session had a number of great participants, including the Honorable John Rwangombwa, Rwanda's Minister of Finance (see picture).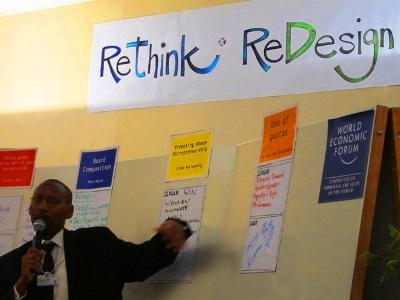 He was a group discussion leader for the morning and shared a pointed example from Rwanda to show that change can be impacted. The example was of a Rwanda's quota that at least 30% parliamentarians had to be female. That law has resulted in a major shift: Not only is there no further need for a quota, but Rwanda is the first country in the world with a parliament to have over 50% women. Saadia Zahidi, Head of Constituents for the WEF, was praised for her leadership in creating the Global Gender Gap Report that a participant said has transformed the way her country, Israel, is thinking about tracking gender issues. (Link to the Global Gender Gap Report: http://www.weforum.org/en/initiatives/gcp/Gender%20Gap/index.htm)
From there, I touched base with the incredibly bright, energetic, and effective Kate Roberts, Vice President of PSI and Founder, YouthAids. We talked about a great program her organization is collaborating on with DFID and USAID that trains young Zimbabwean women hairdressers ages 15-30 on how to teach their clients about HIV, condom use, and violence. What a great way to turn a captive audience conversation into a life saver.
Next was the Goldman Sachs 10,000 women luncheon. It was a great, intimate group of girl and women champions. We reflected on how the WEF's Global Gender Gap Report was a key factor in shifting the issues of girls and women into the economic sphere. Dina Powell and the team at Goldman have really made phenomenal progress in such a short amount of time. Dina made sure everyone was able to talk about their work and emphasize the importance of all of us complementing each other's work.
From there, I got stuck in traffic in the one lane, one way, circle road that all cars at Davos have to take. The good news was that I was stuck with Nike Foundation partner Bruce McNamer, CEO of Technoserve. We mused on the progress the issues of girls have made on the public and private agenda here and the effectiveness of our work together.
In summary, the big thoughts I took away from the day: 2010 seems to be kicking off as the year of girls and women. This was the first time in my seven years of coming to Davos that I've had a day of dealing with the issues of girls and women at nearly every event. I don't remember there being any opportunity or mention of the issues of girls and women the first time I was here.
In all honesty, I am going to take an hour catnap now and then it's off to the Forbes 100 Most Powerful Women gathering, the United Nations Foundation and Roll Back Malaria, the China CCTV China night, and more. Stay tuned.

SUBSCRIBE TO & FOLLOW WORLD POST