From Butte, we drove the two hours (across a gorgeous superfund site) to Missoula, Montana. I had been invited to be the keynote speaker for the Montana Organic Association Conference.
The night before I had spoken to the general public at NCAT in Butte and had gotten a good response: I filled the room, which is always a relief, and there was only one troublemaker in the audience, so the fight never came to fisticuffs.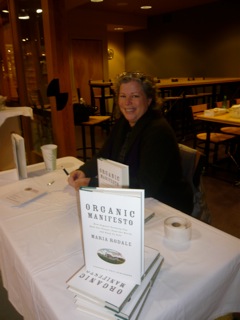 Me signing books at the lovely Good Food Store in Missoula.
In Missoula, after doing a local public radio interview, I spent some time at the local healthy supermarket, The Good Food Store. It was awesome. I couldn't help but shop. I had a delicious lunch there, and did a book signing for some lovely Missoulans. And then I stopped by the Black Cat Bake Shop, which makes a lot of its goodies from organic flour and grains. Yum!
This Blogger's Books and Other Items from...
SUBSCRIBE AND FOLLOW
Get top stories and blog posts emailed to me each day. Newsletters may offer personalized content or advertisements.
Learn more