Any good Italian wife had better make ziti once in a while. And any good Italian-family summer potluck includes at least one giant vat of ziti. The Italians are experts at making delicious, easy food that doesn't break the bank, and ziti is at the top of that list. Even though my name is Maria, I am not Italian, but since my husband and his family are 100% Italian, I consider myself an honorary one.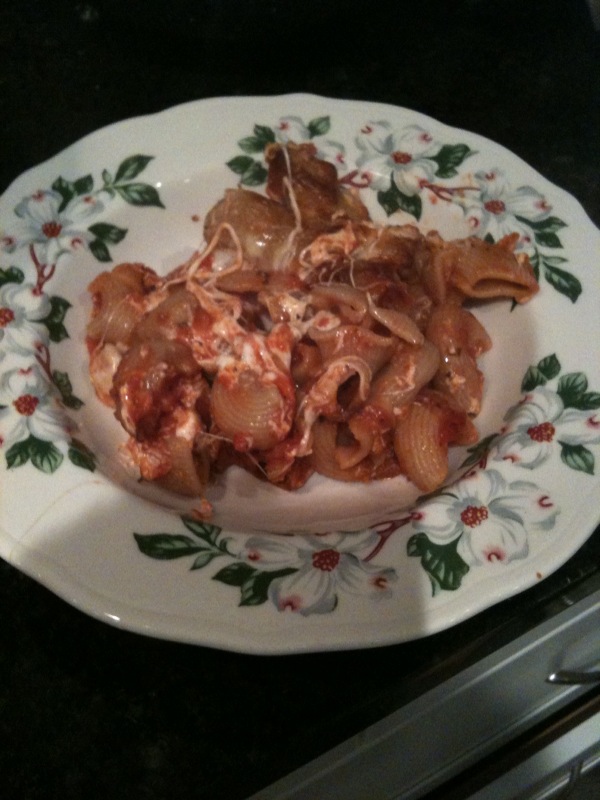 My homemade ziti
Here is my recipe for a simple, quick organic ziti:
1 bag organic whole wheat pasta of some tubular shape for holding sauce
1 large jar organic tomato sauce
1 package Organic Valley Mozzarella cheese
1 package either fresh mozzarella cheese or ricotta
1. Preheat the oven to 350-375 degrees.
2. Boil the water and cook the pasta until done.
3. While the pasta is cooking, shred the cheese.
4. Transfer the drained, cooked pasta to a casserole dish
5. Add the sauce and cheese and mix it up a bit.
6. Put it in the oven and cook until the cheese is golden and bubbly (about a half hour).
7. Enjoy!
If you want to, you can add some shredded Romano cheese on top, or put some veggies in the ziti (spinach, broccoli rabe, mushrooms, or peas). You can add meat if you want, but it's not necessary (however, it tastes just like lasagna and is a heck of a lot easier to make).
Serve with a simple salad with Italian dressing, and you've got a delicious, nutritious, and affordable meal your whole family will love.
This Blogger's Books and Other Items from...
SUBSCRIBE AND FOLLOW
Get top stories and blog posts emailed to me each day. Newsletters may offer personalized content or advertisements.
Learn more