It is an extraordinary pleasure to announce today the lineup of newsmakers and world opinion leaders confirmed for The Women's Conference 2010. The Conference will be held from Sunday, October 24 through Tuesday, October 26 at the Long Beach Convention Center, and I cannot wait to experience three amazing days of empowerment, inspiration and education with all of you- either in-person on online via our live Web cast on our Web site. I so am honored to again be hosting what has become the nation's premier forum for women.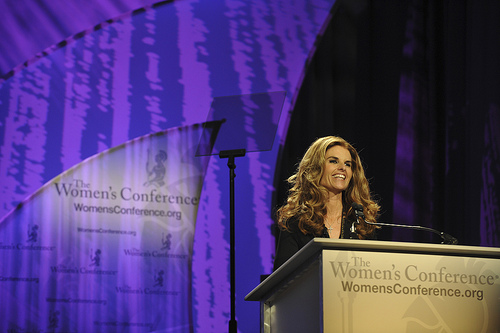 Me on the Main Stage of The Women's Conference 2009
Our theme this year is 'It's Time' - and we are hoping The Women's Conference inspires women to see this challenging moment in history as an opportunity to come together and transform ourselves, our communities and our world as Architects of Change.
When coming up with this year's theme I wanted to find a phrase that all of us use daily without much thought - one that has meaning but that we take for granted. "It's Time" is just that kind of phrase. We often say, "It's time for me to go back to school or get a new job or be a mom or fight for what I believe in..." I like how decisive that phrase makes us. We just know when It's Time. And that's what the conference has always been about -- inspiring people to take action and become Architects of Change in their own lives, each in their own way.
I hope we can all ask ourselves, what is it time for ME to do?
I could not be more proud to disclose this amazing lineup, which will be led by Laila Ali, Yahoo! CEO Carol Bartz, Martha Beck, Mary J. Blige, Erin Brockovich, Campbell Brown, Deepak Chopra, Rosario Dawson, Paula Deen, Giada De Laurentiis, Linda Ellerbee, Giselle Fernandez, Sally Field, Jane Fonda, U.S. Supreme Court Justice Ruth Bader Ginsburg, David Gregory, Arianna Huffington, Women for Hire CEO Tory Johnson, Donna Karan, Billie Jean King, New York Times Columnist Nicholas Kristof, Matt Lauer, Omega Institute Co-Founder Elizabeth Lesser, Journalists Laura Ling and Lisa Ling, Jillian Michaels, former Xerox Chairwoman & CEO and Save the Children Board Chair Anne Mulcahy, The Honorable Sandra Day O'Connor, Poet Mary Oliver, Suze Orman, Dr. Mehmet Oz, Tony Robbins, Al Roker, Diane Sawyer, The Episcopal Church's Presiding Bishop and Primate The Most Rev. Dr. Katharine Jefferts Schori, Howard Schultz, Governor Arnold Schwarzenegger, Katherine Schwarzenegger, Jessica Simpson, Anna Deavere Smith, Disney/ABC Television Group President Anne Sweeney, "The Cake Boss" Buddy Valastro, Kerry Washington, Ali Wentworth and Oprah Winfrey.
We'll kick the Conference off on October 24 with Maria Shriver's March on Alzheimer's and candlelight vigil in Long Beach, which I will emcee with Leeza Gibbons, Peter Gallagher and Dixie Chicks lead singer Natalie Maines. Alzheimer's is a mind-blowing disease that disproportionately impacts women - both as victims and caretakers of loved one's suffering from it. With more than 5 million people diagnosed with Alzheimer's in this country and a new diagnosis every 70 seconds, I believe it's time to pick up the pace and start marching to defeat this devastating disease. You can register for the walk now or simply make a donation here.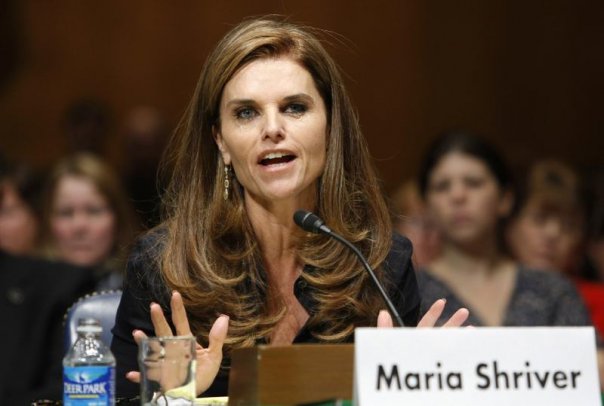 Me testifying before the Senate Special Committee on Aging about Alzheimer's
Then on Monday, October 25, the second day of the conference will begin with A Day of Health, Wellness & Transformation, with our theme "It's Time...To Take Action." The event will feature more than 20 world-class issue experts leading interactive sessions packed with practical tips, tools and takeaways for how attendees can transform themselves personally and professionally and become Architects of Change in their lives.
The conference's second day will be capped off with the third-annual Night at The Village which will transform the Long Beach Convention Center's exhibit hall into an over 160,000 square foot women's village for more than 10,000 attendees. With our theme of "It's Time...To Experience the Best," the event will feature stage conversations with prominent speakers, notable personalities and women entrepreneurs whom I so admire such as Paula Deen, Jessica Simpson, Jane Fonda, Donna Karan and Giada De Laurentiis; stage interviews and book signings with more than 20 best-selling authors such as Caroline Kennedy, Jamie Lee Curtis, Meghan McCain, Kim Barnouin, Cat Cora, Fresh Mexico Author Marcela Valladolid, Holly Robinson Peete & Rodney Peete and Katherine Schwarzenegger; live entertainment, a fashion show and cooking exhibitions; and interactive shopping experiences with women-focused products, services and information from more than 330 exhibitors.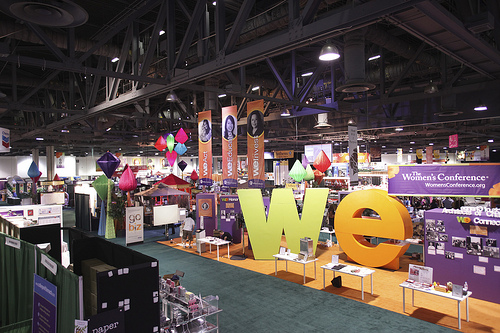 The Exhibit Hall at The Women's Conference 2009
On Tuesday, October 26, more than 70 world opinion leaders and approximately 14,000 attendees will gather at the conference's Main Event. Organized around the theme of "It's Time...To Be An Architect of Change," the Main Event will once again be a place for the conference's signature once-in-a-lifetime conversations and news-making moments that combine the world's most authentic and influential voices in discussions about the issues that matter most to women and shape their lives. Program highlights from the Main Event's main stage conversations and 14 "breakout conversations" include:
- Diane Sawyer will moderate a "once-in-a-lifetime conversation" between The Honorable Sandra Day O'Connor and U.S. Supreme Court Justice Ruth Bader Ginsburg;
- A "kitchen table conversation" between Matt Lauer and Arnold Schwarzenegger where the Governor will reflect on lessons learned from his seven years in office and discuss what's next;
-Dr. Oz and Lisa Oz will moderate a conversation titled "It's Time to Talk About Marriage and Relationships: The Good, The Bad, The Ugly" between Al Roker & Deborah Roberts and Hal Rubenstein & David Nichols;
-Campbell Brown will moderate a conversation titled "It's Time to Talk to Women Who Know Firsthand What It Takes to Lead" between Carol Bartz, Anne Mulcahy, The Most Rev. Dr. Katharine Jefferts Schori and Anne Sweeney; and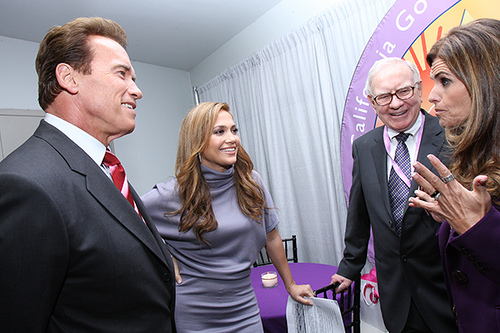 Me with Governor Arnold Schwarzenneger, Warren Buffett and Jennifer Lopez backstage at the 2008 Women's Conference
If you are not able to come to the conference this year, I do hope you will join us on the Web for our live Web cast. WomensConference.org -- The Home for Architects of Change -- has become a thriving online community of more than one million women who visit the site to be empowered with daily editorial and video content, inspirational conversations and stories, and life-changing tips, tools and resources.
We are also offering two complimentary passes every month through September with our Great Giveaway- this month, you can win an opportunity to interview the amazing Dr. Oz.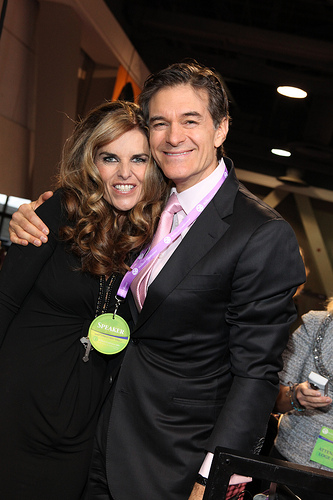 Me and Dr. Oz - Win a chance to interview him with our Great Giveaway!
I'll see you in Long Beach or on the Web in October!
This Blogger's Books and Other Items from...
FOLLOW HUFFPOST