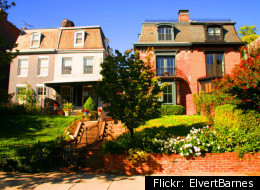 With the fall of the Roman Tub, a new era of "must haves" are emerging in the world of real estate and home design. Today, value is not found on a checklist including square footage or finishes. Instead, today's value comes from a holistic view of the home, based on livability and connection to the greater community.
Here the top five "must haves" in home design today:
5 Must-Know Real Estate Trends
Trends come and go, and in the day, so could your home. Today it isn't guaranteed that you can sell your house at the drop of a hat, so rather than searching for 're-sale value' you will be better served to look for a strong 'live-in' value. Look for a home that meets your needs for today and in the future. If you are purchasing, ask yourself these questions: • How long can I see myself living here? • Does this home meet my needs now and will it still meet my needs in the future? • Can I easily get to and from my daily needs outside of the home? • Can I realistically afford to live here? • If I can't sell this home in five years time, will it still meet my needs?

While we've all heard the famous real estate mantra, "Location, Location, Location," you will be better served to search for "Proximity, Proximity, Proximity." The easiest way to combat unstable gas prices is to reduce consumption. Consumption is linked to the number of miles you are required to travel daily to meet your daily needs. A recent study released by the Center for Neighborhood Technology found that people living in location-efficient neighborhoods, close to transit, jobs and amenities, save approximately $200 per month and are impacted less by fluctuating gas prices than those living in neighborhoods where they were inconveniently located in proximity to daily needs. But even more than the issue of $2 or $5 gas, ask yourself how many waking hours do you want to spend behind the wheel of a car? While gas prices today make this an issue of finances, you can't put a price on your quality of life. Pay close attention to the required commute associated with any home you are considering moving into. Go as far as testing the commute at rush hour to make sure it is something you can handle.

Architect Sarah Susanka estimates a well planned home requires 1/3 less space to feel like it lives as large as a poorly planned larger home. Elements of a well-planned smaller home include: • Windows on multiple walls that create a visual connection to the outdoors, borrowing space visual from outside makes smaller homes feel larger. • Reasonable ceiling heights -- not double height, but not 8 feet. • Open, yet defined, floor plans that balances a connection between rooms but will still allow privacy when desired. • Connection to the outdoors and a larger community that allows you to easily engage with the world outside the home. • Clutter control. Look for homes with enough storage to accommodate your belongings.

The days of "keeping up with the Joneses" are over. When the music stopped and the recession started, a lot of people found themselves stuck in homes they couldn't afford, that didn't meet their needs and were inconveniently located far away from all daily needs. Don't feel pressure to follow someone else's formula. Live where you can afford to live, look for the home that you want to live in, in the place you want to live.

Online communities link people worldwide, but cannot replace physical communities, where you can engage with others in person. When you are considering the livability of a home, the experience you have when you step outside your front doors is every bit as important as the experience you have inside your home. Homes hold more value when they are connected to a walkable public realm. Thriving communities combine a mix of different activities: working, living, shopping, recreation, in such a way that some, if not all, of your daily needs can be met on foot or by bike.