The state of Maine has long been considered a summer destination. Portland author Michael Sanders and photographer Russell French refute that theory by transporting readers from an old post road inn in Kittery to a renovated textile mill in rough and tumble Lewiston and a sleek Scandinavian-design bistro in blue-collar Bath. Through the lens of fresh, inventive cooking, their first book, Fresh from Maine: Recipes and Stories from the State's Best Chefs, collects James Beard Award winners, Food & Wine honorees, Gourmet's Top Restaurant choices, and even the creators of GQ's Best Margarita in America, to color a landscape full of history, texture, and irresistible food.
I caught up with Michael and Russell and asked them a few questions about Maine, the slow food movement, and what's up next at their culinary collaboration, Table Arts Media. Here's what they had to say:
Michael, in your last two books, you've written about France. Why did you come back to Maine for this book?
MS: At some point not too long ago, I realized that the words "write local" were just as powerful as the words "eat local," and that my home place, Maine, was bursting with stories just as rich, wild, and authentic as rural France. This book is a first result of that.
How was the experience different?
MS: It's not so different, because Americans have so many preconceived notions about both places: France is sauces and haughty chefs and formal plates and Maine is lobster, LLBean, and winter. All are wrong. All miss the subtleties, the nuances, the changes in character whether it is a palette of color or of tastes, and all benefit from boots on the ground, my boots, to help others see the crazy wild lovely shades of difference in both places.

When and how did you two hook up?
MS: I've been working with Russell on food stories for our Downeast editor, Paul Doiron, for almost ten years now. Paul gives us the liberty to explore, and we've mapped out a wide variety of food experiences from wild mushroom foraging to heirloom apple rescue to how to eat a deer. Russell gives what I cannot, a sensuous visual immediacy that, I think, complements my words.
RF: We met at a friends New Years party and discussed different creative interests, including doing a cookbook someday. Here we are.
Tell us why you think New England cooking, especially Maine cooking, is so special?
MS: Because life here is so hard, winter so long, and here in Maine particularly money so hard to come by, people here have not forgotten the old ways of living -- and eating. We have a rich tradition still extant, with local organic farmers having, today, a generations-long storehouse of know-how and deep knowledge to bring us their bounty. Added to that of the sea and forest, it is an unbeatable combination that draws chefs like flies to honey.
RF: The State has an amazing eco system that really starts at the Gulf of Maine. The ocean, the weather, and the land create this incredible terroir that is expressed in the food.
How did you select the chefs/restaurants for this book?
MS: The motto of our small company, Table Arts Media, is just four words: Slow. Sustainable. Authentic. Delicious. These chefs all work in that medium as well, having deep roots in their communities and walking the walk as well as talking the talk.
It's the holiday season, so tell us about a couple of your favorite recipes in the book that work well for the season?
MS: Cold weather conjures thoughts of the fireplace, lazy evenings around a crackling stove. Here, that means braises, slow-cooked meats melting off the bone. Rob Evans of Hugo's in Portland has a great Braised Oxtail recipe which almost makes its own sauce, really a luscious meal in one pot that you can throw together and forget until it's done. A little more elaborate would be from Havana in Bar Harbor, Blueberry Glazed Seared Duck over Sweet Potato Purée. Duck is so rich, and the blueberries hit a nice local note.
RF: Duck with Lentil Ragout and Dried Cherry Port Sauce from Fishbones in Lewiston is a perfect holiday recipe, just substitute something local and seasonal for the asparagus. The holiday season is oyster season and I enjoy them with and without garnishes. The Old Port Sea Grill knows their product and how to present them. In some ways, I think I stayed in Maine because of the seafood, and the holidays are a great time to appreciate it.
What do you want people to take away from Fresh from Maine, as it's way more than a cookbook?
MS: We started out with the idea of doing something that was rich visually, with lush photos for the eye, rich in characters and stories, which is where the chefs and their thoughtful anecdotes and little tales come in, but rich, too, in things to make, fabulous recipes for cooks of all backgrounds.
RF: The solid connection Maine restaurants have with the farmers, fishermen and artisan food producers. Many areas of the country have very strong local, organic communities but Maine has the oldest and largest organic organization in the country--the Maine Organic Farmers and Gardeners Association -- and the largest organic fair, The Common Ground Fair.
I know you're both invested in the slow food movement. How does Fresh from Maine reflect this philosophy?
MS: All of our chefs follow the simple tenets of slow food. Many, many of the ingredients they use are what they find naturally to hand here in Maine. We believe strongly in supporting them, the farmers and growers behind them, and supporting the organizations that Russ just mentioned.
RF: The chefs and the restaurants are the ones that get things rolling; they make people pay attention and realize the pleasures of the table, then you move to the farms, fishermen and artisans and support them by being a co-producer. Eat what you love, enjoy life and share it with friends and family -- that is what Fresh from Maine is all about.
In the process of creating Fresh from Maine, Table Arts Media emerged. Tell us about the goals of the company.
MS: Table Arts Media, founded in 2009, creates digital and print media for chefs, restaurateurs, and food producers and marketers as well as producing its own original content centering on New England chefs and food. We are fiercely regional, fiercely resistant to the old models of publishing, print and digital, and confidently believe that finding our work at your local farmers' market might just be the next best thing to downloading it online.
What's next for Table Arts Media?
MS: New England is a pretty big place.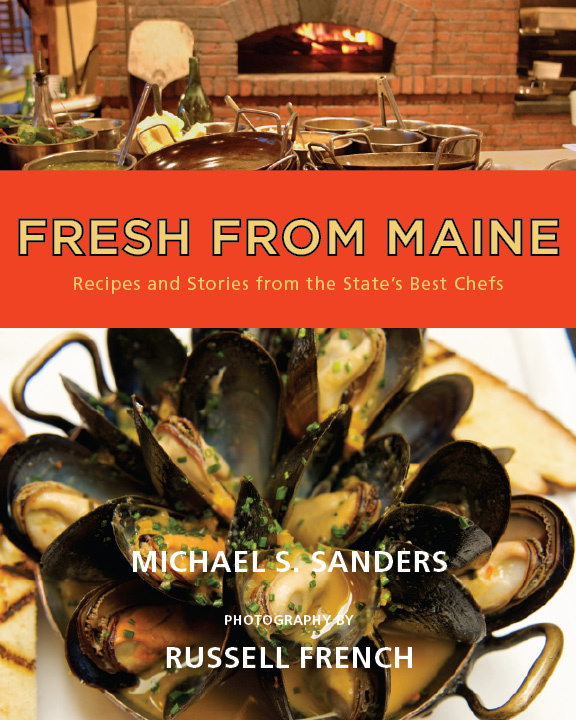 SUBSCRIBE TO & FOLLOW THE MORNING EMAIL
The Morning Email helps you start your workday with everything you need to know: breaking news, entertainment and a dash of fun. Learn more