Simi Winery in Healdsburg is known for a lot of things. It's the oldest winery in Sonoma (1876) with a legacy in girl power. From 1904, Simi 's pioneer was Guiseppe Simi's daughter, Isabelle, who kept the place running through Prohibition with the production of sacramental wine. This sassy lady's helm produced Sonoma's first tasting room where Isabelle herself could often be found serving antipasto with her grapes until well into her nineties like any good Italian. When she retired in the 70's, Mary Anne Graf -- the first woman to graduate from UC Davis' viticulture and enology department -- took over and then passed the baton to Zelma Long who saw the purchase of land in the label's famed Alexander and Russian River Valleys. And that's just the history...
Simi was my first stop on a whirlwind week in wine country. I was super excited, as Simi has long been a favorite of mine since a college friend who lived in San Fran sent me a few bottles in celebration of a promotion during my twenties. I always have a bottle of Cabernet on hand for all-occasion sipping, and I was eager to see what they had going on both on-site and at their cellar door. I was met by Director of Winemaking Steve Reeder, an easygoing guy with shoulder-length hair that he chops off every couple of years for the charity Locks for Love. He would take our group on a tour of the winery, most of which was housed in a stone building that produced its first vintage in 1890 and has withstood countless earthquakes. Atmospheric, laden with history, the Simi site is a stop worth making if you're passing through Healdsburg -- a destination in its own right.
But, of course, it got even better as we tasted Simi's wines. Before visiting, I had been partial to Simi reds. An education on whites awaited me. The Sauvignon Blanc was crisp and light, a good choice for everyday drinking while the RRV (Russian River Valley) Chardonnay was creamier and deserved a pairing like the delicious fried green tomatoes and Dungeness crab that winery Chef Eric Lee offered up. Both affordable at $15 and $30 respectively, I knew these were wines to which I would return. Then we arrived at my beloved Cabs. First came the Alexander Valley Cabernet, and then it's older brother, Landslide, though I didn't need the hard sell, as I was already smitten. The surprise of the day was the Pinot Gris, an on-site only offering that was so delicious I wound up with two bottles for the road.
As we tasted, however, I kept getting distracted. The trademark smell of a wood-burning oven filled my nostrils. I had seen the sign when we pulled into the parking lot. Pizza. I remember Simi's Italian legacy. But jazzed about my first tasting in Sonoma, I practically disregarded it. My stomach, however, reacted to the aroma. I'm a New Yorker, after all. And I'm Italian. Pizza, it said. As if on cue, it was delivered. Two varieties. Oh my.
The first was a Margarita Caprese ($14.00) -- crisp on the bottom, the cheese slightly browned on the top. Near perfect, it was the second that rocked by world. The Salsiccia Calabrese ($18) was a sauteed fennel and house made sausage variety for which I went back for seconds... and thirds. The sausage was crumbled, plentiful, and made on site. Pizza and wine. It was so simple and so obvious... and so very good.
Pizza and Simi wine? Even better.
First-Time Insider's Tip:
Don't miss the Pinot Gris ($20), which is only sold at the winery.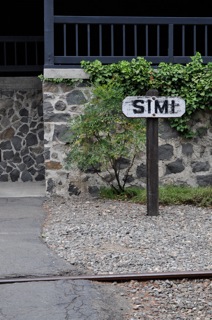 Open daily from 10:00 am to 5:00 pm for tasting and sales.
Winery tours daily at 11:00 am and 2:00 pm followed by private sit down tasting.
Simi's Landslide Terazzo Pizza Café is open Friday from 2-6 PM and Saturdays 11-3 PM

SUBSCRIBE TO & FOLLOW LIFESTYLE
HuffPost Lifestyle is a daily newsletter that will make you happier and healthier — one email at a time. Learn more