Today Hauser & Wirth opens the first American solo exhibition of talented young Polish painter Jakub Julian Ziolkowski. The Krakow-based artist, who graduated from the Krakow Academy of Fine Arts only a few years after Wilhelm Sasnal, Marcin Maciejowski, and Rafal Bujnowski, creates both large and small-scale works, incredibly intricate geometrically abstract scenes, eccentric figurative work, literal battleground scenes with fantastical narratives (skeletons and rich, otherworldly colors).
His work has been compared to artists James Ensor, Philip Guston, Hieronymus Bosch for its grotesque and gory style and subject matter and surrealist nature; the figurative style of Francis Picabia; and to Peter Saul, for his Pop sensibility. Ziolkowski plays with narrative and fictitious characters that appear in his works again and again. Before his inclusion in the 2009 "Younger than Jesus" exhibition, the New Museum's inaugural triennial edition, New Yorkers were more or less unaware of this young painter, even though he had had several important solo shows in Europe and Asia, including his first solo show with Hauser & Wirth, London, at the age of 26. And even since "Younger Than Jesus," Ziolkowski has surprisingly not had any solo shows in the United States... until today. Titled "Jakub Julian Ziolkowski. Timothy Galoty & The Dead Brains," the artist again plays with a running narrative and group of characters, showcasing all new pieces, including works on paper and paintings--many inspired by rock 'n' roll. Scroll through our slide show of this new body of work, accompanied by explanations from the artist himself.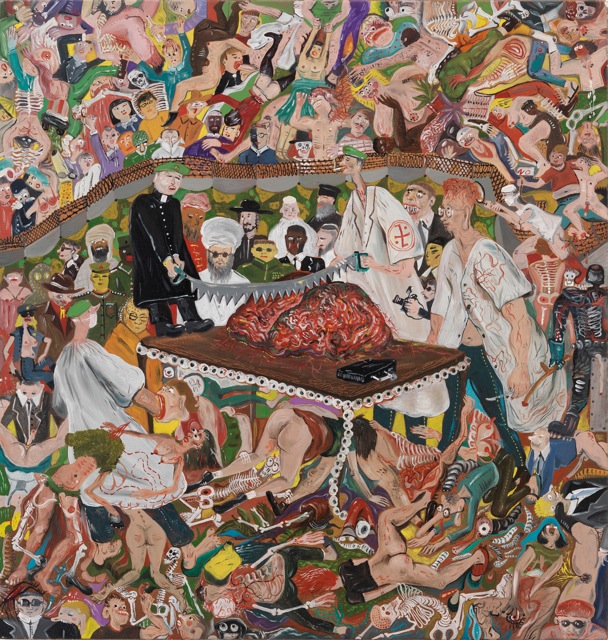 The Mystery of Neocorte, 2009-2010
Oil on panel,
44 x 42 cm / 17 3/8 x 16 1/2 in.
In this work, Ziolkowski---whose father is a surgeon in the hospital in Zamosc, which services the whole province---explains that the neocortex is what differentiates us from other animals. He asks, Does it contain the soul? In this work, he explains that the surgeons in the central part of the work are cutting it open in search of the soul. If they find the soul, it will be locked in the black suitcase at the end of the table. The suitcase will become a secret prize for the "VIPs," the world leaders waiting anxiously behind the table. On the other side of the fence are "humans engaging in the base activity that makes up who we are, almost begging the question as to whether they represent that which the VIPs are seeking to extract in their surgery," says Ziolkowski.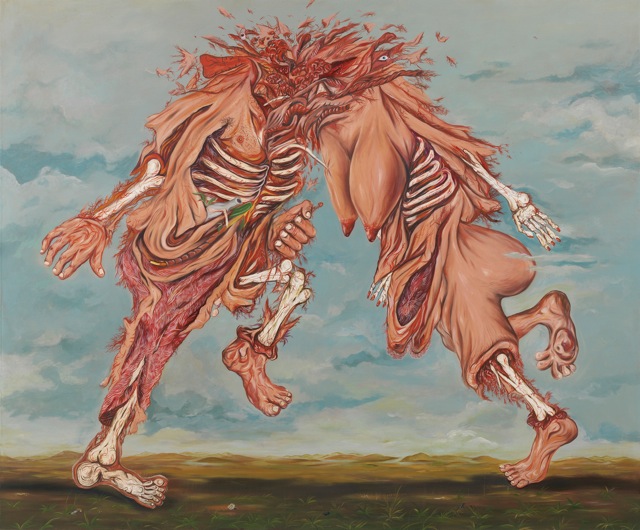 The Clash, 2010.
Acrylic and oil on canvas,
175 x 210 cm / 68 7/8 x 82 5/8 in.
Ziolkowski takes great pleasure in painting the human body in a grotesque or gory form, perhaps influenced by his father's profession. The Clash depicts the quintessential clash of the sexes, says Ziolkowski: man versus woman. They are not able to resolve their implicit differences. The insects at their feet, however, are succeeding in achieving harmony. He comments on the rather miniscule size of the man's penis, which he holds in his hands, while the woman's body is quite voluptuous and strong.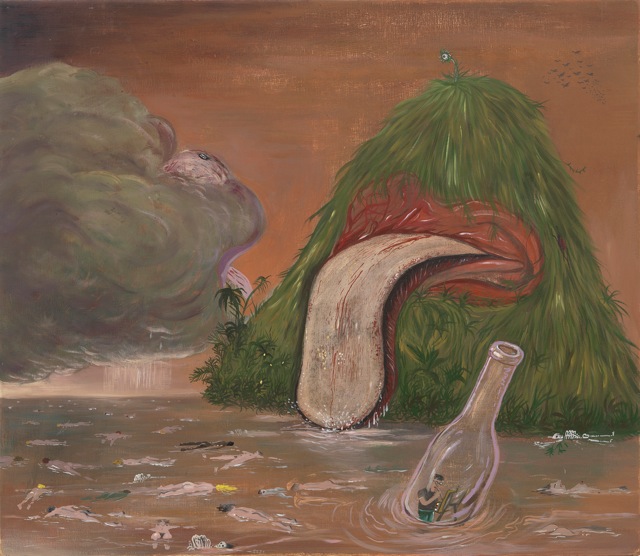 Untitled (On the Other Side), 2010.
Oil on panel,
40 x 46 cm / 15 3/4 x 18 1/8 in.
Ziolkowski says that for this work, he was thinking about Austrian Expressionist Alfred Kubin (whose gorgeous but eerie works were exhibited at the Neue Galerie in 2008). The painting shows a "waiting place" like a queue or a purgatory. Dead bodies fall out of the cloud into the dirty/holy water. Ziolkowski points out that the only living person in the painting is himself painting the scene from inside his bottle. He says he sees himself almost like a war journalist, documenting the terrible scene around him but not participating therein. The cloud licks the mountain (he says that the tiny eye on top of the mountain is the eye of nature, "always observing us, always watching us") and the mountain drinks the water---they have their own cycle.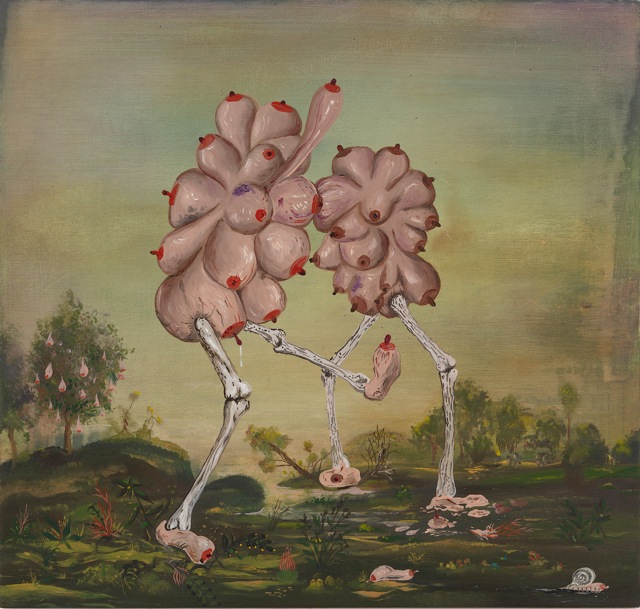 Untitled (Mothers' Fight), 2010
Oil on panel,
38 x 40 cm / 15 x 15 3/4 in.
In this work, Ziolkowski paints what he calls a "stock" Romantic backdrop for this battle between two mothers who are fighting for domination. Who is best for procreation? the artist asks. The snail at their feet is a male fleeing the scene, "trying to escape them," he says.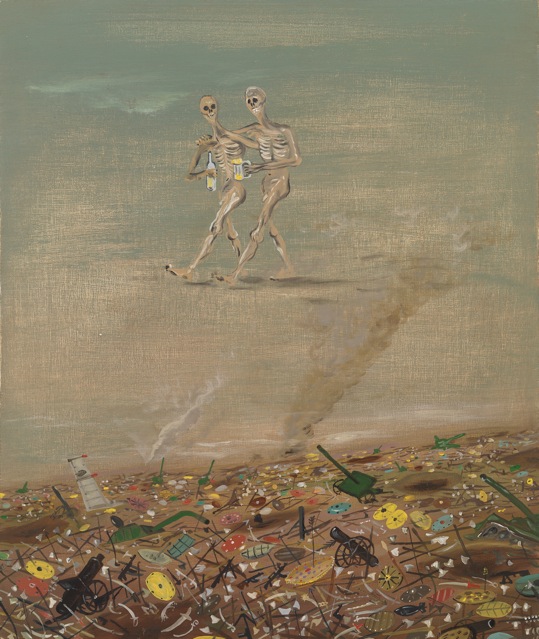 Untitled, 2010.
Oil on panel,
42 x 35.5 cm / 16 1/2 x 14 in.
This is Ziolkowski's antiwar poster. He says, "This is the Field of War"---the weapons scattered across the bottom span all the centuries of battle. The two skeletons see the futility of war, he says. They just want to have a beer! But it's too late, because they are already gone.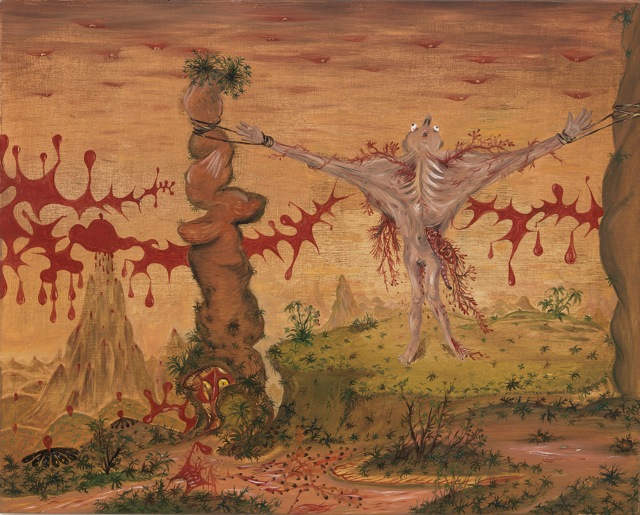 Pain and Torture, 2010.
Oil on panel,
36 x 45 cm / 14 1/8 x 17 3/4 in.
This painting is about feeling guilt, which Ziolkowski thinks of as a rape of the mind and/or a cultural rape. Again, he says that the eyes in the landscape and in nature throughout his works are there to signify that nature is watching, judging us, observing our actions and our pain.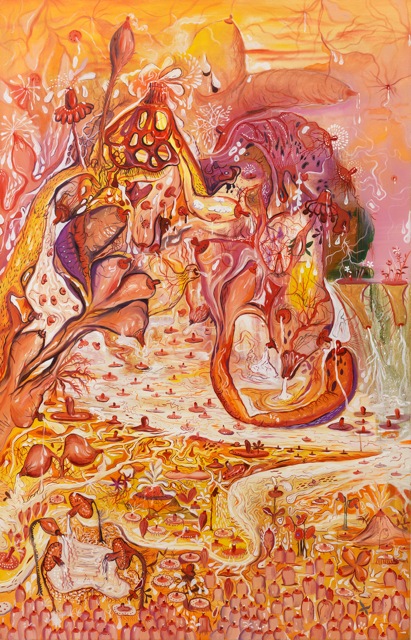 Untitled (Milk and Honey), 2010.
Oil on canvas,
190 x 122 cm / 74 3/4 x 48 in.
Though he has not titled the work, Ziolkowski calls this piece his "Prenatal landscape." There are no people populating the space. He explains that it is a space of "the first growing, the first energy we take from the outside world (mother's milk)."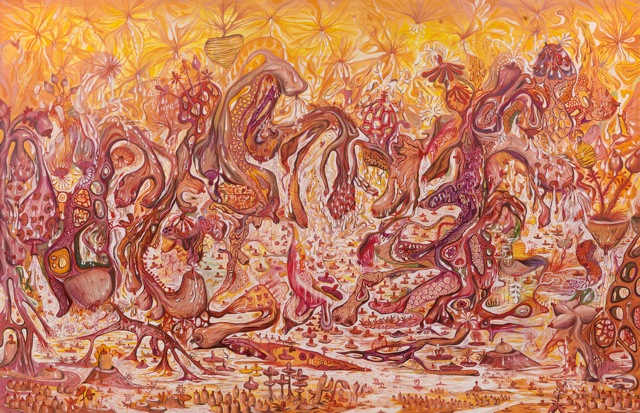 Big Milk, 2010.
Oil on canvas,
195 x 300 cm / 76 3/4 x 118 1/8 in.
The artist made this larger painting after the work above (Milk and Honey), as he felt the subject warranted a much larger canvas.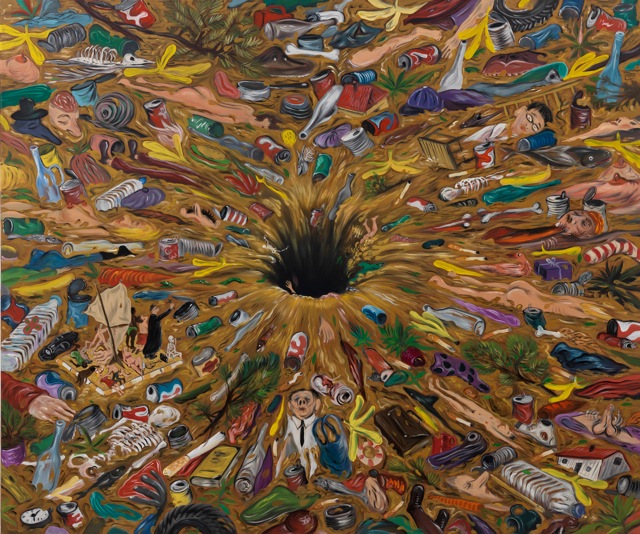 Untitled (Into the Hole), 2010.
Oil on canvas,
134 x 160 cm / 52 3/4 x 63 in.
Ziolkowski explains that this is the force of nature that cleans everything. We would start over, he says, "but first everything must go into this space like a black hole." Note the "Catholic boat," a raft on the left with such horrible things going on aboard it (rape, murder). Ziolkowski explains that the priest in the front of the boat raises his cross in vein and the same black suitcase from the Mystery of Neocortex sits on the raft, poised to be sucked into the hole with everything else.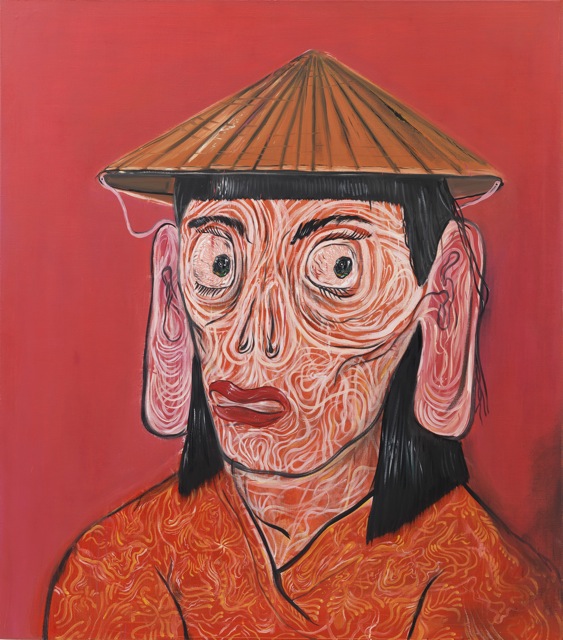 Untitled, 2010.
Oil on canvas,
142 x 125 cm / 55 7/8 x 49 1/4 inches.
This piece is influences by the artist's time in Vietnam, especially referring to the Buddhist monks there. Ziolkowski explains that the long earlobes signify the monastic life, devoid of material things and instead dedicated to a more profound spiritual existence. The woman in this painting has a look of grave fear. And we see on the right side of the painting a shadowy area. Ziolkowski asks, the shadow of what? And answers that when you look closely at her eyes, you see the reflection of police coming at her.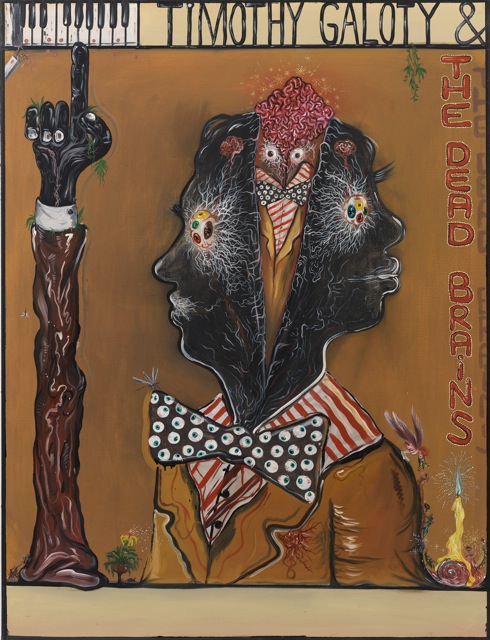 Timothy Galoty & The Dead Brains, 2010.
Oil on canvas,
144 x 110.17 cm / 56 3/4 x 43 3/8 in.
Earlier this year, Ziolkowski was invited to make a poster for the Beethoven Festival in Poland. The above work comes out of the thinking for that project. Here he is making the show-poster for a fictional band. The name "Timothy Galoty" comes from Ziolkowski's love of Timothy Dalton (the British actor best known for playing James Bond in the 1980s), replacing the last name with "Galoty" which in Polish refers to the kind of bloomers/pants worn by a clown. Ziolkowski also notes here that he sees all the paintings made for this New York show as acting collectively like a band or an orchestra. The artist says he obsessively listened to Frank Zappa while preparing these works, because Zappa is known for his proficiency across all musical genres, as well as for his prolific output.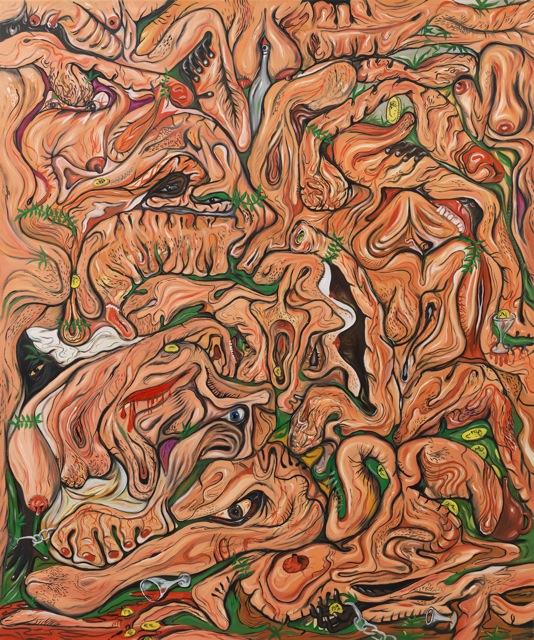 Caligula, 2010.
Oil on canvas,
160 x 134 cm / 63 x 52 3/4 in.
For this work, Ziolkowski referenced Andre Masson's Automatic Drawing (1924). Apropos of the title, the artist says this painting is a depiction of total power: an orgy of bodies and servants, decorated with the same olive leaf used in Greek laurel wreaths put on the heads of victorious Olympic athletes.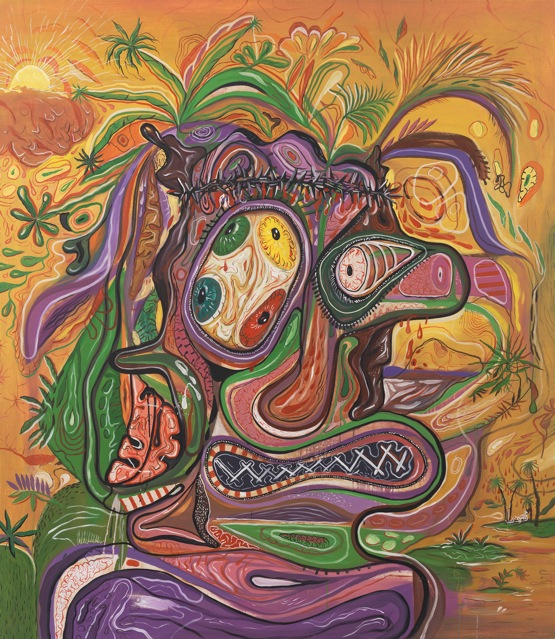 Untitled (King of Israel), 2010.
Oil on canvas,
190 x 165 cm / 74 3/4 x 65 in.
Ziolkowski notes the importance that he is calling this "The King of Israel" and not referring to Jesus Christ. For him this is important because it points to the mutability of religious doctrine: we write and then rewrite the story. The artist says that when he was making this piece, he listened to (as he often does) a book on tape. In this case, it was the Lew Wallace novel Ben-Hur: A Tale of the Christ (1880).

Pilgrimage, 2010.
Oil on canvas, 4 parts,
32.4 x 42.2 cm / 12 3/4 x 16 5/8 in. each.
Ziolkowski believes that the pilgrimages of Polish Catholics "are a waste of energy." In this 4-part painting (each panel denoting a different season), the pilgrims are lead by a giant muscle playing a guitar as well as a priest who is mostly brain tissue (with an erection under his robe, he points out). The procession starts out with bare bones and heaps of brain tissue--the artist says at this point the pilgrims are having deep thoughts in their big brains about Jesus. But as the time passes, moving right across the canvases, their brains shrink and instead they grow big muscles and become "sports dudes" wearing sneakers and listening individually to their Walkmans.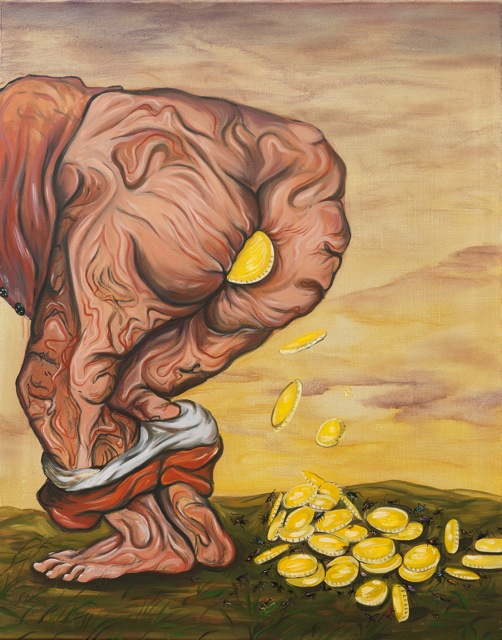 Untitled (Priceless Arse), 2010.
Oil on canvas,
92 x 73 cm / 36 1/4 x 28 3/4 in.
Though this work speaks for itself, the artist acknowledges the "Americanness" of this painting.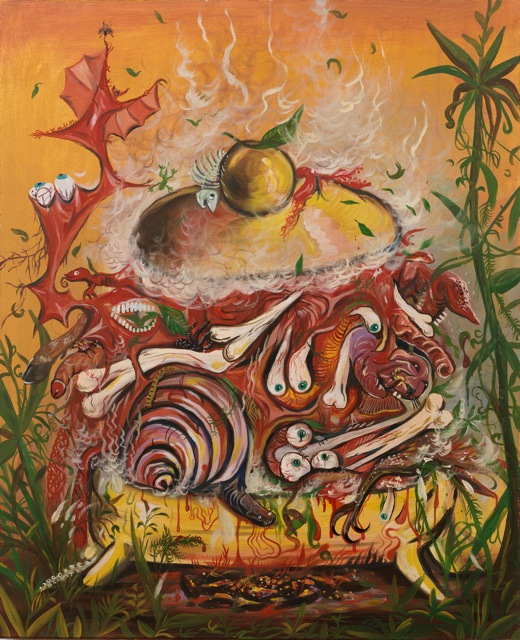 Goulash, 2010.
Oil on canvas,
110 x 90 cm / 43 1/4 x 35 3/8 in.
Ziolkowski often talks about his paintings as acting as his "diary," a day-to-day record of his thoughts and experience. About this work, Ziolkowski tells a story of his roommate in Krakow inviting a group of women over to make a stew, and they relegated the artist to his studio while they were cooking so that "he wouldn't provoke them or destroy their stew." While in his studio, he made this painting, imagining a "Catholic stew."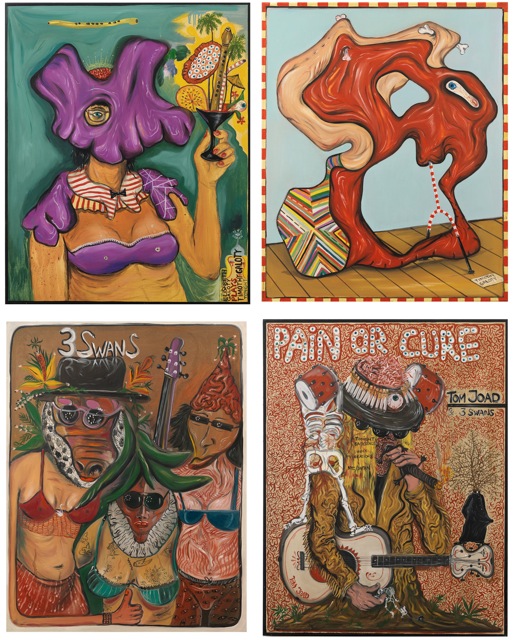 Galoty (Posters #1-4), 2010.
Oil on canvas, 4 parts,
110 x 90.2 cm / 43 1/4 x 35 1/2 in.
110 x 90.2 cm / 43 1/4 x 35 1/2 in.
114 x 88 cm / 44 7/8 x 34 5/8 in.
114 x 88 cm / 44 7/8 x 34 5/8 in.
This is a group of four concert posters of fictional bands. Again, we have Timothy Galoty---in this poster, Ziolkowski shows the first sculpture by Timothy Galoty, which is on view in the MoMA. The Three Swans are the artist's quintessential and stereotypical rock band (he mentions Red Hot Chili Peppers as a reference). He goes on to say that Timothy Galoty's first wife, Elisabeth, was not allowed to attain her own fame while she was with Timothy, but now that they are not together she is free to pursue her flute (not without its phallic symbolism) and "play" Timothy Galoty. Tom Joad is the name of John Steinbeck's protagonist in The Grapes of Wrath (Steinbeck's Pulitzer Prize-wining novel about a poor family of sharecroppers, the Joads, setting out from the agriculturally and economically depressed Dust Bowl in search of new opportunities further west, in California). Ziolkowski says that Tom Joad famously eschews socio-political structure in favor of a more fundamental approach; and refers to songs about Joad by musicians including Woody Guthrie, Bruce Springsteen, and Rage Against the Machine.
FOLLOW HUFFPOST