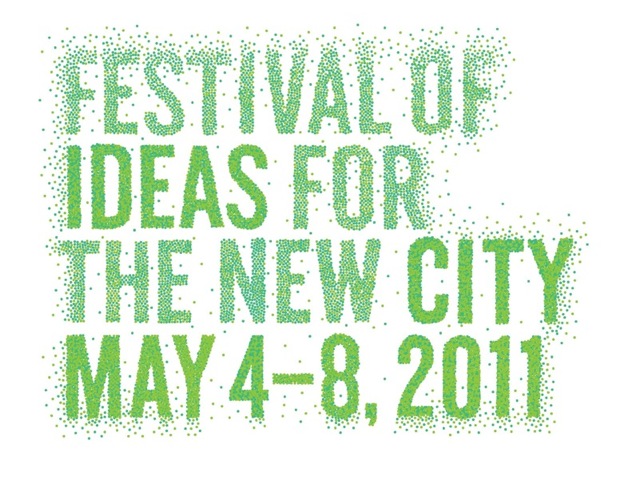 This week a major cultural initiative will be launched, The Festival of Ideas for the New City, coordinated by the New Museum and scores of cultural and community organizations and institutions in downtown New York, including the Swiss Institute, Columbia University, NYU, Cooper Union, the PARC Foundation, the Architectural League, and many more. A conference of symposia, lectures and workshops will take place between May 4th through May 7th, with three major themes being explored: "The Networked City," "The Reconfigured City," and "The Sustainable City." Influential speakers will lead the discussions, from keynote speaker Rem Koolhaas (who also has a show opening this weekend at the New Museum, "Cronocaos," May 7-June 5), visual and performance artist Vito Acconci, artist and musician David Byrne, Studio 360's Kurt Andersen, founding partner of Diller Scofidio + Renfro Elizabeth Hiller, and many others.
On Saturday, May 7th, from 11am to 7pm, the Bowery and Sara D. Roosevelt Park will be the site for a minimal-waste outdoor 'StreetFest', with over one hundred local organizations and small businesses taking part.
And it doesn't end there. After the StreetFest, a flurry of events will be taking place south of Houston (or thereabouts) from 8pm into the wee hours. Here are some highlights for this Saturday's nighttime activities: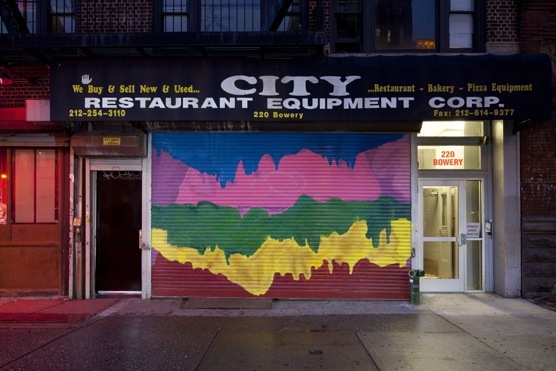 After Hours: Murals on the Bowery, artwork by Mary Heilmann, 2011. Courtesy Art Production Fund and New Museum. Photo by James Ewing.
Art Production Fund & New Museum: After Hours: Murals on the Bowery
Launch: May 7, 8pm
Bowery between Houston & Canal Streets. Visit artproductionfund.org for locations.
Along the Bowery, international artists create site-specific mural paintings on the last remaining roller shutters of the Lower East Side (LES). Audio tour by cell phone: (646) 213-7207. Artists (list in formation): Judith Bernstein, Matthew Brannon, Ingrid Calame, Chris Dorland, Elmgreen & Dragset, Amy Granat, Mary Heilmann, Jacqueline Humphries, Deborah Kass, and pulp, ink., Glenn Ligon, Adam McEwen, Barry McGee, Gary Simmons, Rirkrit Tiravanija, Lawrence Weiner. (Artworks will be up for two months.) Made possible with the generous support of Sotheby's.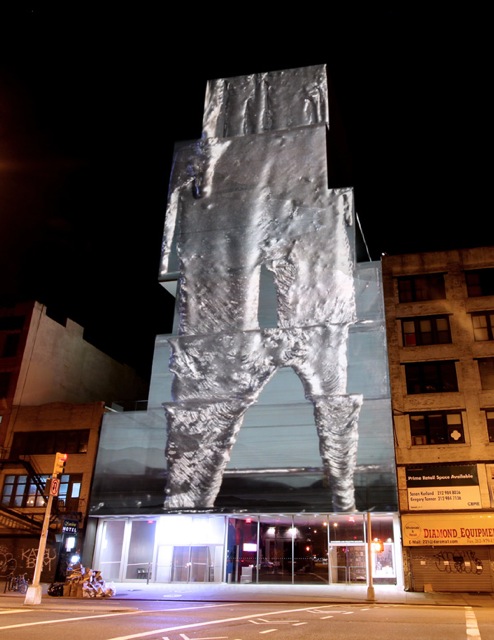 Visualization of Marilyn Minter's large-scale video projection on the New Museum, as part of Flash:Light, directed by Nuit Blanche New York and Light Harvest Studios.

Nuit Blanche New York: Flash:Light
May 7, 8pm-12am
New Museum and Basilica of St. Patrick's Old Cathedral, Mulberry Street between Houston & Prince Streets
Artists transform the nighttime pedestrian experience into one of contemplation and wonder with site-specific light, sound and projection art. Select artists include: Rita Ackermann, Hisham Bharoocha, Marco Brambilla, Antoine Catala, Mitchell Joachim, Chris Jordan, Jason Krugman, Andreas Laszlo Konrath, Jules Marquis, Ohad Meromi, Cary Ng, Miho Ogai, Aïda Ruilova, Ursula Scherrer, Claire Scoville, Kant Smith, Softlab, Ryan Uzilevsky / Farkas Fülöp (Light Harvest), Adriana Varella, Guido van der Werve.
http://www.bringtolightnyc.org/

Bowery Arts & Science and City Lore: A White Wing Brushing the Building
May 7, 10pm-Late
308 Bowery, between Bleecker & Houston Sts
Poems engaging local communities in their native languages--Yiddish, Nuyoriqueno, Ukrainian and Chinese--are projected from a POEMobile onto buildings, including the New Museum and Cooper Union, with live performances. In collaboration with Flash:Light. Supported by Rockefeller Foundation. http://www.bowerypoetry.com/

Basilica of St. Patrick's Old Cathedral: New Jerusalem
May 7, 8pm-May 8, 6am
Façade of St. Patrick's Old Cathedral (Mott Street. between Prince & Houston Streets)
A 200-year-old center for worship, education, and culture welcomes artistic illuminations on its façade in conjunction with Flash:Light, and an all night music program in its interior.
http://www.oldcathedral.org/

Pecha Kucha, New York, #12: The Dimensions of a New City
May 7, 8pm-May 8, 3am
Old School Gym, 268 Mulberry Street, between Houston & Prince Streets
Investigating the many seen and unseen ways New York City exists outside the walls of its buildings, speakers--in presentations of 7 minutes each--consider the presence and evolution of public access.
http://www.pecha-kucha.org

Our Other Location: New City Cellar
May 7, Seatings at 6 PM and 9 PM
Cafeteria at Old School, 32 Prince St.
Topic: Food
As a participant in the New Museum's Festival of Ideas for the New City, Our Other Location has envisioned a future New York in which there are no usable retail spaces left. Fine dining doesn't go away, it just takes to the streets. At the Old School at 32 Prince St., guests will pick up a lightweight portable camping table, table settings, camping cutlery, and a 3-course tiffin dinner prepared by Vandaag Chef Phillip Kirschen-Clark. And then they'll set off to build their portable restaurant wherever they choose, whether out in the wild city or in the building and courtyard adjacent to the pick-up location. Beverages are included, including extraordinary cider by Farnum Hill Cider and a wholly original elderberry drink from Enlightenment Wines. Tables for 2, 3, or 4 people are available for purchase, $80 per person.
http://www.ourotherlocation.com/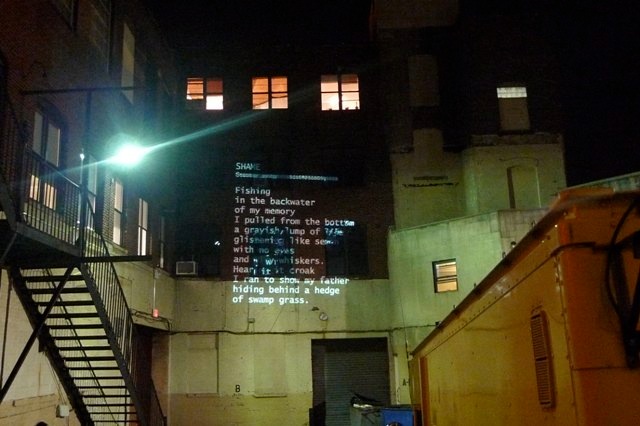 Image of POEMobile, courtesy Bowery Poetry Club.
Bowery Arts & Science: Comprehensive Employment and Training Act (CETA)
May 7, 6-10pm
Bowery Poetry Club, 308 Bowery, between Bleecker & Houston Streets
Panel: $8 for general public.
Party: $20 for CETA artists (free if you bring a young artist)
Panels, films, and performances consider artist employment concepts for the Obama era in a reunion of the CETA Artists Project, which employed 350+ artists in NYC from 1977-83. This will be followed by a party. Organized by Bob Holman, former CETA artist, with Rochelle Slovin, Sara Garretson, Mary Schmidt Campbell, Theodore Berger.
http://www.bowerypoetry.com/

SUBSCRIBE TO & FOLLOW CULTURE SHIFT
Every Friday, HuffPost's Culture Shift newsletter helps you figure out which books you should read, art you should check out, movies you should watch and music should listen to. Learn more