This past Friday night I was invited to watch the Stella McCartney private screening of Home in Los Angeles, a beautiful film about the many environmental and social challenges facing our world. Lexus Hybrid Living was one of the event's main sponsors and kindly provided my transportation for the day in one of their hybrid SUVs. After my arrival at LAX they brought me to the Sunset Marquis, a hotel steeped in rock-and-roll history that also prides themselves on a commitment to the environment. Despite being located in the heart of Hollywood, the Sunset Marquis boasts extensive lush gardens and fish ponds that are ecologically managed and cared for. Their spa has incorporated an extensive organic skin care line and even offers environmentally-friendly nail polish in the salon.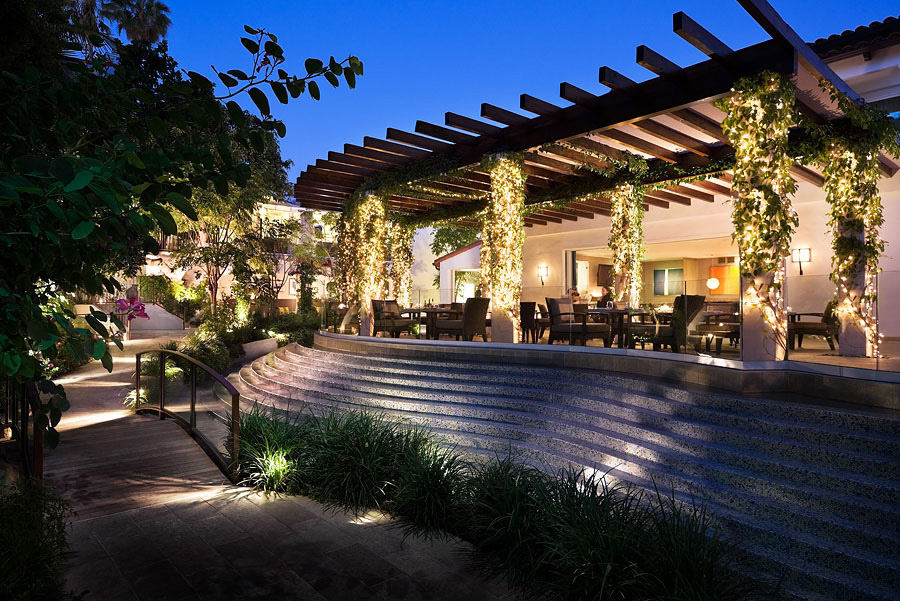 This eco-introduction to L.A. was the perfect start to a night full of sustainable promise. Stella McCartney, a lifelong vegetarian, has shunned fur and leather in her designs and products, offering style denizens a variety of enviable goods that make a serious style impact without harming animals or the environment. Who better to host a screening of Home in L.A. than Stella?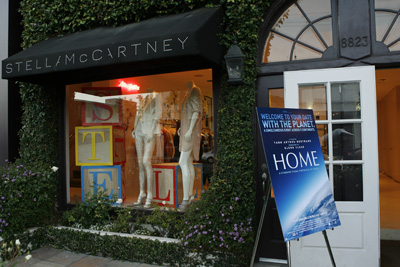 Regrettably, Stella herself was unable to attend the eco garden picnic held at her West Hollywood store on uber-trendy Beverly Boulevard. Scuttling past the pack of press and paparazzi camped out in front and through her boutique I entered the back garden which was beautifully decorated with twinkling white lights and eco garden furniture, complete with eco-friendly cocktails, organic iced tea and wine, and vegan ice cream. Stars started streaming in on the green carpet about an hour before the outdoor screening, including Rachel Zoe -- famed stylist to the stars and a star herself of The Rachel Zoe Project, green goddess and current Vogue cover girl Cameron Diaz, along with Angelica Huston, Rosario Dawson, Liv Tyler, Charlize Theron, Emily Deschanel, Daryl Hannah, Jessica Capshaw and others.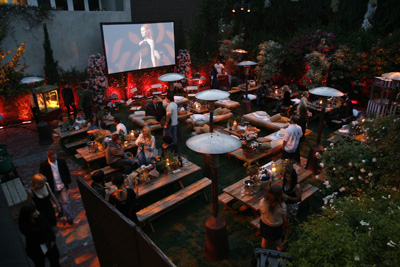 At 9pm the DJ stopped spinning music from his perch on the second floor balcony and Stella appeared on the film screen to thank her guests for coming. She stressed the importance of "saving the planet today for the people of tomorrow" and encouraged us to not become "too overwhelmed" by the film.
What happened next shocked me: we were told the film would be shown without sound, so as to not interrupt the lively party taking place. The DJ started up again with Fergie's hit song Glamorous, on which she sings about flying in private jets, going on shopping sprees and buying expensive things.
Immediately I went to speak with Nancy Ritter from Conservation International and told her I thought the decision (made by party organizers) was seriously distasteful -- weren't we all here for the movie to begin with? Frances Arnold, a professor from the California Institute of Technology echoed my sentiments. Yann Arthus-Betrand, the film's director, had personally asked her to attend the party so that she could tell him what kind of reaction guests had to the film.
Five minutes later, Witter took to the mic and announced, "As we sometimes say in Hollywood, take two!" Enough people had expressed their interest in actually watching and listening to the film that they decided to play full sound -- guests clapped and cheered. Cameron Diaz, Daryl Hannah and their friends took to their front row seats as I cozied up to a picnic bench and stayed firmly planted there while Glen Close narrated over two hours of aerial images filmed in over fifty different countries.
Home is a visual masterpiece, a compilation of incredible aerial shots that dramatize the staggering statistics of environmental degradation and peril that many of us are already fairly familiar with. They say a picture is worth a thousand words and that couldn't have been more true for those watching the film -- audible gasps and murmurs filled Stella's garden during scenes of massive deforestation in South America, sprawling high-rise developments in the middle east and severe drought in Africa. Guests actually watching the film however were few and far between, perhaps de rigueur at a young, hot Hollywood party. Despite the visually arresting cinematography the film was too long and haphazardly edited -- themes were revisited again and again in a cinematic trajectory that seemed lost on its way to making a point.
Regardless of this I really was blown away by the images and even more impressed that such talented and successful people had come together to make and distribute the film. The aim of director Yann Arthus-Bertrand, distributor Luc Besson and Francois-Henri Pinault, Chairman and CEO of PPR, the film's official sponsor, was to "reach the widest possible audience and convince us all of our individual and collective responsibility towards the planet." Shunning the delirious drive for corporate gain, this film was shown all over the world mostly free of charge, with all profits going towards Conservation International and GoodPlanet.org.
Stella McCartney's star-studded eco garden picnic and screening of Home was ultimately a success; it signaled another step forward towards environmental awareness and sustainability in the fashion and entertainment industries. Stella has proven that high fashion need not use leather or fur, Lexus demonstrates that a hybrid vehicle can still be luxurious and Home assures us that it is possible to move "forward into a new century that is cleaner and fairer, more natural and at the same time more human". Yann Arthus-Betrand says, "We all have the power to change things. What are we waiting for?" He's right; after all, the grass is most certainly greener on the other side.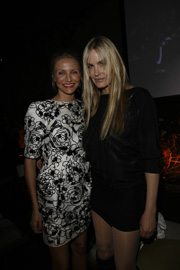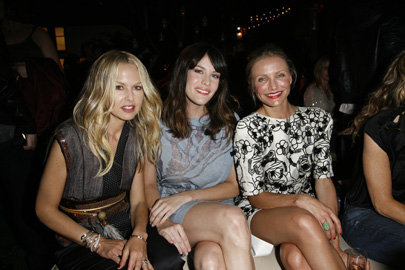 SUBSCRIBE TO & FOLLOW THE MORNING EMAIL
The Morning Email helps you start your workday with everything you need to know: breaking news, entertainment and a dash of fun. Learn more