Imagine having a jewelry collection that fights cancer, protects the abused, houses the homeless, or cleans the air. In 2003, Joan Hornig did just that, and created a company whose stunning and sought-after jewelry now supports over 500 different organizations across the globe. Adorning stars like Oprah Winfrey, Sarah Jessica Parker, Megan Fox, Kelly Ripa, Eva Mendes and many more, Joan's belief that "beautiful things can cause important actions" proves to be true in myriad ways.
I had the opportunity to talk with this philanthropic jewelry designer about what inspired her to start Joan Hornig Jewelry and the lessons she learned along the way. Prepare to be inspired by this pioneering designer whose passion, effervescence, dedication and passion is revolutionizing the way we buy and wear jewelry.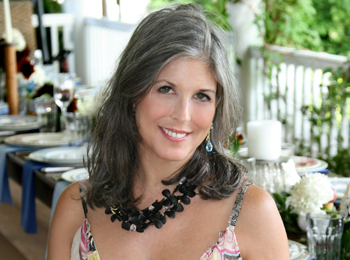 Joan Hornig
What inspired you to create your eponymous company, Joan Hornig Jewelry?
I made jewelry for myself all the time as soon as I got enough money to buy the materials I needed. That was the 80s, when I was on Wall St. The era of big parties, big jewels. I would take antique pieces -- because I was an art history major -- and I would expand upon them and I would cast them and I'd take something that might be French or whatever and make it big and bold and go all the way around a tiny little piece. But after 9/11, I didn't care anymore about just having the best stuff. I cared about being the best I could be. When I was 20 I promised myself that I was going to give back 100% by the time I was 50. And you have to learn to keep your promises to yourself!
So I was making jewelry and buyers were stopping me, friends were stopping me. I had gone from working outside of the home on Wall Street, to working in the home so that I could spend more time there after 9/11 and I was even in beading classes with my young daughter. The things that became interesting to me were less than pristine, a little more rough looking. It wasn't about the power pearls, or the perfect diamonds... and people were saying, "This is a very interesting thing, it doesn't look like everybody else's." So I spent more time with the mothers of the other kids in beading class and I kept my promise to myself that I would go to at least one cultural thing a week while living in New York. So I would make the mothers meet me at the museum! A friend of mine told me she loved my necklace and was so surprised when I told her I had made it. She asked me if I'd make her one and I said, "I'll make you one but I won't take money for it, you have to give it to a charity" -- and that's what I said, from the very beginning, to the women who asked me. We went back to my apartment and I showed her the jewelry I kept in Tupperware under my china cabinet and she was so impressed that she phoned someone she had been in a Mommy and Me class with 10 or 15 years before who was a very high divisional manager at Bergdorf Goodman's and told her to see my stuff.
So I went in for an appointment -- my jewelry in my financial services tote bag! -- and the Bergdorf's buyer liked it but was unsure that I was a real business. Could I support the shopping museum of New York? They came back from the Las Vegas tradeshow, told me they liked my stuff better than what they saw there, and asked me to start doing trunk shows. But I said, I can't take the money for what I make! So I told them I would take the group of women who were buying my pieces and give all the money to the charities they cared about. I would have the world tell me -- in real time, just like at my trading desk -- what they cared about. Then I told Bergdorf's that I wanted to have a sign by my jewelry saying this, but they said to me, 'no, were not in the business of charity, we're in the business of editing and picking designers with long term appeal'. I was outraged but of course, they were right! I knew I had to put everything through Bergdorf's, credentialing was so important, and I asked them how much I had to sell to get the plaque. They told me and guess what, I got the plaque! And now they're proud of it!
I decided to go even further, and have everything made in the United States. Everything has to have at least 14 sets of hands touch it... I design every piece but we're going to shepherd it from person to person to person, and those people are going to reflect what New York and this country was built on -- immigrants, people of color -- to build a community based on respect, which is very powerful. I use clean gold, I make sure that all different religions hand it off and carry it through and I give 100% of the profits on the piece away. And that's the story!
What was the most difficult aspect of starting your company?
Emotionally, the greatest challenge was the risk of being disappointed, disappointed if it didn't work, or if my designs didn't resonate with consumers.
From a business perspective, my learning curve was actually very steep. I struggled with developing a cohesive line instead of having a lots of isolated designs, I had to become familiar with the then-foreign world of retail and I had to manage the production of a business with scant historical information as how to forecast needs and desires.
What is the most rewarding experience you've had so far?
Hands down, the people I've met! The amount of passion and commitment I've seen from the artisans, my staff, my customers and the people who conceive of, support and run the non-profits I've been introduced to through my customers, energize and inspire me to do more, do better, and think more creatively.
My family has also been extraordinary. They have been so supportive through both the highs and lows, and their belief in me and my dreams has been unwavering. It was yet another unexpected gift to feel their love and respect at this point in my life and career.

Deborah Earrings -- One customer who bought these designated 100% of the profits to go to the SHARE organization to support ovarian cancer, which was perfect because September is Ovarian Cancer Month!
What are your plans for the future?
I have so many and they all aim to keep the philanthropy message in the forefront of people's minds! I want to work more closely with non-profits and continue to produce things that are in your face, inspire conversation and make you smile.
I am expanding my jewelry line to include a men's line, and I've created "The Silver Lining Collection," which is more moderately priced and uses sterling silver according to the JH aesthetic for earrings, necklaces, bracelets, rings, some unisex pieces and even cufflinks. The first collection will be introduced this fall in time for the holidays.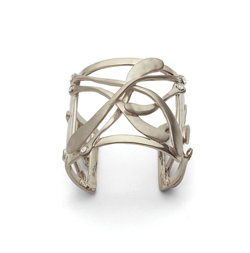 Alexandra Cuff in sterling silver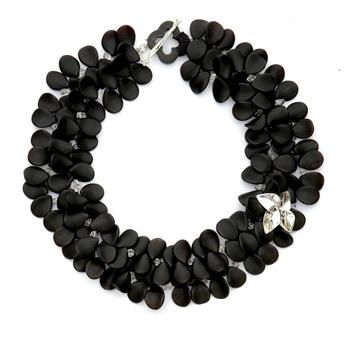 Black Petal Onyx Necklace with Silver Petal Motif
I am also creating the "Philanthropy Begins At Home" collection, which will feature sterling silver place card holders, napkin rings, beautiful hostess gifts and much more.
"Philanthropy Sounds Beautiful" is a really exciting project that I'm working on with Tariq Alexander -- a song writer, entertainment industry professional, President of Ruff Ryder's film division and founder of TSW Entertainment Network -- to create music that is written and produced by artists trying to break into the music business. This relationship actually grew out of a chance introduction at The Huffington Post pre-inaugural ball in January! The funds generated through purchases of these songs, from both online and in-store sales, will not only fund the charity of the purchaser's choice, but also Project 87 -- a non-profit entity dedicated to helping address a variety of pressing concerns in the urban community. Already two songs have been written, Philanthropy is Beautiful -- which will be featured on my website this fall, and My Best Friend.
What advice would you give to women who want to start a company like yours?
Believe in yourself, your passions, your life experiences and what you've gained from formal education and work experience. Never underestimate how effective you are at multitasking, planning and working with others to get things done. Don't be afraid of being judged, and don't listen to those who say your ideas are too big, too grand or too difficult to accomplish. Don't put off getting started. If you wait, you probably won't do it. If you see it clearly, you can make it happen.
While you think about your plan, be disciplined in setting your objective, determining what goals you need to meet, developing multiple strategies to achieve those goals and having very focused tactics to support those strategies.
Be tenacious! Be indefatigable! Be willing to give up some sleep, some socializing and some down time. Tolerate making mistakes and learn from them. Don't confuse a single product with a business, and -- this is very important -- let the women in your life help you! Their ideas will be invaluable and their support will carry you through the rough patches. It did for me.
Joan would love to know how you give back in style! Write your comments below or email Joan at info@joanhornig.com.
To learn more about Joan Hornig, her jewelry and the many charities that benefit from her designs, go to www.joanhornig.com.
SUBSCRIBE TO & FOLLOW LIFESTYLE
HuffPost Lifestyle is a daily newsletter that will make you happier and healthier — one email at a time. Learn more