Firmly planted in the heart of Whistler Village, Araxi restaurant epitomizes exquisite dining, providing Whistler locals and travelers from far and wide with a stunning yet tranquil space to delight the palette and please the soul.
Eager to meet the world renowned James Walt, Executive Chef at Araxi, I set up an interview to learn more about the restaurant's commitment to using locally-sourced ingredients and to find out how they consistently amaze patrons with their sumptuous dishes and thoughtful wine pairings.
After an enlightening chat with Walt that ran the gamut from organic farms to Olympic pressures, I had the honor to visit Araxi's kitchen and learn how to make one of the restaurant's most popular dishes (and a personal favorite), the Qualicum Beach Scallops with North Arm parsnips, vanilla bean parsnip puree, and 
whole prairie mustard seed and maple vinaigrette. Read on to find out what makes Walt and Araxi so incredibly special and unique, and learn the steps to making this incredible dish!


Inside Araxi restaurant
What sets Araxi apart from other restaurants in Whistler?
There's a few obvious ones... our commitment to local farmers and purveyors is been something we've been doing since 1997 so we've nurtured that relationship. I know its becoming a little more commonplace -- people are starting to source those ingredients -- but its been our mandate for the last 13-14 years.
So I think that's something different about us, our absolute commitment to using local products. We don't just talk the talk, we walk the walk. And I think we represent the area. The cooking style here is regional -- most of the things we use are regionally driven. So those would be the obvious ones.
Also, we have a raw bar, which I think makes the restaurant a lot more dynamic. We had it down at our sister restaurant Blue Water before I brought it up here in 2003...I think since that time it's something that really made us different from everybody else. The fact that we have that and that we serve all these different oysters, and prawns and sushi... yes, we are a western-influenced restaurant but the fact that we have that in the restaurant is to me, quite interesting.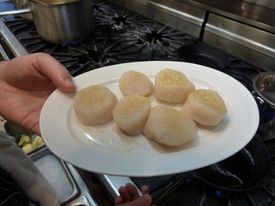 Step 1: Gorgeous Qualicum Beach Scallops are seasoned with a mix of salt and spice.
Why is it so important to use locally-sourced ingredients?
Freshness is the key -- there's no shipping or anything involved. When we do our salad greens, herbs, soft vegetables, zucchini blossoms, tomatoes -- literally they are live picked and then they come here -- there's no shipping. So I think what's reflected on the plate and to the guest is absolute freshness.
We're creating an environment for us to be here, we don't want to just be a restaurant up here looking at the city -- like Vancouver or California -- for everything that we do. To me it doesn't make any sense. I grew up on a farm and I think we're trying to create a community where we support local farmers, so that they're always going be there for us and we don't just want to have everything that everyone else has... that doesn't make a lot of sense. And then there's the carbon footprint -- which isn't initially why we got into it -- but it's one of those obvious things that everyone else talks about. In the summer, I'm at those farms four times a week and I pick the stuff myself. The main farm we use is just one kilometer from my house (in Pemberton).
Supporting your local community -- whether it be produce, and from our side obviously we're looking at food stuff -- but with anything I think ... if you can buy it in your own backyard, why wouldn't you do that? Trying to create a community and not just a necessity... you want to have something that means something.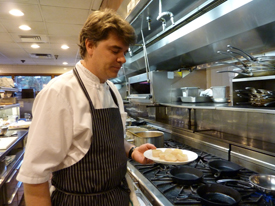 Step 2: Time to sear the scallops! Use hot grapeseed oil. Walt's tip: When searing seafood, always leave the presentation side on about 30 seconds longer that you normally would.
What are your most popular dishes?
The Pemberton beef is huge, wild salmon is always a big thing year round -- because of where we're situated -- spot prawns .. we do a spot prawn cocktail that's good and we're going do a scallop dish later [as part of my cooking lesson.] The Qualicum Beach Scallops -- and that's about as the crow flies, 15 miles from here -- that's a very big dish for us and very popular.
Scallops are a really nice thing, mild and kind of sweet, definitely one of my favorites. I've had that one on the menu in some form -- I'll change the garnish depending on what the season is -- but that's been on the menu for at least 5 years [at least three years at Araxi.] I've always used those.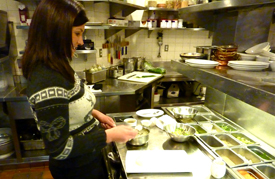 Step 3: I spoon a dollop of the parsnip and vanilla puree onto the dish.
When you're trying to come up with new things for the menu, do you do it at home? Do you do it here [at Araxi]? What inspires you for a new dish? How does that work?

It's a combination of all those things. I do a lot of it at home and definitely here but the menus get easier and easier because the closer we get to the farms and what's going on around us -- the menu's can write themselves. So that has a lot to do with it -- just what I have available to me.
With our menus we change a lot because we're always flowing with the season, that's the biggest factor.
And then books, travel...I travel a lot and do a lot of food trips, which always has an effect. And I lived in Italy for 18 months and that has an effect as well, what I saw there...
And that's when you were drawn to the market selection, when you were in Rome?

That's really where it kind of solidified. I worked at Sooke Harbour House for 4 years in 1992 and that's what they were all about - using no products that were outside of a 40-mile radius. We didn't use olive oil, lemons... it was pretty wild and really very strict. But that was where I kind of saw the beauty in the local products and then going to Italy was a whole other level. It's great that we're really trying to buy into that, everyone's getting into it - you know "locavore" and all these terms have popped up... farmers markets... its great and awesome what's happening. But in Italy, and Europe in general, they're just so much farther along - they're so evolved! - all you see is seasonal product. You can go to a certain region in Italy and know where you are - someone could just pick you up and if you know Italian cuisine well - they could pick you up, take you somewhere, sit you down and there's a plate of food and you'll know, I'm on the Amalfi coast. That's the way they work.
Being there really solidified that this was the best thing to be doing and to just take it to a whole other level. We've got local beef now and all these things that we didn't have a few years ago. Because we're supporting them and helping that industry grow.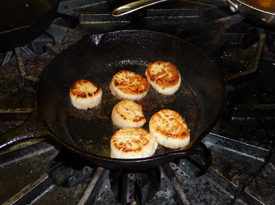 Step 4: Scallops are seared to perfection!
What's one thing people don't know about B.C. cuisine?
Geographically, what we have available here, is just incredible. When we started the 100 mile menus that we do in the spring people were like, 'oh wow' but it's really not a stretch because within 100 miles of here we have a pristine ocean, pasture lands, the Fraser Valley alone is like one massive garden. Up here we have hundreds of farms and then there's all the wild products as well. The first nations influence - they have all the wild things we use... like the Indian candy - that all originated here. so I think that's the thing that most people would be surprised about. When you come here - and I always hear this from other chefs - people who come from places like Europe, they're always just floored by what we have available. And sometimes they're even shocked. They're like, 'man if I had this in my backyard I'd be going nuts' and yet we're still educating people.
I think that's the biggest thing about British Columbia. In Canada in general we have some good stuff but nothing like B.C.. In the prairies you have farmland and wheat and lentils and those kinds of things and Alberta has the beef industry, but B.C. has a lot of everything... then couple that with a killer wine industry - the Okanagan! - and... we're spoiled! That's why I live out here... it's pretty hard to break out of here and go somewhere you think you're going to get that same kind of product.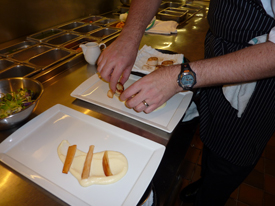 Step 5: Walt shows me how to place the sweet parsnips on the puree
I think most people just think salmon when they think of B.C.!
Yup, they do. That's why we try to have local beef and local scallops and all those kinds of things. People go, 'oh wow, I thought scallops only grew on the east coast' because they're always seeing Maine or Digby scallops - they have no idea what we have. The ocean here is much bigger - the Pacific is huge - and with the cold currents and the hot currents... well, its pretty neat.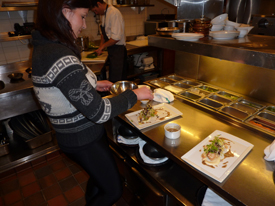 Step 6: I place the scallops onto the parsnips, drizzle on the whole prairie mustard seed and maple vinaigrette, then top the dish with light greens
It was much bigger than we thought! Neither Jack [Evrensel, owner] or I really understood it...we were not ready! We just couldn't believe it... I mean, 1 in 30 Canadians watches that show. When you think about it realistically that's a lot of people. That's like... 1 million people in Canada! And that's just in Canada, you couple that with the US, the UK, it's going to 60 different countries...
So it's definitely made a lot of people aware of us and it certainly didn't hurt business. There's been a recession going on for a while but we felt no effects of that. We had our best fall in history ... we were packed, it was incredible! Normally it's quieter in the fall - shoulder season.
It's been great for business. Then our book - and this was strictly coincidence - it came out at the same time as the show so ...everything aligned and it sold really well. Really big that show.
As for Dave [Levey, winner of Hell's Kitchen season six...] - everyone's getting their pictures taken with him... it's crazy... it's bizarre how far-reaching the show has been.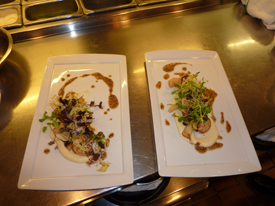 Voila! The dish is complete... can you tell which one is Walt's and which one is mine?
Of course I have to ask, how do you feel about the Olympics being here?
I'm frightened! The way we're set up - I have 604 reservations on Saturday - we've never touched anything like that in our life, in our history here. We are chocablock and we're going to do things that we haven't done before. So it'll be a challenge, it'll be interesting...
In order to do those kinds of numbers - how many people I'll have working, the product coming up with the road closures - doing that many people is a challenge in and of itself but when you throw in that I can hardly get into work and we have our deliveries coming in around 3-6 am ... there's a lot of things and we keep telling ourselves it's just for 2 ½ weeks that we'll have this influx. Ultimately, it will be different. It's hard to see it now and there's people moaning but there's going to be good things to come out of it. People are going to get to see what we're all about! We've got great infrastructure - just look at the highways and how things have changed.
Obviously the Olympics haven't happened yet but I think it's going to be a very positive experience and I'm not sure what everyone else is doing but we've stuck to our guns. We turned down buyouts and all those kinds of things. We wanted to do what we wanted to do - we didn't want to just close the restaurant and do breakfast, lunch and dinner for a country - we wanted to do Araxi so that we could represent ourselves. We're doing a lot of a la carte as well, probably 50/50. So it is a bit frightening... when you're doing that.
Any sacrifices to be made when you start serving those kinds of numbers
I'd like to think not, there's been a lot of planning. We've shrunk the menu, we chose the things that we wanted to feature and we've been working hard at it already. Like, we hand roll all our gnocchi so we've been doing larger batches.
If we stick to our guns - I mean, we've done large nights before, we 300 plus some nights - I think we'll still represent who we are. That's our ultimate goal. And I think we can accomplish that. So long as you use the local products, right away you're already one up, and if you can focus your staff, it should come through.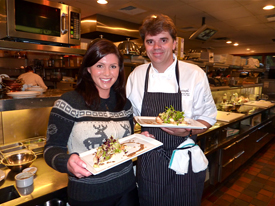 Walt and I present our Qualicum Beach Scallops in the Araxi kitchen... what a fabulous lesson and delicious dish!
A big thank you to Araxi Executive Chef James Walt and everyone at the restaurant!
SUBSCRIBE TO & FOLLOW THE MORNING EMAIL
The Morning Email helps you start your workday with everything you need to know: breaking news, entertainment and a dash of fun. Learn more