The Canadian Opera Company kicked off a brand new season with the classic Verdi opera Aida, and while everyone raved about the vocals it seemed they were all raving mad about the sets. There was of no elephant on stage but the hoopla over set designer Hildegard Bechtler's stark, minimalist staging was the elephant in the room -- scads of critics have lambasted the COC for what was almost universally described as an Aida-meets-Mad Men catastrophe.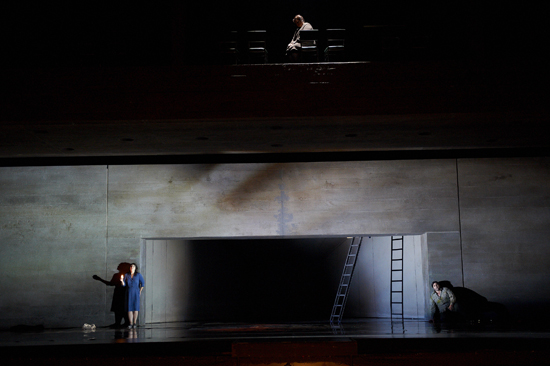 Aida (left), Amneris (top) and Radames (right)
Have they all forgot that it's 2010? If forward-thinking opera companies like the COC don't reinterpret and reinvent the classics to make them relevant and thought-provoking, than what on earth is the point of going to the opera? The singing was absolutely superb -- an undeniable fact no critic failed to applaud -- and while they tore apart the bare sets, I thought, what better way to show off the incredibly beautiful, crystal clear voice of star Sondra Radvanovsky as Aida? Rosario La Spina and Jill Grove were impressive as Radames and Amneris respectively, and costume designer Jon Morrell offered swish 1960s garb and a creative scene with the chorus skeleton costumes that saw a few people out the door. The COC's modern adaptation of Aida excelled creatively and offered opera fans the opportunity to really think about what makes a great production -- stellar vocals, and what makes a great opera company -- a passionate commitment to innovation that never compromises talent. Bravo to a very brave COC!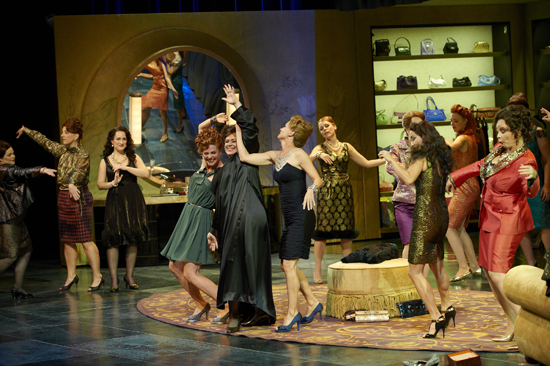 Amneris and COC Chorus
In 1973 Benjamin Britten transformed Thomas Mann's tortured, homoerotic novella Death in Venice into an opera that offered nothing by way of harmony, and this remains the case for the COC's 2010 production of the young opera. Grating music coupled with the jarring voice of the sickly obsessive Gustav von Aschenbach made for a trying auditory experience -- though to no fault of the COC -- they were indeed true to the original.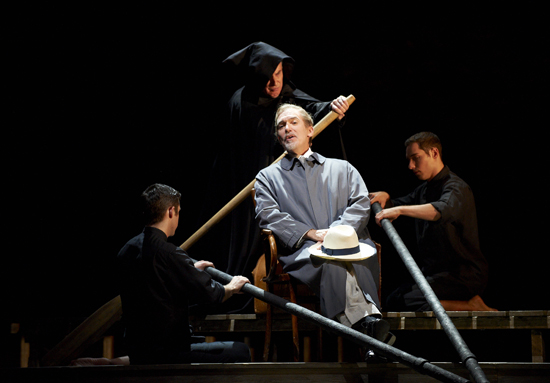 Aschenbach with the Old Gondolier
While this is certainly no opera at which you can close your eyes and get lost in beautiful music, there is an artistic rationale for regaling the audience with an unfortunate cacophony of sound -- it conveys the inner turmoil Aschenbach feels over his disturbed longing for a very young Polish boy and the mental degradation that accelerates as he is physically consumed by cholera. Alan Oke does a fantastic job as Aschenbach -- which is no easy role -- and holds the stage through both acts with impressive presence. Death in Venice is unlike any classic opera and for that fact it will divide both operatic enthusiasts and novices in their estimation of the production. Positive or negative judgements aside, audiences can be sure that the COC has offered a visually pleasing production that may not be melodically appealing but is certainly intellectually stimulating.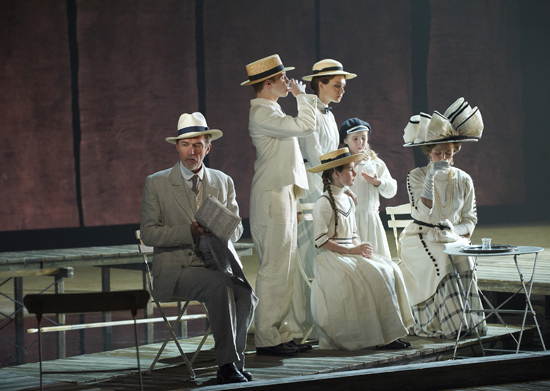 Aschenbach and the Polish Family
Find out more about the Canadian Opera Company by visiting their site here.
Photos: The Canadian Opera Company
SUBSCRIBE TO & FOLLOW CULTURE SHIFT
Every Friday, HuffPost's Culture Shift newsletter helps you figure out which books you should read, art you should check out, movies you should watch and music should listen to. Learn more