LG Fashion Week 2009 is off to a great start! Toronto's Liberty Village is the new home to fashion week and it was packed to the rafters with fashionphiles biting at the bit to dive right into the week's fashionable fabulosity. Read more for your inside look into all the shows and parties so far!
Former Project Runway Canada contestant and north-of-the-border fan favorite Sunny Fong was one of the most-buzzed-about designers leading up to LG Fashion Week and was given the high honor of launching the week with his Spring/Summer 2010 capsule collection in the beautiful Art Gallery of Ontario. Apparently inspired by French Polynesia and the film Mutiny on the Bounty, Fong's collection felt more prosaic than Polynesia; had the show been a full collection I may have wanted to jump ship. Using an ivory and sand palette accented with shots of red and fuchsia, some of Fong's designs reminded me of skating costumes while others seemed a tired take on the classic Versace woman's predilection for tailored pants and jackets mixed with leather, big hair and dark eyes. All in all an uninspired disappointment from a designer once teeming with potential.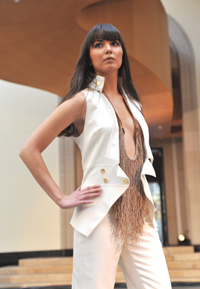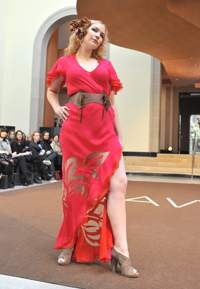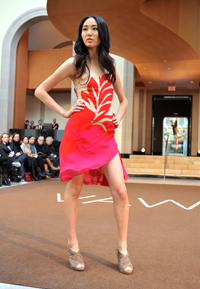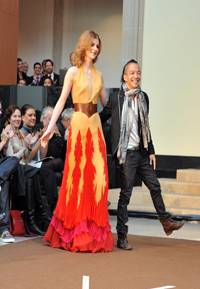 Holt Renfrew Media/VIP Cocktail Party
After a lackluster start to the week at VAWK fashion followers flocked to Holt Renfrew for boozing and shmoozing on the third floor's contemporary clothing space for the Media/VIP party. Mingling amidst clothes by Helmut Lang and Alexander Wang we were treated to a mini fashion show with looks assembled from some of Canada's greatest designers, such as Denis Gagnon, Jeremy Laing, Mikhael Kale.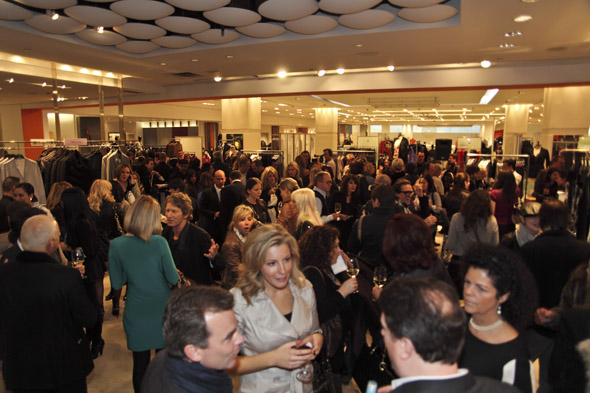 [The scene at the Holt's party]

[Runway looks]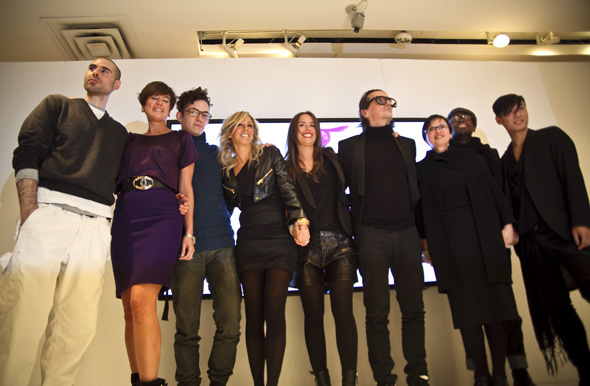 [Designers take a bow after the Holt's Party mini fashion show]
[Photos courtesy of BlogTO]
Ready to turn on our designer heels at a moment's notice, we migrated to the tents at King and Shaw after the Holt's soiree for a handful of fashion fun. Eddie Maleterre and Eric del Monoco from L'Oreal Paris celebrated the theme of 100 Years of Beauty by sending out models with looks representing moments from 1910 to the present day. Then Flare magazine editor Lisa Tant awarded the FDCC Development Fund announced local-favorite, designer Lucian Matis, as the winner of the Fashion Design Council of Canada Designer Development Award. Last but not least, models paraded down the runway in costumes from the Stratford Shakespeare Festival alongside clothes from celebrated Canadian designers, as well as FDCC ballerinas outfitted in tutus for the week's theme of Wear Love.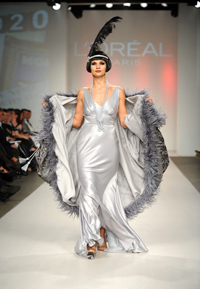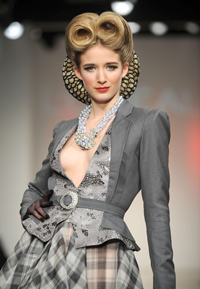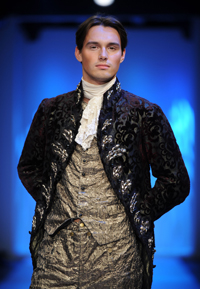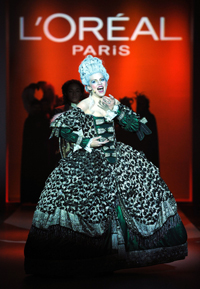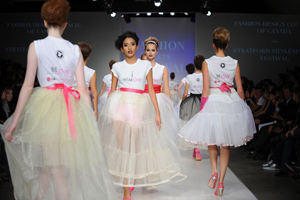 Designer Brian Maristela sent out a strong ready-to-wear men's collection whose dark blazers trimmed in yellow and purple and collared in black ostrich leather I immediately coveted for myself! His sexy show featured copious amounts of skin and not much else but when the models were dressed in more than a Speedo, the clothes spoke for themselves. Fantastic attention to detail and wearable, fashionable pieces. My only serious critique? Maristela's dead animal shoulder sling -- nothing sexy about that.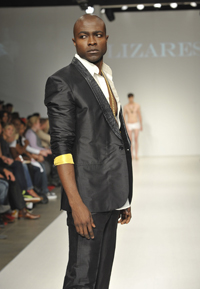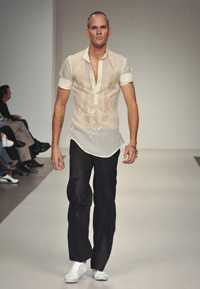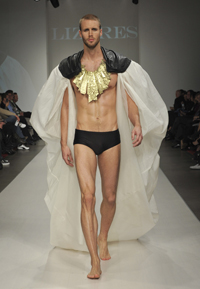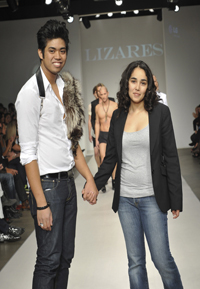 There was a definite air of American at Taddeo with red, white and blue reigning supreme and an obvious athleticism channeled through his use of perforated leather and mesh, not to mention sending out models armed with bats not much smaller than their limbs. His show got off to an uninspiring start but I sat at attention once I started seeing all-leather outfits -- shorts, skirts, bras, tops, sweaters -- all in my favorite color, black! There were interesting one-shoulder slings that reminded me of the Fleet Ilya armored-shoulder handbag Rihanna rocked recently which toughened up many otherwise simple looks on Travis' runway. The denim looks did nothing for me but I loved the leather!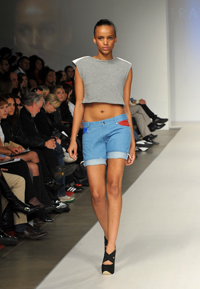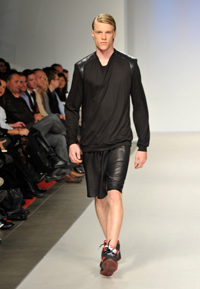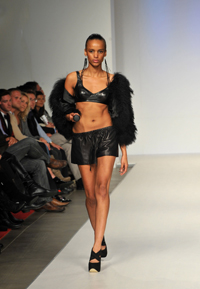 Meyers sent out lots of pastel pieces accented with black accessories -- ankle socks, leather gloves and hats, for instance. A few of the first looks made me think of Alice in Wonderland but I had trouble sensing any semblance of thematic direction with this collection. There was some interesting shoulder detailing and some of his dresses reminded me of Victoria Beckham's first foray into fashion with form-fitting, structured dresses. The little hats were very British and they added extra charm and character to the show. I really disliked the few looks with multi-colored patterns and felt they were totally out of place on this runway and in this collection. The audience was thrilled however and it was the first show where some people stood to applaud.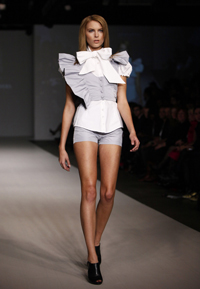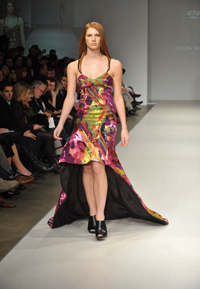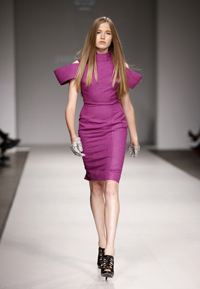 The looks with paillettes from Dixon instantly reminded me of fashion darling Christopher Kane's Spring 2009 Ready to Wear collection and a lot of looks reminded me of daring designer Giambattista Valli and his infamous bubble skirts and dresses. Dixon sent out a gorgeous white tulip dress, albeit like a Valli, and a stunning midnight blue satin draped bubble skirt with white tube top cinched with a wide black belt. His strength is clearly in draping and working with silks but why on earth he choose to create clothes akin to Christmas tinsel beats me. A couple other looks had appliques that reminded me of Valentino but this version looked like a cheap knock-off. Dixon was smart to use stunning accessories which his sister Susan who sat beside me at the show said came from a designer they've worked with for a few seasons now -- Rita Tesolin. Despite the obvious nods to other celebrated designers I really enjoyed Dixon's show; some of my favorite pieces of the day came from his collection.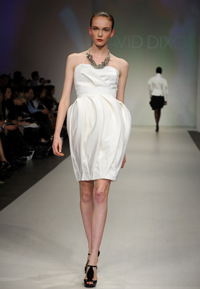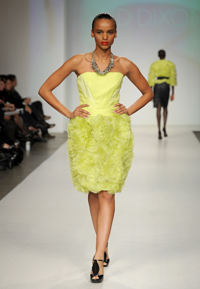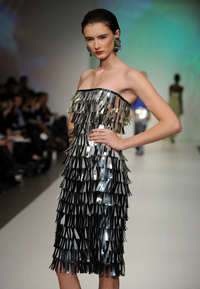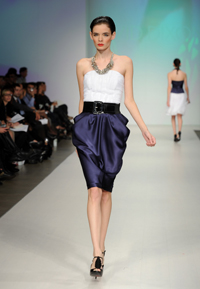 Barbie and Ken grow up in this fun show full of pink, black and white. Loved the black ankle socks and nerdy-chic black-rimmed glasses on the models. Lots of houndstooth prints and pink lining in jackets and dresses. The models were pretty and smiling. Nothing daring here but everything was cute and dare I say, Ken's fashion eclipsed Barbie's tonight!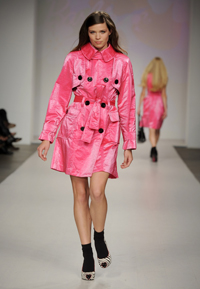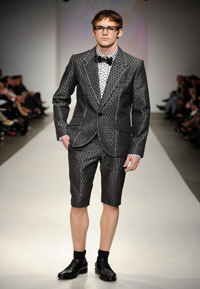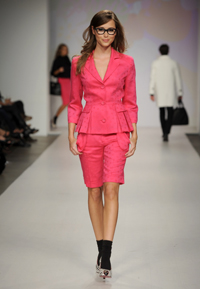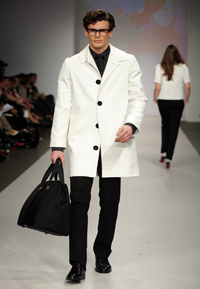 Upon entering the intimate Showroom space we encountered five models in Andy's champagne-colored silk looks lounging on chairs and a black faux-fur bed, moments later to be treated to an impromptu fashion show replete with lots of beautiful silk dresses and stiff, deconstructed jackets.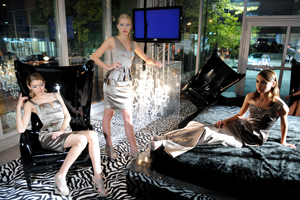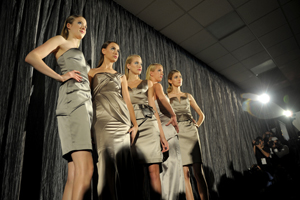 What a racy and raucous way to the end night! The runway was decorated with lounge chairs, a bar, a barbecue and Toronto celebrities Rick Mercer (of The Rick Mercer Report), National Post man-about-town Shinan Giovani and sassy model Stacy McKenzie. There were some fun plaids and stripes fabrics used but believe me, all eyes were not on the clothes! McKenzie wheeled a mini bar down the runway in her bikini, stopping to dole out Caesars to lucky front row revelers, including me! There were lots of leers and cheers during the show, especially animated when Mercer and McKenzie strutted down the runway to close the show, with Mercer giving his best Zoolander face to the throng of cameras. Designers (and former lawyers) Shawn Hewson and Ruth Promislow truly put on a show and while the clothes were relatively unremarkable, the Bustle show was unforgettable!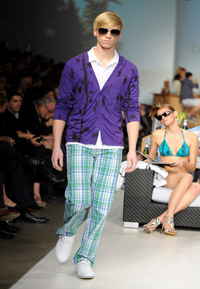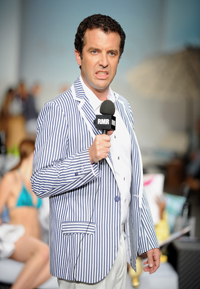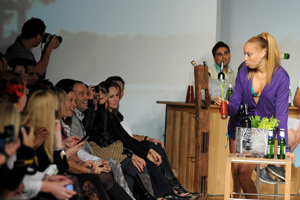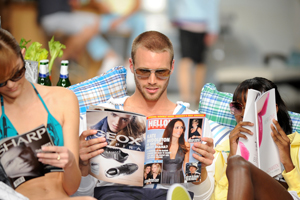 Stay tuned for more from the shows and parties! Follow me on Twitter to get my thoughts straight from the front row of LG Fashion week 2009!
[All images courtesy of WireImage unless otherwise noted]