A mysterious masked snowboarder kicked off the 2010 Olympic Winter Games in Vancouver after he jumped through the Olympic rings, sending fans in BC Place cheering with excitement and awe. But just who was that daredevil snowboarder?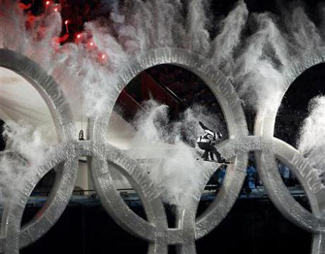 Image courtesy of Reuters
Turns out Vancouver's own Johnny Lyall had the honors on that historic night, and here's what he had to say about the life-changing experience when I caught up with him ...
How did you get involved with the Olympics?
I was contacted to go to an audition for a snowboard commercial and they chose three snowboarders, which happened to be me, Shin Campos and Kevin Sansalone. We didn't find out it was for the opening ceremonies until we got the gig.
What were the Opening Ceremony preparations like?
We shot the opening edit last April and then started training on a replica of the jump that was built in Whistler in the fall. We took about a month to figure out what we were going to be landing on and fixing all the kinks until we had a jump that would work in the stadium. On January 17th we moved in to the stadium and practiced the jump every day until the big night.
What emotions did you have about representing Canada to the world?
I felt really honored to be representing Canada in my sport. I really didn't think about that too much until afterwards when I received a huge response via email and Facebook from people across Canada.
How did you feel about representing snowboarding to the world?
I was nervous from the beginning that snowboarding could have been portrayed poorly. If the edit was done wrong and the jump looked bad, for example. As time progressed and we oversaw the edit and looked at the building of the jump I felt confident that snowboarding was going to be represented properly.
What are your impressions of the Games so far?
The games have been fantastic! Our city looks great, the excitement is high, and the partying has been great!
What's been your favorite medal win so far?
Alex Bilodeau, because he won Canada's first gold and it was a huge moment early in the games.
You grew up in Vancouver, what are some insider tips to the city?
For the best view in town and some great local snowboarding I highly recommend you go up Grouse Mountain. Take a stroll through gas town and check out some of the boutique shops. Make sure to go to Whistler if you come during the winter and I recommend the sunshine coast if you are here during out summer.
Future plans?
Continue to snowboard and work on 8milelife.com -- a snowboard website/movie I run with some of my friends.
SUBSCRIBE TO & FOLLOW THE MORNING EMAIL
The Morning Email helps you start your workday with everything you need to know: breaking news, entertainment and a dash of fun. Learn more