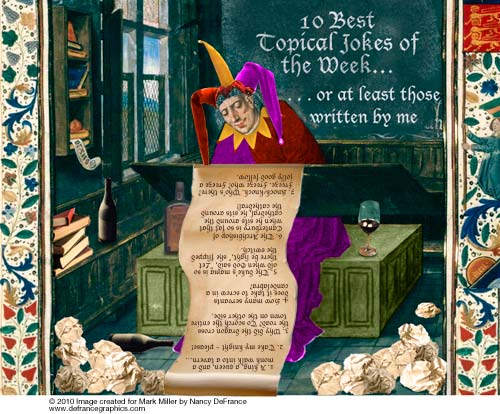 © 2010 Image created for Mark Miller by Nancy DeFrance
http://defrancegraphics.com/
Many online retailers tried to capitalize on Cyber Monday, when people do their Christmas shopping on the Internet, by offering one-hour only sales and free shipping. In a related story, New York City hookers reported a successful Happy Ending Tuesday.
Some states are running low on sodium thiopental, one of the drugs used in lethal injections, and are asking Texas for some of their supply. Texas was also running low, so had to hit Dick Cheney up for some of his personal stash.
A restaurant owner in New Mexico is disputing the Guinness World Records' entry for largest enchilada ever made saying that his 10.5 foot long enchilada is the largest flat enchilada in the world, while the community in Mexico that made one 230 feet long was really a rolled enchilada. As you know, anytime men get together, it invariably turns into an enchilada-measuring contest.
Researchers have developed a tobacco plant that allows them to glow like deep water fish. Next up for the researchers -- figuring out why people would want to glow like deep water fish.
New York City's Department of Health has launched a new campaign to curb binge drinking that features a bloody-faced man and a woman passed out on subway steps after a night of drinking -- or, as Lindsay Lohan refers to it -- Thursday.
Google is reportedly considering buying Groupon, the online coupon company, for an estimated 6 billion dollars. Or it's free if four of their friends get it, too.
A new study suggests that there are 300 sextillion stars in the universe, which is three times more than scientists had previously calculated and one for each woman Charlie Sheen has dated.
During the first preview performance of the 65 million dollar Broadway show Spider-Man: Turn Off the Dark, the show was stopped five times due to technical difficulties, including actors left suspended over the audience. This was especially embarrassing to Spiderman's girlfriend Mary Jane, who'd chosen that night to go commando.
It was announced Monday that the New Jersey pastor who said Facebook can lead to adultery will take a 90 day sabbatical from his church after admitting to having a three-way sexual relationship several years ago. Said the pastor, "I just got confused about what 'Friend me' meant."
In an effort to create an economic boost for the 150-person town of Marne, Iowa, residents are offering five vacant lots to newcomers, free of charge. The one catch -- the five lots are in Marne, Iowa.

SUBSCRIBE TO & FOLLOW ENTERTAINMENT
HuffPost Entertainment is your one-stop shop for celebrity news, hilarious late-night bits, industry and awards coverage and more — sent right to your inbox six days a week. Learn more