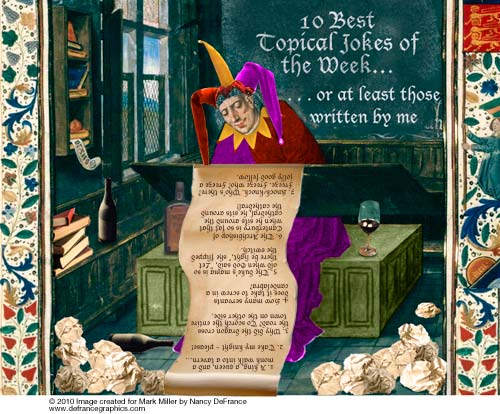 © 2010 Image created for Mark Miller by Nancy DeFrance
http://defrancegraphics.com/
Five students at Columbia University were arrested Tuesday for allegedly selling drugs out of fraternity houses and dorm rooms. The students' attorney said it was all a misunderstanding over the meaning of the term "higher education."
A new study rates Oklahoma as the state with the least fiscally responsible people - but also the state where the wind most comes sweepin' down the plain and the wavin' wheat can sure smell sweet when the wind comes right behind the rain.
It was announced Monday that 5 days after several celebrities, including Lady Gaga, Kim Kardashian and Ryan Seacrest, had pledged to stay off of Twitter until they raised 1 million dollars to fights AIDS, they reached their goal after raising 500,000 dollars and a philanthropist made a matching pledge. The celebrities are at a rehab facility being treated for Twitter Withdrawal.
A doctor dressed as Elvis for the Las Vegas Rock 'n' Roll half-marathon revived a woman with CPR when she passed out after the race. The doctor told the woman, "I'm not really Elvis." The woman responded, "That's okay; I'm not really a woman."
In an upcoming interview with Barbara Walters, Oprah Winfrey denies that she is a lesbian. She then kisses Walters on the lips and goes to lunch with her best friend Gayle.
According to a new report, more women are binge drinking, saying they had five or more drinks at a single occasion in the past month. The report was based on a study of Amy Winehouse.
Palace officials in England said that Prince William and his fiancée, Kate Middleton, will receive counseling from senior British clergy on how to handle marital pressures -- which is kind of like receiving poetry-writing advice from kick-boxers.
A Quantas airlines flight in Australia was delayed for a half-hour because they were having difficulty loading a cheetah onto the plane. It was part of Quantas's popular Cheetahs Fly Free on Tuesdays promotion.
One of the latest trends in cosmetic dentistry is to have gaps in front teeth created like Madonna has. Or at least that's how really bad dentists are explaining their work to their patients.
Scientists in Kenya have located the "terrible hairy fly," which is one of the world's rarest and oddest-looking flies - as well as the title of one of the worst-selling porno movies ever.

FOLLOW HUFFPOST