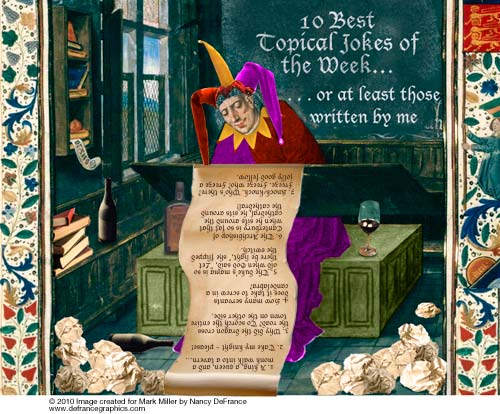 © 2010 Image created for Mark Miller by Nancy DeFrance
http://defrancegraphics.com/
Starting in 2011, Ukraine is planning to open up the sealed zone around the Chernobyl nuclear reactor to tourists who wish to learn more about the tragedy. One of the new tourist slogans is, "Come With Two Eyes; Leave With Three."
A new survey of online flirting has found that the best Internet pick-up line for men to use is "You have beautiful lips." The worst is, "The primary symptoms of cholera are profuse painless diarrhea and vomiting of clear fluid."
A nun in New York State, with a gambling problem, was accused this week of embezzling more than 850,000 dollars from a college where she oversaw the school's finances. The nun claims she is married to God and her husband said it was okay.
Doctors in Germany say they have cured a man of HIV by using stem-cell therapy. The one side effect is the man has just invaded Poland.
Archaeologists in China have discovered a 2400 year-old pot of soup. They described the taste as "Not that fresh."
This Thursday after 25 years on the air, Larry King hosted the final episode of his CNN talk show, which he dedicated to all 78 of his ex-wives.
A judge in England this week rejected an appeal from Julian Assange to not reveal the location of the home he will be staying at while out on bail. Said the judge, "You've got a lot of balls asking us not to reveal information."
Bird-watchers at a preserve in Pennsylvania say that they have counted a record 407 bald eagles this fall, which is another sign that the species is making a comeback. Marketing efforts are also underway to sign them up for the Hair Club For Eagles.
This holiday season a choir of TSA agents at Los Angeles International Airport have been surprising passengers with performances of holiday music. Must be nice to hear "Oh Come All Ye Faithful" while your private parts are being patted down.
A new poll shows that a record low 13 percent of Americans approve of the job Congress is doing. The 13 percent are, coincidentally, members of Congress.

SUBSCRIBE AND FOLLOW
Get top stories and blog posts emailed to me each day. Newsletters may offer personalized content or advertisements.
Learn more