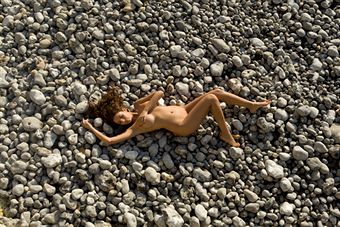 One of the nude supermodels found on planet Volare
Photo: Getty Images/B2M Productions
London, England -- In what experts are calling the most startling scientific discovery of the century, a British astronomer has located a planet completely populated by nude supermodels. Astronomer Robert Newcombe, of London's Royal National Observatory, made the astounding find while testing an experimental high-powered electron telescope over six hundred times more powerful than the Hubble Telescope. "At first I thought I was hallucinating due to lack of sleep and overwork," recalls Newcombe. "So I called several colleagues over to confirm what I saw. We were stunned."
What Newcombe and his colleagues observed on the planet Volare was a tropical paradise-like atmosphere, lush foliage and trees bearing enormous, succulent fruits, a multitude of unusual-looking though friendly animals, and the most breathtakingly beautiful women and amazingly handsome men imaginable, all completely naked. "Clearly, every one of them is a supermodel," continues Newcombe. "Actually, they're far better looking than any supermodels I've ever seen. And their sexual chemistry is incredibly powerful."
Newcombe finds both positive and negative aspects of his once-in-a-lifetime discovery. "The bad news is that the supermodels populate a planet in the Andromeda galaxy, which is three million light years away, so don't expect any weekend coffee dates with them," observes Newcombe. "But the good news is that our technology is such that we are able to capture crystal-clear photos of the supermodels, which is invaluable for research. In fact, every researcher here immediately volunteered to work overtime studying the photos and to take the photos home over the weekend to continue their research. Now that's dedication."
How did this planet of supermodels originate? Newcombe and his colleagues at the observatory have three theories, each of which is being investigated in conjunction with a worldwide team of astronomers, scientists, and time-travel experts.
The theories are: 1) That a secret NASA project involved cloning supermodels and establishing the perfect environment for them to reproduce an ideal civilization on another planet in the event that Earth is destroyed by nuclear war or natural disaster.
2) That the supermodels are an ancient civilization which attained this level of perfection and had the intelligence to maintain their paradise throughout time.
3) That corporate America established the planet as the ultimate vacation reward for executives who substantially increase their company's profits.
The Royal National Observatory is currently holding high-level meetings with top worldwide government representatives in an attempt to decide how to deal with planet Volare. Whether there will be civilian space voyages there, whether the Volarians will travel here, and how Earthlings will interact with them, are all under discussion.
Until then, the planet of supermodels is being closely monitored and studied, though according to Newcombe, "the activities observed thus far seem to consist primarily of non-stop, wild love-making."

SUBSCRIBE TO & FOLLOW ENTERTAINMENT
Get top stories and blog posts emailed to me each day. Newsletters may offer personalized content or advertisements. Learn more