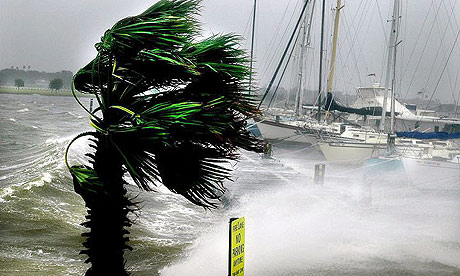 Image courtesy of www.guardian.co.uk
Port St. Lucie, FL -- In a startling development for both the legal and religious communities, the state of Florida is suing God for hurricane damage. It is an historical milestone -- the first time God is being sued. Battered each year by the likes of Hurricanes Charley, Frances, Jeanne, and Ivan, Florida's $50 billion tourist industry took a huge hit as its major theme parks were shut down, the citrus industry ravaged, massive beachside evacuations took place, homes and hotels were seriously damaged, jobs lost, and severe injuries and even fatalities resulted.
"Basically, God ruined Florida," explains Arthur Pheswin, the attorney retained by the state of Florida to bring suit against the Almighty. "Thanks to Him, lives were lost, several industries destroyed, the state nearly went bankrupt, and people's dreams were crushed in an instant. That's gross negligence, intentional destruction of private property, and, well, murder. And this from a supposedly compassionate God. Well, it's time He be held accountable."
Pheswin is the seventy-fourth attorney Florida approached to take on the case -- and the first to accept. All seventy-three attorneys asked previously turned down the offer due to fear. Most felt that it would be impossible to win, that they would be scorned and harassed by scores of religious organizations and communities and, last but not least, that God would strike them dead. But Pheswin, who received his law degree from the Acme Correspondence School of Law, looks at the objective realistically. "I didn't become a lawyer to win popularity contests; I became one because I love challenges. And what's more challenging than suing the Creator of the universe? Imagine how that will look on my resume -- assuming I win, that is. Which I will."
The lawsuit has been filed at the Vatican where, according to Cardinal Thomas Blofeld, "The Pope has presented it to the Lord, who requested two weeks to have His people look it over and then get back to our people." The suit asks for $50 billion in actual damages, $100 billion in punitive damages, a promise to shield Florida from hurricanes and tornadoes for the next ten years, an apology to the state, and guaranteed admittance to Heaven for Pheswin. And if he should lose? "I'd prefer not to think about that," says Pheswin. "But it could be trouble. I will say that I've taken out extra life insurance and I'd strongly urge all Floridians to do the same."
The trial will take place in the Vatican's Court of Appeal, presided over by the College of Cardinals and the Pope himself. Asked about his most high-profile case prior to this one, Pheswin reveals, "I successfully sued Schwartz's Deli on behalf of a woman who chipped her tooth on a piece of plastic in her matzoh ball."

SUBSCRIBE TO & FOLLOW ENTERTAINMENT
Don't be the last to watch the viral video everyone is talking about. Learn more