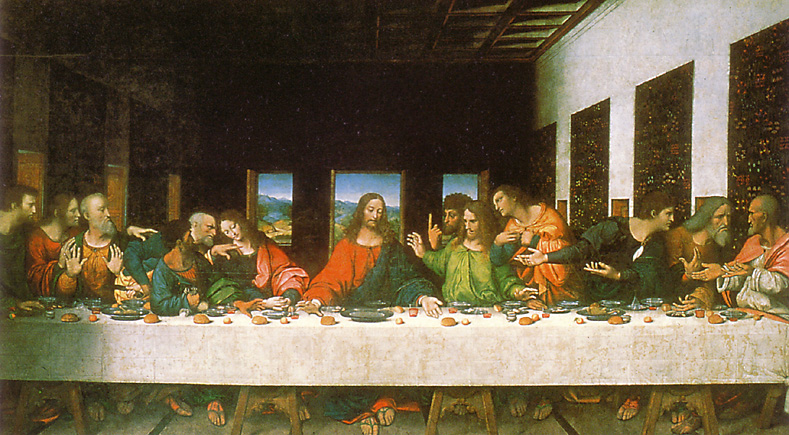 Man's chest hair formed this image.
Corpus Christi, Texas -- The art world was stunned recently to discover a never-before-seen rendition of Leonardo da Vinci's classic painting, "The Last Supper," done in a truly unique medium -- a man's chest hair! As librarian Zeke Dunfy, 43, revealed on the local TV show, "Good Morning, Corpus Christi," his chest hair has formed a minutely detailed version of the famed religious painting showing Jesus seated with his disciples at a long table, during dinner on the evening before he was to be betrayed by Judas.
"I noticed the image beginning to take shape when I was eighteen," recalls the especially hairy Dunfy. "It seemed to form from left to right, with Bartholomew, James Minor, and Andrew taking shape first, followed by Judas, Peter, and John, and then Christ, Thomas, James Major, and Philip -- and only very recently were the last three disciples completed -- Matthew, Thaddeus, and Simon."
As to what caused this bizarre occurrence, Dr. Malcolm Colby, of the National Institute of Unexplained Phenomena, states, "On rare occasions, the mind-body connection may be so strong that the synaptic energy and imaging will actually transfer from the mind to the body. A dream, a thought, even an image seen -- any of these things can become physically imprinted, manifesting itself as a mole, birthmark, scar -- or a design in chest hair."
Dunfy is in no hurry to have it shaved off. "It's a real attention-getter at the beach. And most women love touching it."

SUBSCRIBE AND FOLLOW
Get top stories and blog posts emailed to me each day. Newsletters may offer personalized content or advertisements.
Learn more