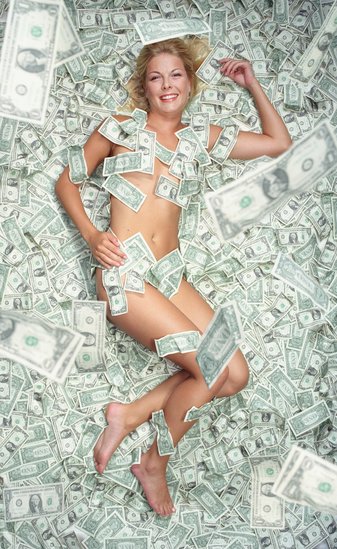 Gould just prior to her operation.
Photo: Getty Images/Eric Dreyer
BEVERLY HILLS, Calif. -- All her life, publicist Sandra Gould received compliments about her appearance. "People would tell me I was beautiful, sexy, and looked like a million dollars," revealed Gould. "The problem is, I never felt like a million dollars. I didn't even feel like a hundred thousand dollars."
But all that changed as a result of Gould dating a plastic surgeon. "Ted's crazy about me and would give me anything I wanted. So one day I said to him, 'Make me look like a million dollars.' He said, 'You already do.' But I said, 'No. I mean an actual million dollars.'" Gould's boyfriend finally understood -- and agreed. Four days after the nine-hour operation, the bandages came off. Her arms and legs were still there, but her torso had been stretched, molded, and engraved into an exact replica of a million dollar U.S. currency bill!
"It's the best thing that every happened to me," gushed Gould. "I'm the center of attention wherever I go. Countless magazines, newspapers and TV shows want to do stories about me. And best of all, Ted thinks I look hot. The other day, he told me I looked like a million dollars, and for the first time, I was able to reply, 'You know, I feel like a million dollars!'"
Gould would like just two more plastic surgery operations. "Ted's always telling me my lips are like two ripe cherries, and that my breasts are like luscious melons. And I got to thinking, 'Hey, why not?' So Ted operates again next month.