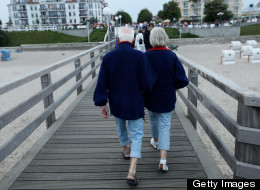 A total of 10,000 people turn 65 each day -- and many of them who retire want to make the most of travel opportunities. In my new book, "65 Things to Do When You Retire: Travel," I invited a world-class collection of writers and travel experts who are literally from all over the world to offer practical, inspiring advice about how to have the time of your life, whether traveling with a group, with a spouse or partner, or on your own.
Though the contributors to the book represent diverse perspectives, what they share in common is a restless curiosity, a passionate desire to discover more about the world. One of their recurring themes is that traveling is not a "spectator sport." They write in very different ways about how important it is to engage with the people in whatever city you're visiting. It's great to see the sights, but you only know a culture by interacting with its people, even if you don't always share the same language. In fact, that's part of the fun.
As I compiled the essays for this book, I was surprised to learn about a number of travel trends for intrepid retirees. They include:
* Glamping (a hybrid word that stands for glamorous camping) is for people who want to commune with nature in comfort and style. The concept has spawned a whole cottage industry of companies that provide authentic safari tents, or yurts, or tree houses, plenty of amenities, and planned activities. And there's something for every budget. GlampingHub's Abby Jeffords contributes an essay to the book that lets readers know about some of the great glamping options that are available.
* Voluntourism can be any kind of volunteer trip, from traveling to locations to help protect endangered species to helping improve conditions for people in developing countries. In my book, two contributors describe going on archaeological digs with Earthwatch Institute, a nonprofit organization dedicated to providing opportunities and unusual expeditions for travelers who want to "make a difference" in the world: Ruth Clemmer writes about the thrill of discovering mammoth bones over 26,000 years old on one of her digs, and another retiree, Warren Stortroen, describes how he went about unearthing an ancient relative of the armadillo that was the "size of a small Volkswagen."
* The golden gap year is like the gap year that graduating students take before setting off for college or to join the work world, only for new retirees it's a year of glorious travel before they settle into their retirement. The phenomenon of the golden gap year has taken the U.K. by storm and I expect that it's going to gain momentum in the U.S. as well. In her essay, gap-year expert Jo Carroll explains how you can prepare for your own amazing year of travel and adventure.
* Learning-vacations abroad are popular and range from cooking classes on the Amalfi Coast to wine appreciation tours in Australia, New Zealand, and South Africa. The acclaimed novelist Elizabeth Berg has an essay in our book about her women's-only writing workshop in Italy that sounds like it would be a wonderful experience for female retirees who want to work on that novel they've always longed to write.
* International house-sitting helps retirees who love to travel to live in exotic locales - without having to pay for lodgings. Teresa Roberts reveals how she's able to live like a local in an exquisite villa by house sitting. If you don't mind keeping someone else's home in order (and possibly watching over the pets as well) this may be the perfect way for you to travel the world.
* Taking a sacred journey is a way to travel and explore your spirituality, whether that means touring France's holy sites or walking the pilgrimage route of the Camino de Santiago (the Way of St. James) in Spain like film actor and award-winning travel writer Andrew McCarthy did. His essay about his encounter with a mysterious man who teaches him lessons about escaping his own sense of isolation is haunting and very moving.
* The let's-chuck-it-all-and-see-the-world fantasy has become a reality for more and more retirees -- both those who have independent means as well as frugal travelers. In "65 Things to Do When You Retire: Travel," Lynne Martin writes about how she and her husband sold their house, put their beloved possessions into storage, and became "senior gypsies," traveling the world and living for a few months in whatever far-flung place strikes their fancy. In fact, Lynne wrote part of her essay in Dublin and the rest in Marrakech. She e-mailed me to say that in order for her to deliver it to me on deadline, she was going to have to miss the snake charmers. I told her to forget the deadline and to enjoy the snake charmers!
Whatever paths you take, remember that, as contributor Zenaida des Aubris says, "there are no wrong turns" -- and that any byway can lead you to new discoveries. Safe travels!
(Note: All contributors to "65 Things to Do When You Retire" provided their essays on a pro-bono basis since all the royalties from the sale of this book will be donated to nonprofit organizations dedicated to cancer research and prevention.)
Mark Evan Chimsky is the editor of the newly released "65 Things to Do When You Retire: Travel," published by Sellers Publishing, Inc. His book, "65 Things to Do When You Retire," was named by The Wall Street Journal as "[one] of the year's best guides to later life."

Earlier on Huff/Post50:
7 Hot Travel Trends For Boomers
Green-focused consumers with sensitivity to the environment and world sustainability. The UN World Tourism Organization predicts 1.6 billion trips by 2020. Trips include hiking, seeing waterfalls, nature walks, bird watching and more. 

Adventure travel is for everyone of all ages. According to a report by George Washington University and the Adventure Travel Trade Association, the adventure category spending was $89 billion in 2009 with much growth ahead. Boomers and seniors are hiking, sky diving, snorkeling, scuba diving, cycling and skiing -- and as I heard at the table, "after I raised my kids it was my turn to have the experience and not watch others do it!" 

Over 900,000 people from the U.S. average age of 55 traveled for religious reasons, according to the U.S. Commerce Department. Holy Land includes Israel, Jordan, Egypt, Turkey, Italy, Portugal and France. Ninety percent of the faith-based travelers are Christians. 

Boomers love their food, wine and cruising. Put them together and you have a growing market. Holland Cruises started culinary cruises five years ago -- now most of the cruises include culinary delights and focus. 

The fastest-growing online dating consumer category is ages 50+. According to The Wedding Report, 2 million couples get married in the U.S. each year, spending an average of $27,000. Destination weddings represent 16% of the wedding market and over $5 billion. 

These trips tend to be booked around milestone events such as birthdays or anniversaries. Note: grandparents are known now to take their grandkids to Europe today because they are savvy travelers themselves. These big-ticket trips will give them quality time and memories for a lifetime. 

According to the Medical Tourism Association, the medical travel  industry is a $60 billion industry. As Boomers age, affordable health care may be found outside the country. Most popular destinations include Singapore, Thailand, India, Mexico, Costa Rica, Jordan, Turkey and Brazil.