BACKSTORY:
Five years ago, I was sitting at Gate C8 at Louis Armstrong International airport after a grueling Halloween weekend in New Orleans, unaware that a single sentence I'd soon utter would change the rest of my life.
If you've never been to NOLA, go in the spring - for Jazzfest, or during the Voodoo Experience, which happens during Halloween. Mardi Gras is too crazy, summer is too sticky and winter is too... not Jazzfest. Most importantly, Halloween on Bourbon Street is an adventure everyone should experience at least once before retiring their Sailin' Shoes.
On this trip 5 years ago, I'd spent the weekend trolling the French Quarter, shooting material for my Travel Channel series, "A Taste of America with Mark DeCarlo" and posing for 'artsy,' bourbon-fueled photos with my musical pals Big Bad Voodoo Daddy after their sold out show at the House of Blues.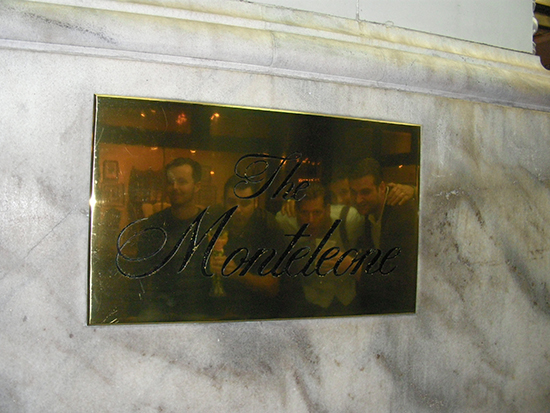 On Bourbon Street, Halloween is NOT about kids trick or treating... I'm not sure what it IS about, actually. But I KNOW it ain't kids. You just gotta be there.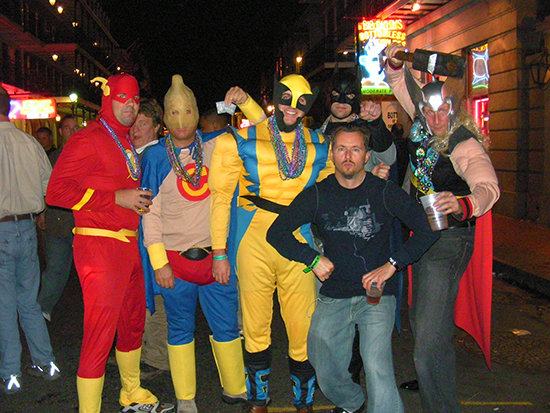 And I was, until the sun came up. With no special someone waiting for me back at the hotel - or anywhere, for that matter - I stumbled in, showered, then left for MSY.
As I waited at the Delta gate for my flight back to LAX, I looked through my sunglasses - yes, I'm THAT guy when I'm hung over. Through my polarized haze I spied a gorgeous woman in a navy blue skirt and black boots standing alone in line.
I never talk to people when I fly - I don't have the social skills to chat for a few minutes, then gracefully retreat into my own world for the rest of the flight. So, to avoid that uncomfortable, 'uh, I don't want to talk to you anymore' moment, I just avoid it all together. But this groggy morning, for the first and only time, I was instructed otherwise. In my head, I actually heard the voice of my dearly departed Aunt Cookie say these words - like she was sitting next to me - "Go TALK to her!" Cookie could be an emphatic speaker when she wanted to make a point. And nothing beats speaking from beyond the grave. Point TAKEN, Aunty.
I pried my body off the seat and ambled over to this woman, "Have they said anything about boarding yet?" That's the game-changing sentence. No slick line, no smarmy aside - just an informational request that would require an answer.
She chatted, reluctantly at first. Later, I arranged for her to change seats with the clueless guy seated next to me on the plane. The result is what I call our first date - a four-hour dinner and a movie at 33,000 feet. And plenty of chatter. As I found out nearly a full 40 seconds into our relatively turbulence-free feeling out, she was Cuban. An Italian and a Cuban in an exit row...write your own punchline ________________________________________.
Turns out, we had much in common. She worked in travel too - as the clever & resourceful mastermind behind TravelingDiva.com. She thought I was less obnoxious in person than I was on TV. I explained the camera adds ten levels of pompous. She smiled. That was the only break I needed.
Five years and one month later, we stood side by side on the tarmac at Camarillo Airport, a small GA Airport north of Los Angeles with the largest collection of vintage aircraft in America, while our friend and web-ordained Preacher pronounced us Man and Wife. We'd come full circle, all that was left was our Honeymoon.
PHOTO: Maggie Zulovic
EUROPE:
For our DeCarlo Honeymoon, DeHoneymooners wanted an epic European adventure. But after all the wedding bills, affording the grandeur we both had always dreamed about was an issue - so we two travel experts set to planning and executing a fantastic European Honeymoon on a modest budget.
The stories and videos that follow should allow anyone with an internet connection and a desire to experience an entirely different world to follow in our footsteps - in style and without bankrupting your future. We've included all our resources, links and preferred providers, to help you avoid the scams, so that you too can indulge in the excursion of your lives. The keys are planning, timing and a little bit of luck.
Use our research and compile reams of your own. Fill us in with your own pictures, videos and stories on our site, www.DeHoneymooners.com.
ITALY:
Our plan was to spend 3 weeks in Europe, most of it in Italy. We both love Italian food and culture, and Yeni - a native Spanish speaker - took Italian classes for six months so we'd be able to blend in.
This turned out to be hugely productive. Everywhere we went in Italia, we could speak with people in their native tongue. As a result, we were invited to parties, into private events and were given a glimpse into what real, day to day, Italian life is like. Mark's tip: If you don't have a good ear for languages... marry someone who does.
AIR:
We started and ended our trip on a Tuesday. Typically, Tuesdays are the least busy air travel days, so the tickets will tend to be a bit cheaper. We bought economy UPGRADEABLE tickets from LAX to ROMA. Then we used miles to upgrade the whole way. But you'll need some miles -50k each person, each way, plus a few hundred dollars in fees. You can also buy your seats months in advance, set searches to alert you to sales, and scour Craigslist for people needing to sell their tickets due to an emergency. Transferring miles from friends or relatives is expensive and financially a loss. At the very least, get one airline credit card and pay for your entire wedding with it, so that at least you'll have those miles to use.
It's your honeymoon - and there's no finer ROI than sleeping flat in the front of the plane at 600 MPH over the Pond. But if you don't have the miles or money, fly coach, but dress snazzy and bring your veil...or a visible wedding-specific accessory (like your bouquet or your 'BRIDE' tank top) even if its a few days or weeks after you tied the knot. There's always a small chance of some empty seats up front, and that some compassionate flight attendant will ask you about your wedding... giving you the opportunity to talk about your honeymoon, and the financial stresses that prohibited you from buying premium seats. At the very least you'll end up with a bottle of champagne to enjoy, at best... you might be laying flat with the big boys.
Remember to pay any honeymooner kindnesses you receive forward. Take down the crewmember's name and make sure to email the airline's customer service with a nice story about how welcome that act of kindness made you feel.
Thank them for hiring Supervisors like Barry at LAX who realized that our middle flight had cancelled BEFORE we checked in, and that we'd be stranded in Newark, missing our flight to Roma, unless he worked some computer wizardry to get us to IAD in time to make our long flight. Which he did, thus the smiles all around.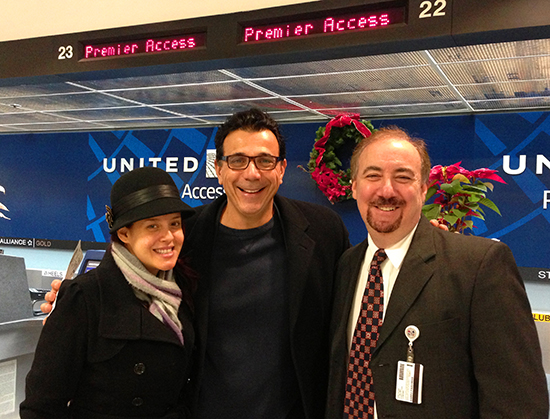 Make sure your airline understands how important courtesies like that are to their paying customers... and they'll continue to reward their employees that provide them - especially cheerful, funny attendants like Jodi and Donna on UA's IAD-FCO wide body. She made us feel like the only passengers in the plane, and provided us with a luxurious first chapter, proving it wasn't going to be a 'work trip.' It would be our Honeymoon, filled with magic, laughter and acts of newly sanctioned, yet unspeakable, depravity.
PLANNING:
A great idea for making your honeymoon more affordable is registering at the right place for your wedding. If you're young, or just starting a new household, the traditional store-registries are ok. People are comfortable using them, and you can create your list to outfit your new domicile. However, if like Yeni and I, you are combining two established households, and/or don't need another set of margarita glasses, there's an alternative called Honeyfund.com. Instead of registering for THINGS, you register for travel and activity gifts.
Yeni is a web wizard. She found and signed us up for Honeyfund before we even planned the wedding. She made a list of all things we'd do on our Honeymoon: Romantic dinners, hotel nights, air, train and car travel, wine, activities, everything she could think of, then posted the list. Our guests went to our site and chose to contribute to whatever aspect of our trip they wanted to be a part of most. My brothers kicked in for airfare, Yeni's aunts 'took us to dinner,' my agent popped for the chocolates on our pillow and a split of champagne. The money is transferred to Paypal, then we spent the money booking the various elements. This was soooo much better than ending up with 5 toasters. It also allowed us to defray a significant portion of the honeymoon bills through thoughtful and fun gifts from friends and family. And best of all, we really felt connected to the friends and family while enjoying each gift. We took photos of each dinner, hotel room and activity and sent postcards back to our friends documenting us enjoying their specific gift.
LOW SEASON:
Because of when we got married, we took our honeymoon at the end of the year and into January. In Europe this is the low season. The weather is colder than idyllic summer, so hotel occupancy is much lower. This means cheaper rooms, and more opportunity for honeymoon upgrading! Many hotels offer honeymoon packages that provide larger, more luxurious rooms, dinners and amenities. The high season - June through September - offers warm and sunny days, lots more tourists and higher rack rates. Pick your poison.
ROMA:
Much has been written about the grandeur and majesty of this city, but when you see it with your own eyes - streets thousands of years old, buildings impossible to construct even today, history at every corner, it's both thrilling and humbling.
Roma is very old. It is a cradle of civilization. A list of Roman accomplishments and inventions would span MDXVII pages. All the ancient aqueducts, lined up end to end...would be pretty impressive. Modern Romans are keenly aware of this, exuding an unspoken pride and an encyclopedic knowledge of antiquity. They are not pretentious or snotty about it, but I often got the sense they assume that wherever it is you're from... it's not as bad-ass as Rome. Standing at the base of the Colosseum, its hard to argue.
All of which only makes them better hosts. Practically every Roman we met was outgoing, charming and gestured incessantly with their hands. Sometimes subtle, sometimes grand, their hands and fingers were as much a part of their speech as... their speech. Easily 30 percent of our communication was non-verbal. The Italian shrug is the universal sign for "Ahhhh, what are you gonna do?" You don't even have to SPEAK Italian to understand an Italian - you just have to be glancing in their direction.
Speaking Italian was key to really experiencing their culture unfiltered - it pays to marry a multi-lingual woman. But we also got the sense that they were truly happy to have us around. Unlike some other locales we've visited, Romans appreciate tourists for more than just our money. They are extremely proud to show off their city, and seemed to take personal pride in the fact we chose to start off our life together in their Eternal City.
HOTEL:
Hotels are the hospitals of pleasure. And like anywhere else, in Roma you get what you pay for. Four Star designations in Europe are slightly different than in the US. They are comfortable rooms, not huge, in nice, but not opulent hotels. They are modern, with intermittent Wi-Fi, and most feature a complimentary breakfast of local cuisine.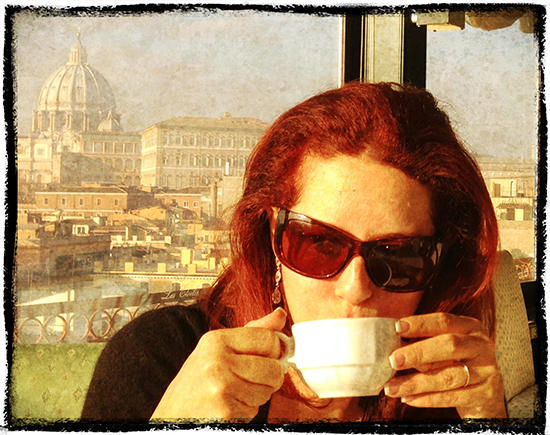 We chose our Roman hotel based on location. With so much to see in the Antiquity Zone, we wanted to be close by so that we could walk everywhere. We also wanted a moderately priced property in the City, compared to the more luxurious places we'd stay in the less urban areas of Florence, Umbria and Venice - all of which we'll describe in this space over the coming weeks. So for Roma, we chose the classic, yet affordable Hotel Atlante Star, a four star hotel near the Vatican.
GETTING AROUND:
Yeni wanted to visit the Piazza del Cavilerrie de Malta, a small garden area on the far side of the City, up the hill from the Forum, where a person can peer through a special keyhole, through a garden, and see off in the distance, the dome of St. Peter's.
It was a drive from our hotel, but getting there and back without being crushed in Roman traffic is a badge of honor.
Every new day, sightseeing in Roma takes on a different character, depending on where you go. Visiting the sites and talking to the denizens of those places is a full time job. Make sure you make enough time for at least these highlights; Colosseum/Forum guided tour -find a good guide and skip the line, Vatican City, Trevi Fountain, Spanish Steps, an A.S. Roma Football game, Summer Festivals & Opera, and every piazza you stumble across.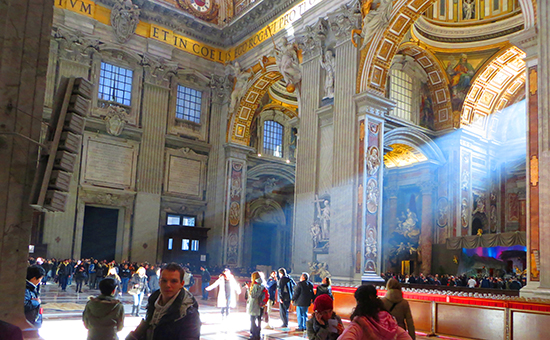 A good way to buzz around this sprawling metropolis is on a Vespa. But it's not for amateurs. Roman drivers are famously crazy, and like water running down a hill, will fill each and every space on the road - even if there IS no space. Their erratic, boisterous driving makes it hard to slow down and enjoy the view, especially for a couple that enjoys speaking to one another, i.e. people married less than 6 months.
We found a great alternative right around the corner from our hotel, a two-seat electric car at Buzz 4 Tours. The tricked out vehicle is like a golf cart from the future, and features lockable storage, and a mounted web-enabled iPad loaded with GPS-guided tours for every quadrant in the City. You need a valid US Driver's license or an International driver's license to rent any motor vehicle in Europe, so make sure you have it handy.
You just type in the site you want to see, and the GPS system navigates you to the spot, while the content in the tours serves as your guide, telling you everything you need to know about where you're headed. The Buzz car is connected to the internet, so you can query the ubiquitous Trip Advisor for the best pizza in your 2 block range while smoothly gliding through traffic towards the next wonder of your world. It drives like a car, allows you to chat with your passenger, and increases an American's chances of arriving in one piece, especially compared to a Vespa. We used a "Vespa" Honeyfund certificate for the car, figuring Esther & Tony wouldn't mind the upgrade in safety. Another bonus: because the car is so tiny, you can drive and park it anywhere you can take a scooter or bicycle. It was the perfect mode of transportation for DeHoneymooners.
Once we were all checked out on the Buzz Car, it took us about 10 minutes, traveling at a swift golf-cart pace to get from the Vatican area to the iconic center of Roma.
Before he burned the City to the ground, Roman Emperor Nero erected the Colossus Neronis, a 30-meter tall bronze statue of himself at his imperial Villa. The statue was slightly changed post-Nero to suggest Sol Invictus, the Sun God, and the colossal metal mountain was eventually moved adjacent to the entrance of the Flavian Amphitheater...eventually conferring upon it the name we use today.
I'd seen photos, but standing again at the entrance of this B.C. Superdome Shock & Awe takes on a whole new meaning. The entire plateau is a testament to unsurpassed Roman showmanship.
The Amphitheater was fun central. It served, at various stages of its life, as a circus, theater, giant bathtub and sports arena. Like the geniuses that produce the mechanical showmanship of Cirque du Soleil today, the architects, designers and showmen who staged events in the Amphitheater were the Merlins of their age. The wooden floor, long since rotted away, covered an elaborate series of channels and cubicles housing gladiators, lions, zebra, elephants - it was a zoological Vaudeville.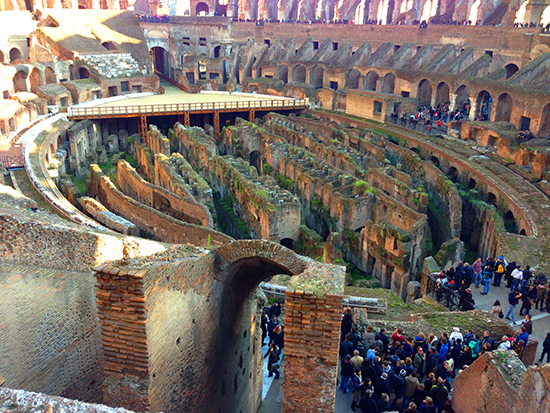 Of course, the most famous entertainment presented here were the Gladiator Games.
The events were staged on holidays and weekends, kind of like frisbee golf at UCSB. To begin each bout, an armored Gladiator would enter the ring, alone and adorned in his finest anti-beast attire. Never mind what he did to end up there, at that moment, there was only one way out alive. The only thing standing in the way, was a harmless little trap door.
At that hair-raising moment, the simple, unspoiled people of Rome - people without radio (one of the inventors was Italian), TV, Web, Smartphones or invisible braces even, watched, in what I assume was slack-jawed amazement, as a roaring Lion - A FREAKIN' KING OF THE JUNGLE -was delivered up from the bowels of Hell, then chased the poor bastard around the ring until one of them either bled out or was eaten.
Add SHOWMANSHIP to the endless list of things on the Italian List.
Next time... we'll hip you to a fool-proof method of finding the Best Food in Roma!
Until then, visit us at:
Yeni Alvarez-DeCarlo's Traveling Diva
And listen to our Celebrity-Riddled, Comedy-Infused, Prize-Packed Weekly Travel Talkshow @ iTunes: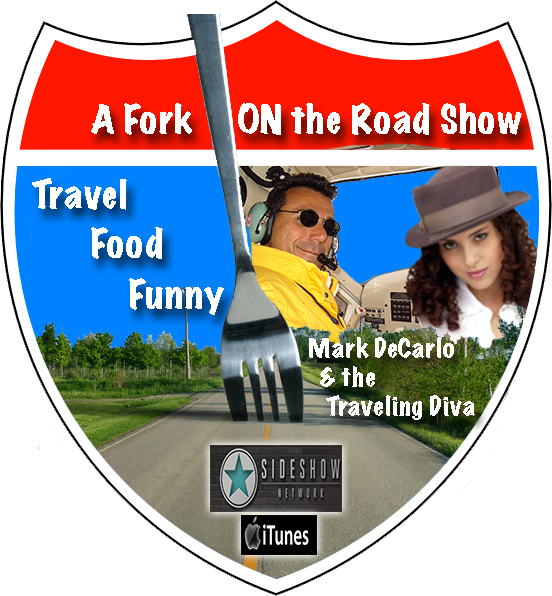 SUBSCRIBE TO & FOLLOW LIFESTYLE
We're basically your best friend… with better taste. Learn more