There is no greater opportunity than the high school prom for us boys to say to the world, "I'm just like you and I absolutely love the ladies!" As a closeted teenage boy I rose to the challenge and manage to get a date. My dad drove me to Woodfield Mall and helped me rent a tux, pick a corsage and even let me borrow his car to escort my date to the night of her dreams. I'm pretty sure it did not end up being the night of her dreams and it definitely was the stuff of nightmares for me. As Richard Marx sang "Hold On To the Night" and starry eyed lovers slow danced, I could not wait for the night to end. This was not where I belonged.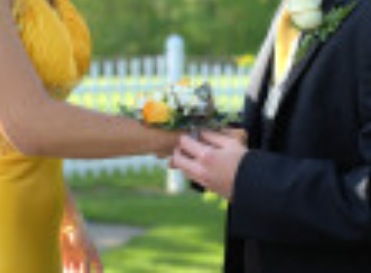 For years I have been looking for that place of belonging. This summer, while I was visiting my family in Chicago, I decided to check out the Annual Pride Parade. I think because of my internalised homophobia, I always saw that event as the epitome of all that I disliked about the gay scene, or perhaps what I was afraid to face in myself. But as it happens, I need that world in my life more than ever.
So I decided to go. I tried to find guys to go with me. But they all said they were not into "the scene." My wife, my straight friend, they all offered to come with me. But I was hesitant about that, so I chose to go alone. Surely I'd make some friends there?
My dad dropped me off at the train station, asked if I brought a jacket and patted me on the shoulder as I left. However this time he did not help me pick out a corsage. When I walked into the train station, it was full of gays! Honestly I was excited to see real people, not just headless torsos on-line. As I boarded the train, there were tons of people dressed up, wearing shirts proclaiming pride and generally acting so exuberant.
I took the "L" to Boystown and exited the station. I saw a sea of colours, people and rainbow flags. I had an instant thrill that this was a safe place. Had I finally arrived? People were holding hands, kissing, comfortable with their affection for each other. Also, the number of people was overwhelming. So many LGBT folks, it almost felt normal to be gay.
But if I am honest, despite the fleeting surge of hope, I felt an emerging sense of despair. It felt like so many twenty-something beautiful bodies; a youthful exuberance with which I was not clicking. I felt isolated and alone. I had not brought a lesbian wing (person) to keep me company. I hadn't coordinated matching bikinis with my buddies nor did I feel my body was in bikini shape. Youth, camaraderie, community... had I already missed out? I felt like I was about 25 years too late to my prom and without a date.
I know what you're going to say, it gets better. I need to keep trying. It's just that no matter how many of my gay friends say they are not into "the scene", I need to drag someone along to these events. I choose to believe it's not too late to crash this party. I probably won't be voted prom king (or queen) but I will have my dance. Even if the dance begins from the inside out.