Illinois AIDS advocates expect to have difficult conversations with lawmakers in Springfield this week.
Unless immediate actions are taken to remedy the state's spiraling budget crisis, vital HIV/AIDS services -- along with the state's educational, healthcare, and human service systems assisting millions of vulnerable children, families, disabled, elderly, and chronically ill individuals -- will be put in serious jeopardy.
The welfare of millions of Illinoisans is on the line, requiring unprecedented state leadership. Will lawmakers step up and fight for the people of Illinois?
Led by the AIDS Foundation of Chicago (AFC), participants of a new statewide advocacy initiative called the Illinois Alliance for Sound AIDS Policy (Illinois ASAP, for short) will share their individual stories with lawmakers to underscore the need for sustained and expanded state assistance for the fight against HIV/AIDS, which remains an ongoing crisis impacting more than 44,000 Illinoisans directly and tens of thousands more who are at high risk of HIV infection.
For example, one downstate advocate plans to tell lawmakers that he will have to close his business and go on disability if he cannot receive assistance obtaining the HIV medications that keep him healthy enough to continue working. Another advocate will share how substance abuse treatment services helped him and other HIV-positive people suffering from addiction to rebuild their lives. Nearly all will speak of the need for science-based HIV prevention to curb escalating rates of HIV in all communities, particularly among gay and bisexual men and within communities of color.
Lawmakers need to hear from you that HIV/AIDS and other essential services are worth saving. Please sign AFC's budget call-to-action which urges lawmakers, as part of needed budgetary reforms, to invest an additional $18 million to save HIV services. Urge your family members, friends, and co-workers to call on state lawmakers to approve sustainable and humane budget solutions needed to save HIV services. Consider joining us for the 2010 HIV/AIDS Lobby Days being held in Springfield on March 16-17.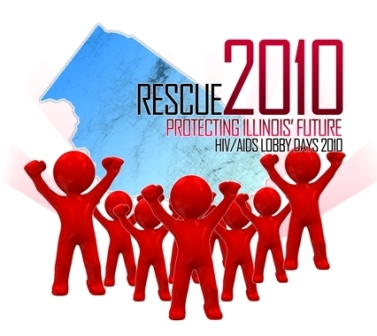 Illinois has the second worst state budget crisis, after California. Maintaining state operations and services costs approximately $26 billion per year. Next fiscal year, which begins in July, the state is projected to raise just $13 billion in revenue, leaving a colossal budget deficit to resolve.
The culprit of the state's budget woes isn't waste. The state budget was cut by $2 billion last year. Over the past decade, state spending grew just 5.4%, adjusted for inflation, far lower than the 25% growth in consumer prices over the same period. It's not bloated state staffing, either. If all state workers were laid off, it would save just $4 billion, and Illinois has the lowest ratio of state workers to citizens in the nation.
State funding cuts have already had a disastrous impact on HIV prevention programs in Chicago, the epicenter of the AIDS epidemic in Illinois and the Midwest. In Chicago this year, 15,000 people at high risk of HIV will not receive HIV prevention services because of a $795,000 reduction in state funding.
The impact is clear. More people will be infected with HIV, and they will need HIV care and treatment from programs that can barely meet current demand.
In fact, the state's budget collapse is a direct result the national economic collapse, worsened by a state revenue system that was designed for the 1950s, not the 21st Century. This is why AFC and a broad coalition of agencies support fundamental revenue reform that will modernize the state budget and meet the needs of the state's most vulnerable citizens.
In 2009, the Illinois Senate passed responsible and balanced legislation that would increase revenue from income taxes, while protecting low-income families, and tax luxury services like limo rides or chartered airplanes. The Illinois House has not acted on the legislation. The Illinois House must immediately raise revenue to prevent the rug from being pulled out from under hardworking families and individuals when they need state-funded services the most.
Fundamental revenue reform is a tall order for lawmakers in an election year, but there is no other solution to this crisis. We will work tirelessly to urge state lawmakers to muster the courage to do what is needed to safeguard desperately needed health and human services for vulnerable Illinoisans.