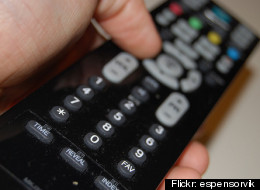 The title sequence for films and television series has been a hot topic of discussion of late, thanks largely to this short documentary from PBS's Off Book that explores how they're made, and websites like Art of the Title that celebrate the craft.
At least since The Sopranos, the title sequence on television has re-emerged as an art form unto itself, essential to setting the tone every week for a given series. Sometimes, though, the opening sequence outshines the main product. Here's a short list of current and recent shows whose opening titles make us expect something great, even if we're ultimately let down (and some notes on a few excellent series with underwhelming titles).
Have other suggestions? Leave them in the comments.
Great Opening Titles That Deserve Better Series
Tune into the American adaptation of Shameless, and the opening titles tell you almost everything you need to know about how the show's major players live, all from a single camera angle inside the Gallagher family's bathroom. The sequence rolls along in a very tight minute, sharply edited to the tune of "The Luck You Got" by Detroit indie band The High Strung. The song is ever so slightly off beat, and its disjointed rhythm works well as an introduction to the Gallaghers, who play fast and loose with a lot of rules themselves. But the episodes that follow seldom match the pace and the goofy intensity of the opening, often leading the characters (who are all fairly well-drawn in the abstract) through convoluted hijinks and dramatic moments that, more often than not, feel unearned.

Aloe Blacc's "I Need a Dollar" (which by all rights should have been recognized as some kind of neo-soul anthem by now) serves as a perfect thesis statement for the now-cancelled How to Make it in America, a show about two friends hustling through the lowest levels of the New York fashion industry. But it's the beautiful photomontage structure that really makes this sequence work, offering up the show's version of New York as even livelier than the real thing, a jumbled coexistence of everything from hot dogs to Hasidim. The series itself, despite some strong points (the friendship between lead characters Ben and Cam always felt both grounded and unique), suffered from some plotlines that never really developed and others (like pretty much anything to do with Luis Guzman's character) that felt like they were flown in from the wrong show.

I probably don't need to go into detail about what doesn't work about True Blood; either you're a fan who's in for the long haul, or you've long since dropped out. If you were to twist my arm, though, I'd point to the often terrible acting performances (ahem, Anna Paquin, Stephen Moyer, and Rutina Wesley) and creator/showrunner Alan Ball's largely failed use of vampirism as allegory. What always works, though, are the opening titles, a dirty ride through nighttime Louisiana that suggests the series is more creepy than campy. It gets that part wrong, but it makes at least the first minute of a True Blood episode (putting aside the ever-infuriating cold open) satisfying to watch.

Though it's rebounded a bit in its second season (after royally pissing everyone off in its first), The Killing remains a bizarre animal, a half-decent procedural trapped in the body of a really lousy serial drama. Its opening title sequence sets a tone though, at the very least preparing the viewer for a Seattle where it never doesn't rain. The opening gives us Seattle as seedy, angular, and oddly beautiful, remaining non-specific to the series' characters (except for lead character Linden) or to the murder that gives the show its title. Even The Killing's opening sequence wants to be part of a straightforward crime procedural. And maybe it will get to be, once the Rosie Larsen murder is finally (hopefully) solved this week. (Apologies for the Andy Warhol effect on the video.)

Up All Night is a pleasant enough sitcom, though its material often doesn't rise to the level of the strong performances by its three leads, Christina Applegate, Will Arnett, and Maya Rudolph. And while the stage-setting abilities of a title sequence are less important for comedies (especially network comedies), this opening title does a nice job bringing lead characters Chris and Reagan from 20-something party couple to struggling 30-something parents in a tight few seconds. The opening titles stack up well against those of stablemates Community and Parks & Recreation, who miss this category since the shows that follow them are just as great.

The Walking Dead's opening sequence offers a beautiful, sepia-toned glimpse into a world left behind. The show it precedes is far too concerned with marking time in the present (and, yes, some pretty creative zombie stomping) to really deliver on those stakes. What results is a loss of historical context within the show's universe, and some weak and glacial-paced character development. Every week, though, the opening titles do a good job reminding us what these characters have lost.

Not to pick on recently-cancelled HBO comedies, but the Jason Schwartzmann-starring detective series Bored to Death squandered an interesting premise, not because of weak characters or problematic plots, but because too few of its jokes truly hit the mark. Its opening sequence, however, set a brilliant tone, an animated detective novel establishing the series' themes of comedic hipster quirk and often dangerous stakes. The throwback, pulpy theme song (performed by Schwartzmann himself) didn't hurt either.

There are, of course, plenty of current series with the opposite problem: great shows undermined by lousy openings. For example, while Breaking Bad is one of the best drama's in television history, it's opening titles have always looked a bit amateurish, not really giving the viewer a sense of the sophisticated narrative they're in for. Or what about Justified, whose opening sequence hints at Harlan as a one-dimensional slice of backwoods America? On the comedy front, Modern Family, which remains a fairly strong single camera sitcom, gets by with an intro sequence that assumes its audience is far less sophisticated than its writers do (it's the TV equivalent of the guys in Times Square who ask unsuspecting tourists if they want to see a comedy show). Other suggestions for opening titles that set the wrong expectations? Leave them in the comments.
Follow Mark Lashley on Twitter: www.twitter.com/marklash