Love is in the air this week - from Jon Gosselin's younger girlfriend to Jennifer Aniston's new man to Nick & Jessica's second chance. Plus, Jacko's kids are turning to Janet Jackson to be their mom and Khloe Kardashian lost 20 LBS.
Let's take a closer look!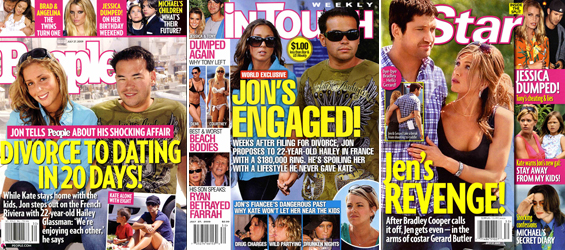 Jon Gosselin - who has eight kids and is in the middle of a divorce - found time to go on vacation with his 22-year-old girlfriend Hailey Glassman AND sit down with People Magazine to talk about his "shocking affair." According to Jon, "We're enjoying each other."
Meanwhile, In Touch Weekly is reporting Jon Gosselin already popped the question to Hailey and he's ENGAGED! He gave her a $180,000 ring. But, he better be careful because Hailey appears to be a wild party girl. Look closely at the bottom of the cover and you'll see Hailey in a variety of compromising photos!
In other love news, Star Magazine features Jennifer Aniston, who looks like she's already moved on from Bradley Cooper and is now in the arms of her costar Gerard Butler. Let's hope Jen finally found love and won't be out for revenge in a few weeks!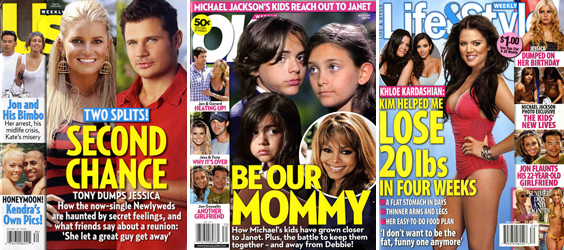 Nick and Jessica back together? Us Weekly is reporting the former newlyweds could take advantage of a second chance since they are both single. The divorced couple is "haunted by secret feelings." And, of course, they're friends want them back together.

OK! Magazine features Michael Jackson's kids - Paris, Prince and Blanket - reaching out to Janet Jackson to be their mother. The kids appear to be getting even closer to Janet following Michael's death. Plus - you'll get the inside scoop on the battle to keep the kids together and away from Debbie Rowe.
Finally, Life & Style features Khloe Kardashian on its cover - marking her first solo cover. Well, it's almost a solo cover. Sister Kim is inset on the top left and the story is how Kim helped Khloe lose 20lbs in four weeks.
Which cover would you buy this week? Sound off below.
Plus, check out the full-sized cover images at CoverAwards.com plus extended commentary and polls on this week's cover stories!