For the first time in four weeks, there isn't one full-cover story on Michael Jackson!
That's good news for the Jackson family -- but bad news for the Gosselin's who find themselves on three covers. Plus, Twilight hunk Robert Pattinson takes home two covers once again confirming he is the most-watched star in the country.
Let's take a closer look!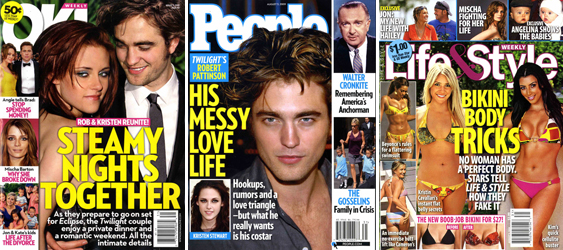 OK! Magazine (full disclosure: writer consults for OK!) features an update on the hot romance between Robert Pattinson and Kristen Stewart. The Twilight couple had been separated for months (due to work) and are picking up things right where they left off! A private dinner. A romantic weekend. Plus, they're spending steamy nights together.
Robert Pattinson gets his first full cover from People Magazine. What's People's story on the Twilight hunk? It's all about his messy love life. While there are a ton of rumors, People confirms Robert Pattinson has eyes for one girl -- Kristen Stewart.
Life & Style releases its bikini body tricks cover featuring Internet star Kardashian and The Hills' Kristin Cavallari. (Lauren Conrad isn't happy right now -- that would've been her last year!) Inside the tab, you'll discover Kim's 'quick cellulite buster' and Kristin's 'flat belly secrets.' Plus, Cameron Diaz had some type of 'no-exercise butt lift'?!?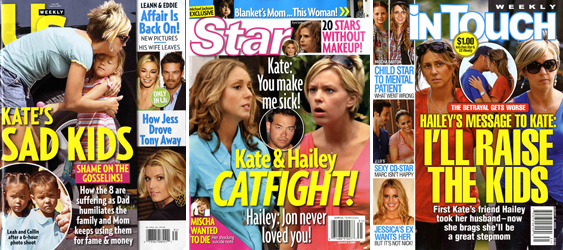 Us Weekly, which brought the Gosselins into the national tabloid spotlight, reports the Gosselin kids are very sad and the parents are to blame. Why? The 8 kids are suffering because Jon is flaunting his 22-year-old party girl Hailey Glassman and Kate "keeps using them [the kids] for money."

In Touch Weekly features a showdown between Kate Gosselin and Hailey Glassman. Hailey goes right for the heart with the dramatic and stinging message to Kate "I'll Raise the Kids." First Hailey took Kate's husband -- not a difficult challenge -- and now she's apparently bragging she'll be a great step mom -- because she has great mom experience?
On the cover of Star Magazine, there's a catfight (literally) between Kate Gosselin and Hailey aka the home wrecker. Kate tells Hailey "You make me sick!" And, Hailey pulls out a nasty and says "Jon never loved you!" Note to Hailey. Jon and Kate had 8 kids together. At some point, he had to love her in some way.
Check out the all new CoverAwards by clicking HERE!
What did you think of this week's covers? Sound off below!

Plus - Check out the all new CoverAwards (new design, new features) by clicking HERE!
Bonus: Want to see the tabloids from down under? CoverAwards is featuring this week's Australian celebrity weeklies HERE!