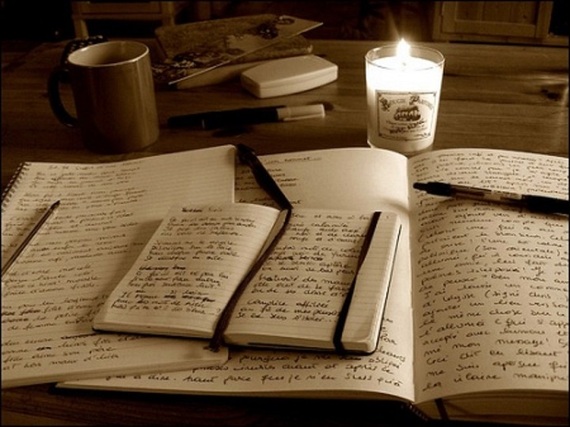 Over the years, I've had the incredibly good fortune of interviewing many of the most widely-read novelists on the planet. I often (but not always) ask certain questions of each author. One of my favorites is: What do you love about the writing life?
Here are excerpted answers from some highly acclaimed writers:
Robert Crais: What I love about the writing life--despite the bad days when I have to force my way through--is when I'm there 'in the moment,' when what's happening on the page is real and true and good; and I'm there with Elvis Cole or with Joe Pike or with Maggie and Scott, and I'm in complete touch with my emotions--there's no better feeling. ~ Talking about The Promise
Tess Gerritsen: I love being able to indulge my curiosity. Many of my stories come about because I want to know more about a particular subject. I get a chance, to be somebody else. When I wrote about the NASA space program, I spent two years pretending I was an astronaut. Writing Playing with Fire, I got to explore World War II Italy. ~ Talking about Playing with Fire
Simon Toyne: I love that I can work from home and take my kids to school every day. That's the practical side of what I love about the writing life. And of course, it's creatively very rewarding. I love researching all sorts of weird stuff. I always say, 'God help me if the FBI came across my Internet search history.' ~ Talking about The Searcher
Tami Hoag: Aside from the fact that I can go to work dressed like a vagrant, the thing I love most is hearing back from readers when a book has helped them in some way. I recently received a letter from a young man in prison. He said he'd never read a book. In prison, he had nothing else to do, and picked up one of my books. Now, he's a reader. It's such an incredible feeling to realize you've impacted someone's life like that. ~ Talking about Cold, Cold Heart
Joseph Finder: One of the things I love about the writing life is that it's a creative outlet. I don't really have hobbies. Writing a book is so creative and takes so much out of you, it can consume you. I also love being my own boss. I don't think I'd have worked well as a company man in a hierarchy. I really appreciate the autonomy that comes with writing. ~ Talking about The Fixer
Jayne Ann Krentz: I just love seeing a scene come together on the page. I live from scene to scene. If I actually sat down and thought about the fact that I've got five hundred pages to go, I'd be doomed before I started. When I get a scene just right, I feel so good. ~ Talking about Trust No One
Harlan Coben: I think the short answer would be 'What don't I love about it?' There's no downside for me. I guess I'd rather not have to do so much travelling; and writing never gets any easier. It always torments you. There's that insecurity, the feeling I'll never be able to do it again. But really, for me, there's very little downside, and I love what I do. ~ Talking about The Stranger
Lisa Gardner: I love that magical moment when it all comes together in a way I couldn't ever have imagined. There's that 'Ah ha' moment when things just fall into place. Those days are amazing and precious. The art takes over, it all comes together, and I've actually completed a novel despite myself. ~ Talking about Crash and Burn
Dennis Lehane: I love that I get paid to make stuff up. I'd be doing it for free. I walk around thinking, 'These lunatics actually pay me to do this.' If a planeload of money was dumped on me, I'd continue doing what I do. ~ Talking about, World Gone By
Faye Kellerman: I love the ability to let my mind explore whatever it wants. If you have an imagination, you can go everywhere. I love that--the inception--having a germ of an idea and building upon it. You can do whatever you want with it. Many writers would say you can play God. ~Talking about Murder 101
James Rollins: Nothing gets me more excited than writing. Each morning, I cannot get to my chair fast enough. Overnight, I'll have a new idea, maybe from reading another author, or something just popped into my head. Writing is so much fun, even though on some days, it's like pulling teeth. ~ Talking about The Bone Labyrinth
Catherine Coulter: I love the fact that there's always a reason to put your feet on the floor in the morning. I also love that you don't have a jerk-face of a boss, because if you're a jerk-face, you're your own boss, so who cares? ~ Talking about The Lost Key
Phillip Margolin: It's the puzzle aspect of writing. I love Ellery Queen books, Ross Macdonald's books and Harlan Coben's Myron Bolitar books for their mystery and clue elements. I love trying to construct a puzzle for the reader. That's the most fun. ~ Talking about Woman with a Gun
David Morrell: When I grew up, I discovered this need to tell stories. I get to do it, and even earn a living. It's a wonderful opportunity to benefit from my daydreams in a culture that doesn't value daydreaming. I think our best ideas come to us when we give ourselves permission to go into that kind of trance. ~ Talking about Inspector of the Dead
Mark Rubinstein's latest novel is The Lovers' Tango
This Blogger's Books and Other Items from...
FOLLOW HUFFPOST