Yes, it was early November and astronomical prices at art auctions were making headlines.
With the contemporary auctions next, we spent a Saturday previewing 3 major contemporary evening auctions. At Christies, our first stop, there was festivity in the air, perhaps celebrating the revitalizing market. Outside, near Jeff Koons "Balloon Flower" (a lot in the auction), a man twisted balloons in the shape of the piece and handed them to children -- we saw them all over Manhattan for the rest of the day. Inside, the Dennis Hopper collection wowed with both Hollywood and Art Star power, and three floors featured something for every bidder. Even with so many Warhols on view they seemed to create a form of Pop-blindness, such mainstays as Jasper John's #8, a Morris Louis veil painting, and an iconic Rothko in tones of brown, still entranced.
Browsing there, we were reminded of a high-end singles bar -- tempting, substantial lots competed for the attention of motivated prospective buyers. Styles varied on both sides - the tiny Wesselmann painting that made us move up close to steal our hearts, the man who pretended to browse while again and again returning to the side of the star Warhol, the woman who entered and rushed straight to a colorful Lichtenstein.

Of course there is always a live wire in the room; this time it was Paul McCarthy's "Mechanical Pig" drawing a vocal, enthusiastic crowd at Phillips de Pury's inaugural preview on 57th Street by sometimes stirring and yawning, sometimes not. Absolutely the day's biggest attention-getter.
To test our theory of attraction at Sotheby's, where we were slated to attend the high-end evening auction, each of us chose 3 pieces that we thought would perform well.
Mark's pick's and their estimates (Low/High):
Andy Warhol, "Shadows", Est.$3/4 million -- chosen because it is an atypical, gestural Warhol, beautiful and quite large.
Arshile Gorky, "Housatonic",Est. $800,000/1.2 million -- a small captivating work on paper by an influential mid-century master of abstraction.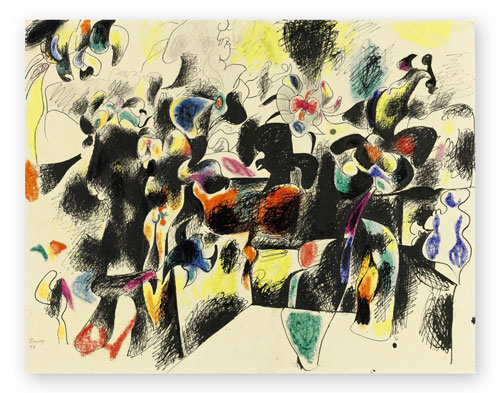 Lee Bontecou, Untitled, Est. $200/300,000 -- small and precious piece by Bontecou echoing the larger works of her recent MoMA solo show.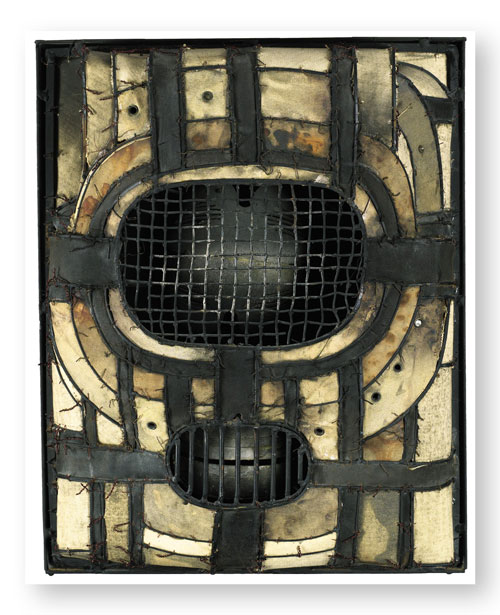 Francis Bacon, "Figure in Movement", Est. $7/10 million -- Bacon's sought-after work can be difficult, this large, colorful and simple canvas felt atypically accessible and attractive.
Louise Bourgeois, "Spider III", Est. $600/800,000 -- had to keep going back to this one, a table size variation on her monumental spiders. It looks like it would be wonderful to touch...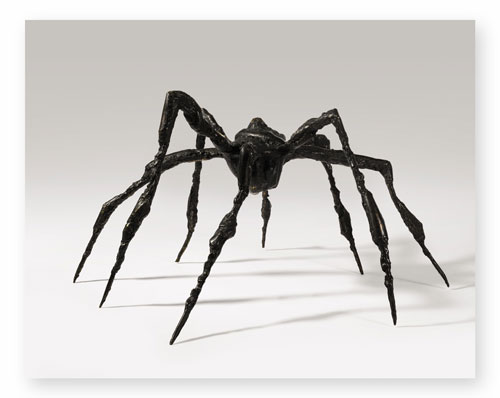 Roy Lichtenstein, "Ice Cream Soda", Est. $12/18 million -- a subtle and lovely yet iconic example of his early work with the dot pattern, and it does not hurt that it is large and was featured on a billboard outside Sotheby's.
Watching the numbers fly by on auction night always has an air of the unreal, imagining what it is like to bid at those levels approaches the impossible, even with the object of your desire about to be taken by another. What drives the action?

"The bidders egos are the main reason for the inflated prices," Luis Accorsi told us. "The eagerness to win, one person over the other. I myself have fallen prey to my competitive side, and overspent, especially with the high commissions the houses charge. It's just art, it's not the patent to cure cancer."
Nevertheless, it's hard not to be taken in by the energy in the room, the entrance a red carpet for the stars and star makers of the art world -- cameras flashed as Murakami and Gagosian made their entrances -- some of whom look on anticipation or consternation while others bid for them. After about 2 hours of intense bidding, helped along by Tobias Meyer's gentle cajoling. "It's not yours...", "It's against the four of you...", "Can we try one more..." -- as he conducted the affair, the evenings total sales were $222,454,500, with the "cover piece" -- a large Warhol "Coca-Cola" leading with a gavel price of $31 M ($35,362,500 including buyer's premium).
As for our choices, the Lichtenstein and Warhol pieces sold within their estimates, while Bontecou -- at $400,000 -- and Bacon at $12.5 million (gavel prices) did better. Bidders showed the most love for the Bourgeois spider - sending it way over to $3.1m, and the Gorky, which at $3.2m set a new record for a work on paper by the artist.
How did the not-so-little piggy fare? While Phillips auction was overall a smashing debut uptown, she did not go home with a new buyer this time around, though we doubt this remarkable piece will end up as Christmas dinner.
All images courtesy Sotheby's, credits (including final prices):
Sotheby's New York
Contemporary Art Evening Sale
9 November 2010

Lot 17
Roy Lichtenstein
Ice Cream Soda
1962
64¾ x 32 1/8 in., 164.5 x 81.7 cm.
Est. $12/18 million
Sold for $14,082,500

Lot 23
Arshile Gorky
Housatonic
Signed and dated 43
Ink and crayon on paper laid down on board
Est. $800,000/1.2 million
Sold for $3,666,500

Lot 30
Andy Warhol
Shadows
1978
Synthetic polymer, acrylic and silkscreen on canvas
78 x 138 in., 198.1 x 350.5 cm.
Est. $3/4 million
Sold for $4,226,500

Lot 31
Francis Bacon
Figure in Movement
Signed, titled and dated 1985 on the reverse
Oil on canvas
78¼ x 58¼ in., 198.7 x 147.8 cm.
Est. $7/10 million
Sold for $14,082,500

Lot 32
Louise Bourgeois
Spider III
Signed with initials, dated 96 and numbered 2/6
Bronze
19 x 33 x 33 in., 48.2 x 83.8 x 83.8 cm.
Est. $600/800,000
Sold for $3,554,500

Lot 33
Lee Bontecou
Untitled
Canvas, welded steel and wire
21 x 16 3/4 x 5 3/4 in. 53.3 x 42.5 x 14.5 cm.
Executed in 1964.
Est. $200/300,000
Sold for $482,500
FOLLOW HUFFPOST