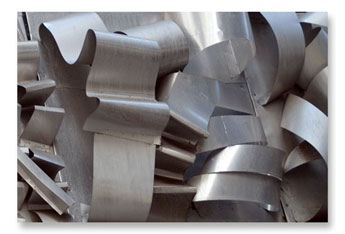 Detail of facade sculpture by James Knowles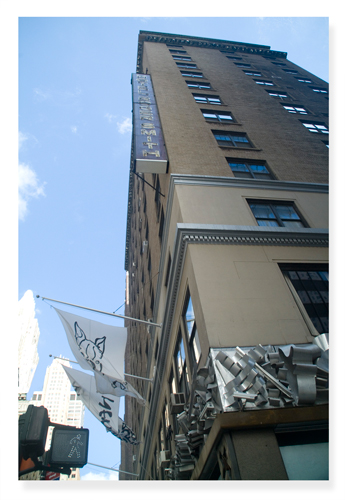 "Spiritualist with an art education wanted to run program in hotel..." began the ad Molly Barnes answered some 20 years ago. Thus she embarked upon her ongoing collaboration with midtown Manhattan's grand Art Hotel, the Roger Smith.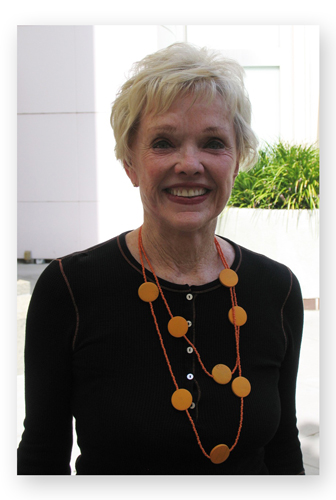 Photo of Molly Barnes by Daniel Emery Young
When Molly arrived on the scene, James Knowles -- the hotel's President, CEO and Artist-in-Residence -- had created and installed sculptures and moldings. She proceeded to expand the program, hanging art in the hotel (and later the gallery on the corner at 47th and Lexington) and initiating her series of talks with the most interesting people in the Art World - called "Brown Bag Lunches" -- with her first guest, critic Clement Greenberg. More than 400 have followed, including 2 coming this week, always free, even the lunch! Memorable guests include Ivan Karp, Andre Emmerich, Andres Serrano, and recently author Henry Adams, with whom she is now collaborating on a book about one of her favorite artists, Willem de Kooning.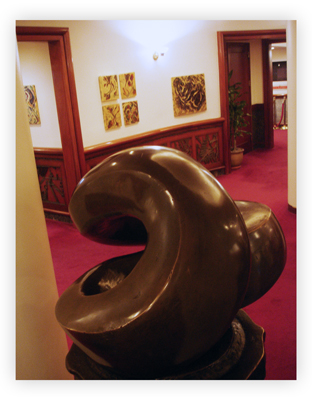 Lobby view of Knowles' bronze and Charles Meyers/Irene Christensen show curated by Molly Barnes
As curator, Molly's exhibitions at the Roger Smith have been eclectic -- "Swedes in New York", "Flowers" (by Peter Max), "Nudes", "Hotel Art". Her first, "Faces," a group exhibition including works by Alex Katz, Chuck Close and Alice Neel inspired the initial exhibition of the same title at her just-launched gallery on the Sunset Strip. Barnes also continues to curate exhibitions at the hotel, whose Roger Smith Arts program now includes a Lobby Series, the Lab for Installation and Performance, and more... including a special website, Roger Smith Life, to keep up with it all and even watch Molly and her guests live.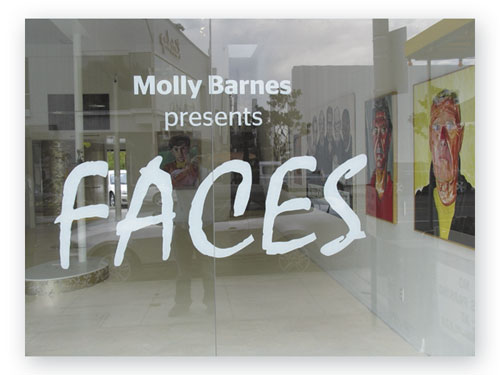 Molly Barnes Gallery in Los Angeles, photo by Daniel Emery Young
Molly proudly describes the hotel today - "the ambience is warm and friendly, art in every corner...art is spoken here." Is the spirit of the place in the structure, which opened in 1926 as the first steel-framed building in the area? It's not urban legend, Molly told us, that while he and Isamo Noguchi camped out on the floor of the penthouse (where most of the "Brown Bags" take place) Buckminster Fuller looked up at the plaster details of the curved ceiling and conceived the idea for the Geodesic Dome...Fuller's daughter confirmed the story.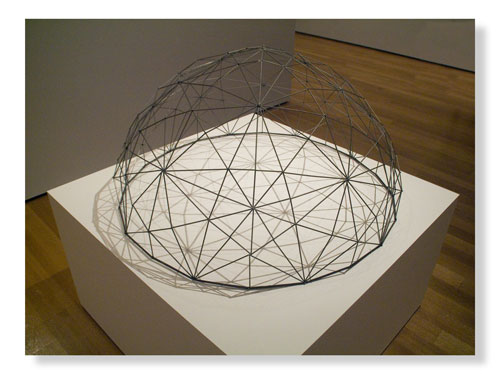 Originally built in 1951-52, the pioneering curtain wall design of the Park Avenue landmark Lever House was updated at the turn of the century by the original architects, Skidmore, Owings and Merrill, to reflect new building codes while preserving the appearance of the renowned facade. In addition, elements of the original design that were never realized, including marble benches and a sculpture garden by Isamu Noguchi, were constructed. These changes also marked the inception of a public art program that includes exterior installations as well as exhibitions in the lobby, featuring work on the Lever House Art Collection.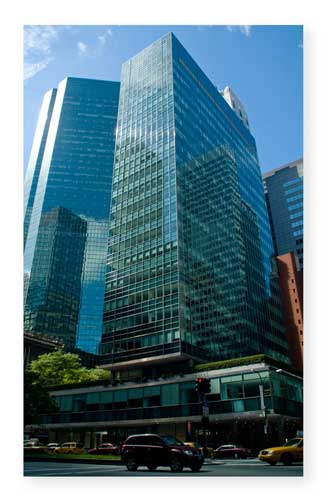 The Lever House's current show, "Contraband" is the culmination of photographer Taryn Simon's 5-day documentation of every single item -- from sandwiches to firearms -- seized from international flights at New York's JFK Airport. Each of the 1075 photos depicts one item barred from moving on, while on pillars nearby an index lists their descriptions and reasons for confiscation -- eg -- "Beany Babies - Counterfeit", "Steroids - Illegal"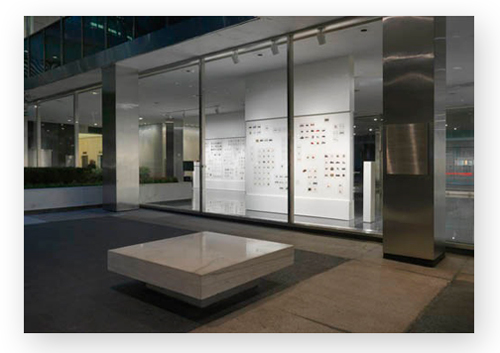 Installation view of "Contraband" © Taryn Simon. Courtesy Gagosian Gallery
Simon does much more than simply record, while the background remains clear, her preparation and approach to each object implies a narrative within the single image -- as in strawberries arranged as if on a serving platter awaiting the chocolate -- while the scale of this array of myriad images as a whole portrays the magnitude while cataloguing the minutiae of what we do as a society to be "safe."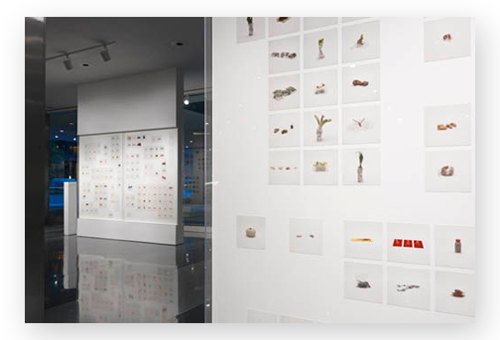 Installation view of "Contraband" © Taryn Simon. Courtesy Gagosian Gallery
Perfect for a public space, this exhibition demands to be re-visited, and recalled. "Contraband" is also on view at Gagosian Gallery in Beverly Hills, and the eponymous publication is available at the Gagosian Gallery Shop on Madison Avenue, where Simon will sign copies from 6-8 pm on October 7th.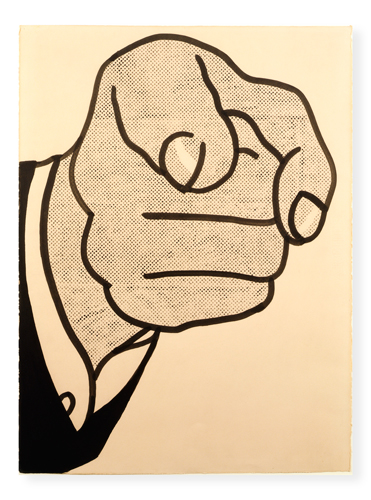 Finger Pointing, 1961 © Estate of Roy Lichtenstein, Private Collection, New York
Financier Pierpont Morgan began to assemble a collection of illuminated, literary, and historical manuscripts, early printed books, and old master drawings and prints in the 1890's, and between 1902 and 1906 constructed his private Library to hold and display these cultural treasures. Designed by Charles McKim of the architectural firm McKim, Mead & White (and considered by many to be his masterpiece), the building is an Italian Renaissance-style palazzo exemplary of America's Age of Elegance. Transformed to a public institution through the generosity and insight of In 1924 his son, J. P. Morgan, Jr., The Morgan Library and Museum has since expanded to a complex housing the growing collection that spans a city block, from 36th - 37th Streets along Madison Avenue. The latest and largest expansion designed by Renzo Piano unites the complex via unobtrusive steel and glass pavilions creating the luminous, inviting entrance and central court enjoyed by museum-goers today.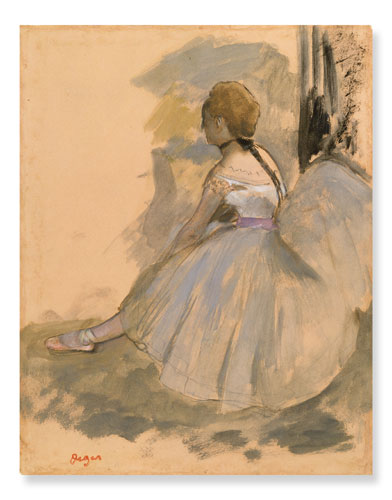 Edgar Degas, "Seated Dancer" ca. 1871, oil paint thinned with turpentine over pencil on pink paper,Thaw collection, courtesy Morgan Library & Museum
In Degas: Drawings & Sketchbooks, organizer Jennifer Tonkovich, Curator of Drawings and Prints, enthusiastically and intelligently presents 20 drawings from the Museum's collection, spanning the artist's career. The selection shows his progression in style -- from studying realism to spearheading the Impressionist movement while retaining a unique voice of his own, as well as his explorations in various media. A youthful self-portrait, a sketch drawn during an opera performance, works on colored paper with figures defines by negative space, and more -- plus 2 of his completed sketchbooks and some correspondence -- all contribute to the feeling that, viewing this intimate exhibition, you have touched through time and space the life of Degas.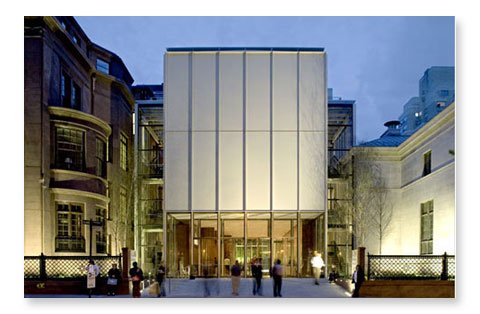 Photo of Morgan Library entrance by Michel Denancé
About a century after Degas completed his academic studies, Roy Lichtenstein turned his work in a new direction, creating the signature pop-comic book style that we now associate with his name. On view at the Morgan through January 2nd, "Roy Lichtenstein: The Black-and-White Drawings, 1961-1968, organized by Isabelle Dervaux, Curator of Modern and Contemporary Drawings, presents a time-line in works on paper of the evolution of his process and content, including the his masterful use of the look of printed Benday dots -- for which he first tried a frottage (rubbing) technique before settling on pochoir, a type of stencil. Accompanied in the exhibition by pieces of his source materials such as comics and advertisements, as well as a display of Lichtenstein's tools, the 55 drawings allow the viewer to witness a bit of history, in addition to being a treat for the eyes of those of us who love Lichtenstein's work.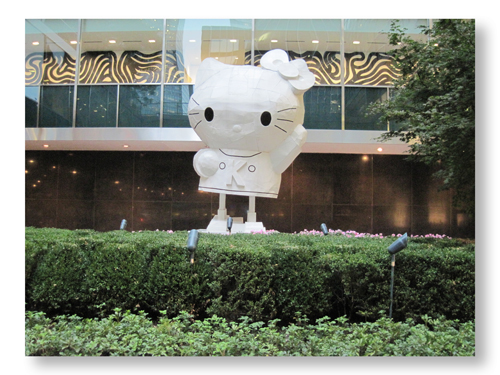 Tom Sachs, "Hello Kitty" in the Lever House Sculpture Garden

Uncredited images (c) Resolve40, all rights reserved

SUBSCRIBE TO & FOLLOW CULTURE SHIFT
Every Friday, HuffPost's Culture Shift newsletter helps you figure out which books you should read, art you should check out, movies you should watch and music should listen to. Learn more