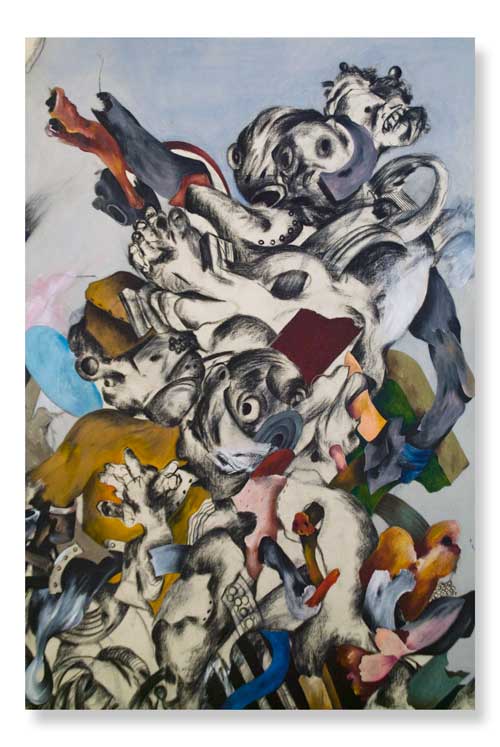 When we think of violence and visual art, often what comes to mind are scenes documenting brutality and its aftermath in a linear fashion - a shot, a body, a fire, the shell of a structure. Ahmed Alsoudani enters the moment of the inception of destruction - "takes time and freezes it, stretches it, goes around it" - to create a reconstructed narrative with many points of entry, often enticing, open to the viewer. You are looking at a fully developed story that takes place in a millisecond, pulled across time by many simultaneous points of view. His work is built to carry us from every direction to the vortex of his world.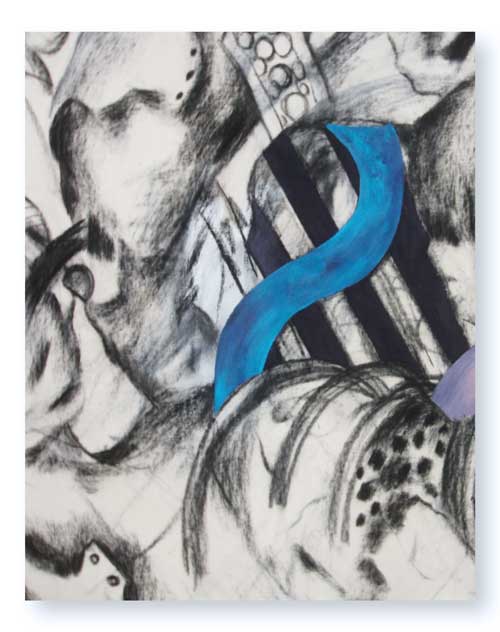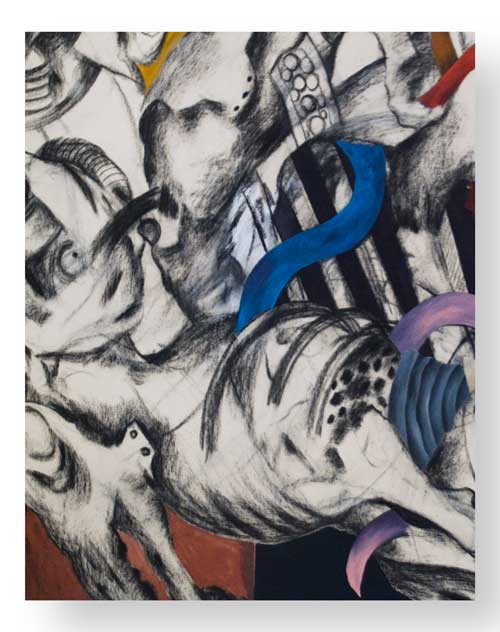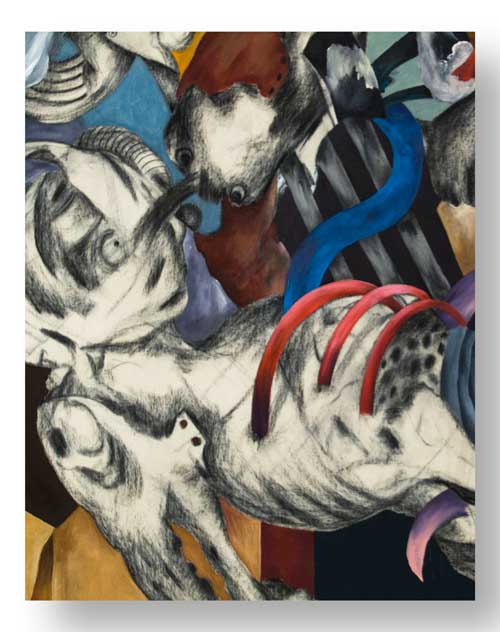 details of progress work, untitled, 8'x7', Charcoal, pastel & acrylic on canvas, 2010
A construction process it is - a building of layers and extensions in charcoal, paint and other media upon the foundation he sets upon the canvas - and following from day one the progress of his latest major work, then having a chance to speak with him about it, was an unforgettable experience of the spirit and creativity of a prominent young artist a creating work of art with power and beauty, straight from the center of his being.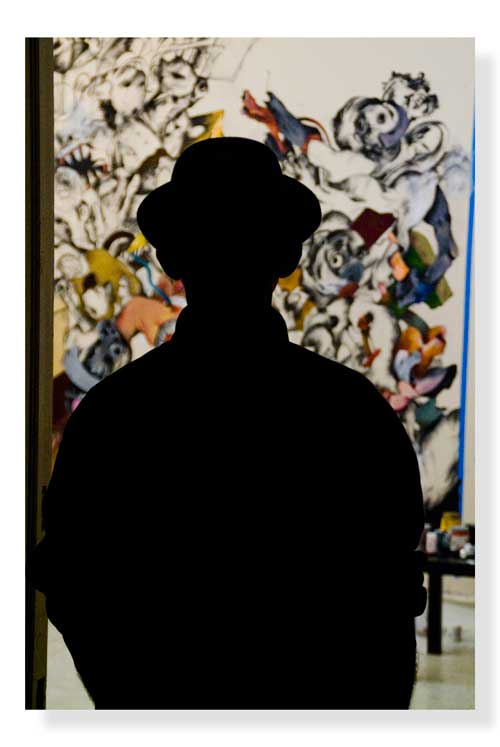 Ahmed assesses work in progress from a distance
As Guston, an artist he admires, "had the shoe, head, and the foot," Alsoudani has a range of imagery he employs and often refers to as his tools. "I am using tools because I am really building up a painting that you can dive into and go around the image because the work that I make is very close to being sculpture."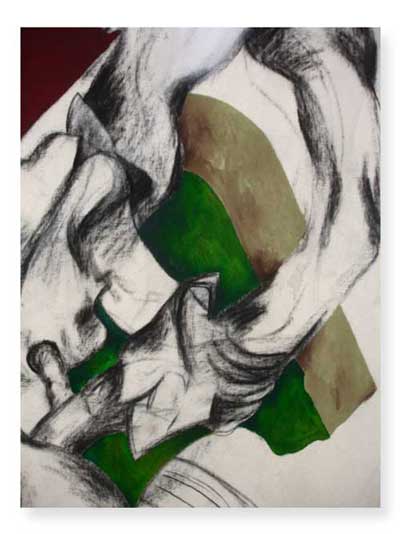 detail of progress of work, untitled, 8'x7', Charcoal, pastel & acrylic on canvas, 2010
At the moment Alsoudani considers himself to possess a rather small vocabulary of these tools. Approaching a new work: "I spend the first day or two looking for a key element for the piece. I believe in a few years from now," he told us, "I will have my arsenal of tools, I will have enough tools to play with."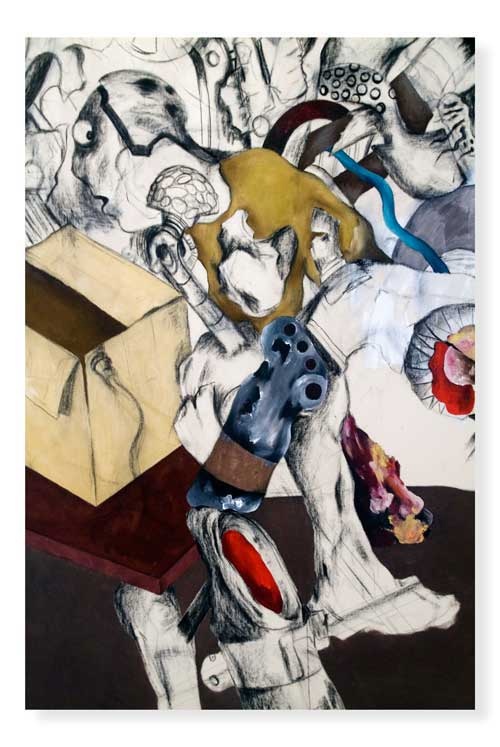 details of progress work, untitled, 8'x7', Charcoal, pastel & acrylic on canvas, 2010
"Every single time I start with a new piece I think I have to come up with something I haven't done before." What does he consider a new element? "Sometimes I use a certain color palette that I haven't used before, or a certain part of machinery. Sometimes I use a different, unexpected composition for the painting itself."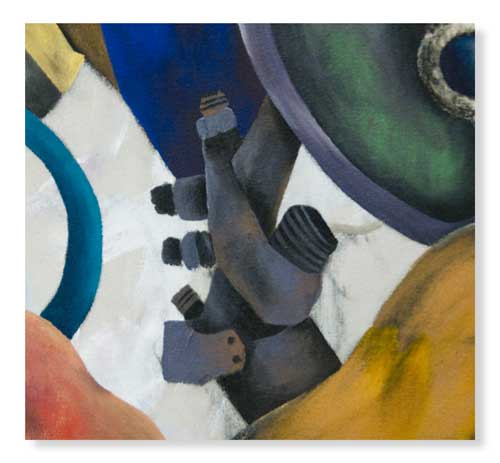 Detail of painting, untitled, 8'x7', Charcoal, pastel & acrylic on canvas, 2010
We asked Ahmed about his experience with people reading this vocabulary. "At my thesis show Sam Messer, Associate Dean of the Yale School of Art, read a painting." he told us. "I don't know if the painting was so open to be read, or it was because we were more than teacher and student , he was my friend...he went after every single thing and read it exactly in the way I really wanted."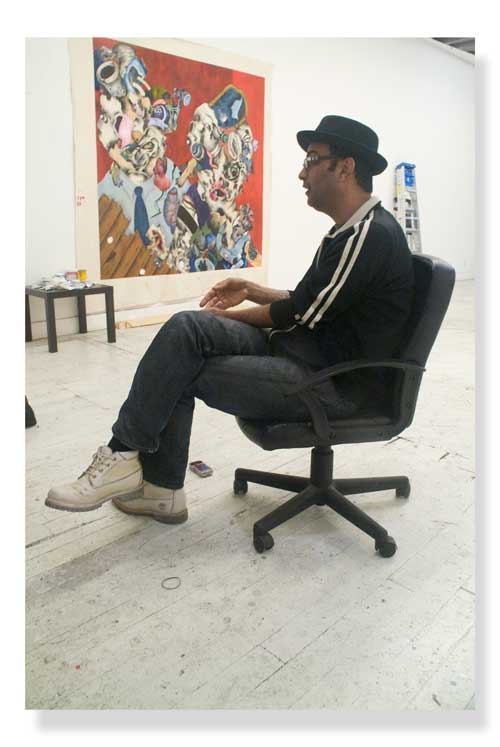 Given the stirring content, is it a process spurred by emotion? "You don't want your painting charged with emotion, emotion will disappear," Ahmed told us. "The painting will survive if you wait until it is time to address the event."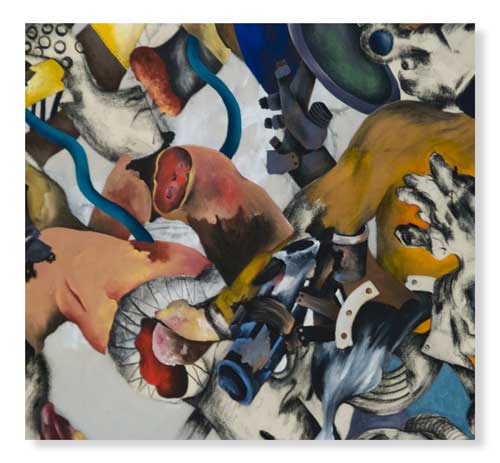 detail of, untitled, 8'x7', Charcoal, pastel & acrylic on canvas, 2010
Of his identity as an artist, however, he is certain. Crediting his American teachers, "The people who taught me everything about painting, the tiny, small thing I that know about painting," he proclaims "I am proudly a continuation of the New York School." Citing Philip Guston and Willem de Kooning as painters of the group to whom his work relates, he explained that the New York School created an American identity in the art world, prior to which European art dominated everywhere. With the New York School, he said, "Americans started having their name, their style, their approach."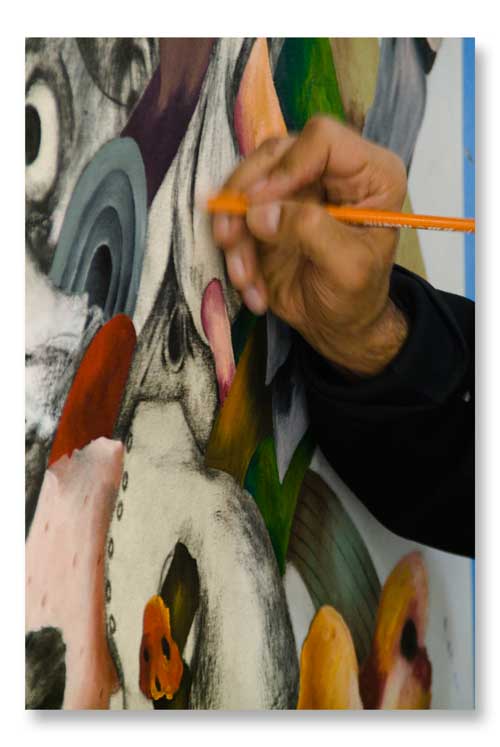 Alsoudani likes to allow viewers to come to their own conclusions and gives attention to keeping the complex imagery and composition accessible. "If you make a complicated painting it means you respect the knowledge of the viewer and you want them to engage for that conversation." he explained. "If you make a confusing painting it means that you have a confusing thought and you don't wish to communicate with the viewer."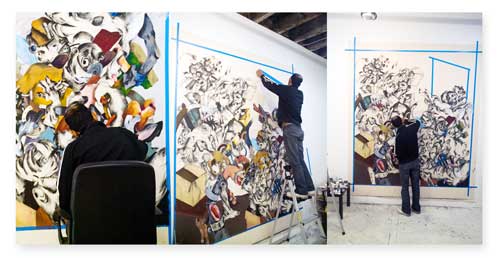 On enticing the viewer to enter a canvas presenting twisting, fragmented bodies, he says "When it comes to the color palette that I choose people are surprised...because with the dark subject matter I'm using very warm and happy colors."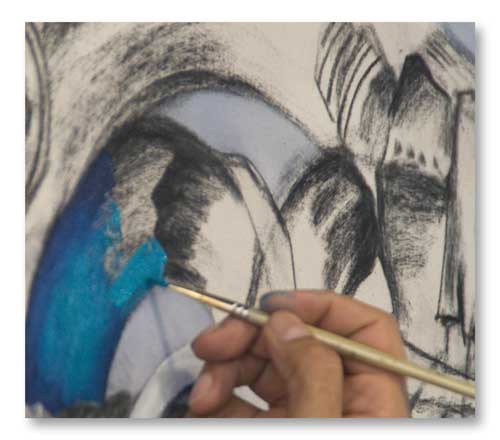 While it may seem, "as if I'm celebrating the violence," he explained, "This is another way of capturing the attention of the viewer." Which is a priority of his, because "the time that an artist lived in his head, this romantic idea is gone... right now the viewer - meaning your friend, your girlfriend, your boyfriend, your neighbor, your art dealer - exists in every single moment, from the moment you strike the canvas until the moment you finish."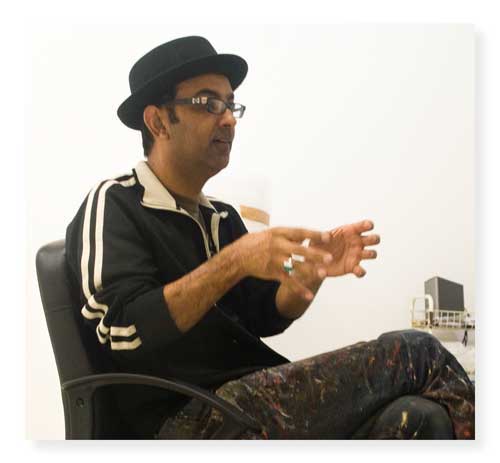 As to his point of view, "An artist born in Iraq, an American painter, I found myself in between - Iraqis consider me American, Americans Iraqi. Half my family is back home, my life is here, New York is my home town. I travel between these two worlds," said Ahmed. " I don't know if I approach issues from the Iraqi perspective or the American perspective. I don't know which part I am taking."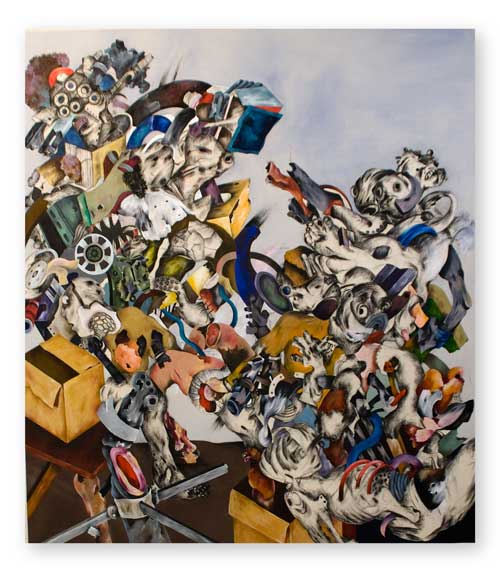 untitled, 8'x7', Charcoal, pastel & acrylic on canvas, 2010
In any case, though his style bends reality, the impact of his work leaves no doubt that he tells the absolute truth. As did De Kooning, Alsoudani carves out a not-quite-safe place between abstraction and realism where we can survive this confrontation.
Note: On the final day of shooting, the painting was shipped to Paris, where it was placed on view last week in the new public exhibition space, Rosenblum Collection & Friends. Alsoudani's work will be featured in the Iraqi Pavillion at next year's Venice Biennale. An article about a recent sale of one of his paintings at Sotheby's may found in the Wall Street Journal He is represented by Haunch of Venison
All photos (c) Resolve40 all rights reserved
FOLLOW HUFFPOST