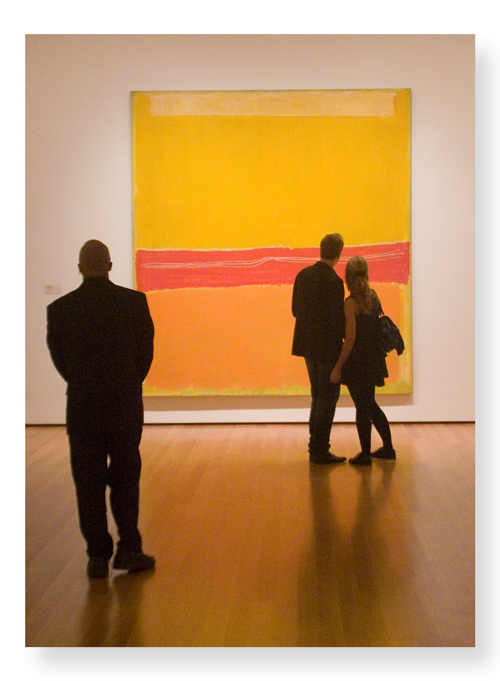 First-nighters contemplate Rothko's "No. 5/No. 22" (1950)
"These paintings live in Queens."
Jerry Saltz at the opening of Abstract Expressionist New York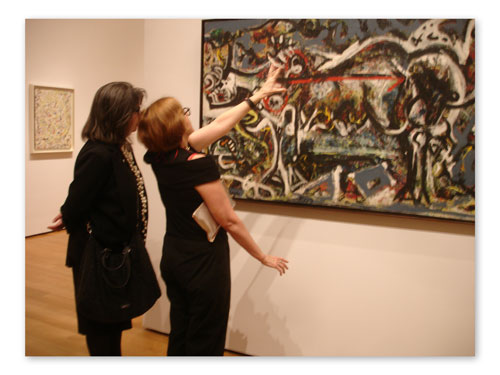 Roberta Smith traces Pollack's "The She-Wolf" - (1943)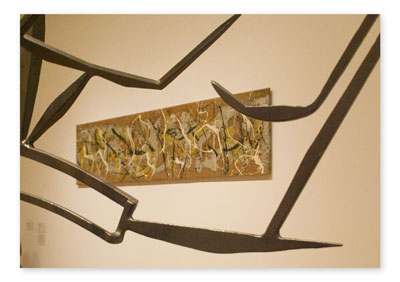 David Smith - Australia (foreground) Jackson Pollack - "Number 7" (wall)
In his opening remarks, MoMA director Glenn Lowry stated that Abstract Expressionism had "an energy and a power that became mythic... that has given rise to so much art-making in the last 50 years." He invited us to recall peak moments in our experiences with art -- "every room has it's own story to tell." The exhibition truly presents such moments at every turn, showcasing the brilliance of the artists and the quality of the collection.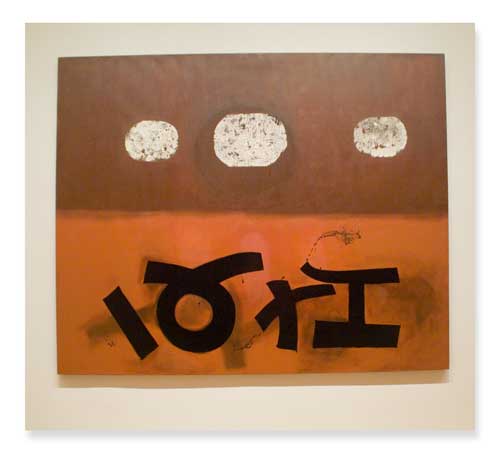 Adolph Gottlieb, "Above and Below, I" (1963-64)
It is a reunion of sorts -- iconic masterpieces by the likes of Rothko & Pollock hang beside less famous but equally important works in the shows monographic galleries, while in others artists not as well known take their places beside their colleagues, as they did at "The Club" and the Cedar where they gathered decades ago to drink, dine, discuss, debate -- and ultimately shape their place in the history of art.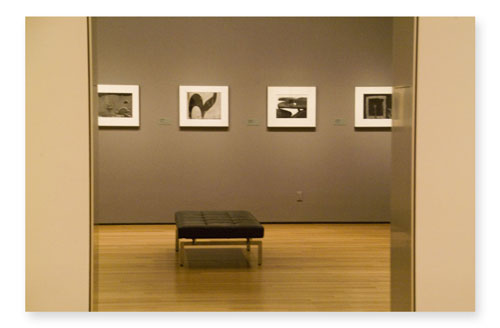 Photos by Aaron Siskind (circa 1950's)
"What makes a great period in art history is not necessarily and for sure not only individual geniuses," said curator Ann Temkin, "but actually a collective." A collective that she said, 60 years ago in New York City, redirected the course of art history to an extent unequalled since the Impressionists gathered in Paris in the 1860's. This dynamic is the focus of the section of the exhibition titled "Ideas Not Theories: Artists and The Club." Another, "Rock Paper Scissors," features works in diverse media by artists of the movement, while the main body of painting and sculpture is on view in "The Big Picture," occupying the entire 4th floor.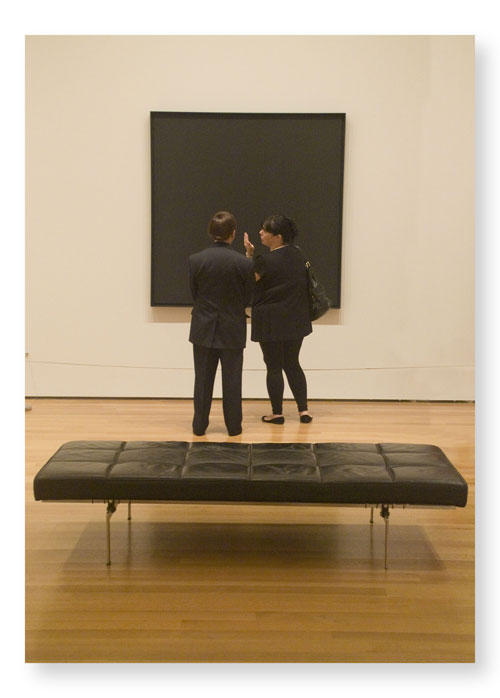 Discussing Ad Reinhardt's "Abstract Painting" (1963)
AbEx and MoMA grew up together in mid-20th century New York, and for many there was a kind of nostalgia in the air, so many works remembered by long-time museum-goers returning to the walls of the MoMA.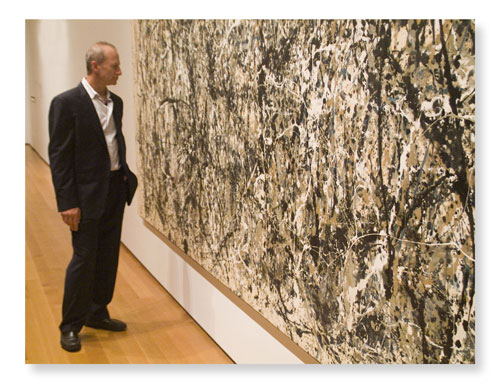 Gary Snyder examines Pollock's "One: Number 31" (1950)
"They brought it all out, it's wonderful to see... a great, great period." said Irving Sandler, who wrote the first major survey of Abstract Expressionism. "It's old home week, re-living my youth... I grew up in the 1950's when this was an avant-garde style."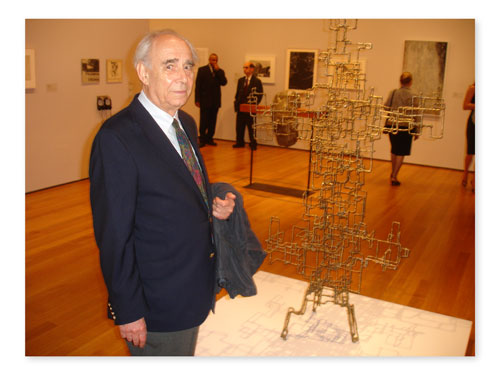 Irving Sandler with Ibram Lassaw's "Kwannon" (1952)
The exhibition provides what is likely a once-in-a lifetime chance to see so many of these works together again. The strength and beauty of the presentation left us wishing there were enough walls in the museum for them to stay forever.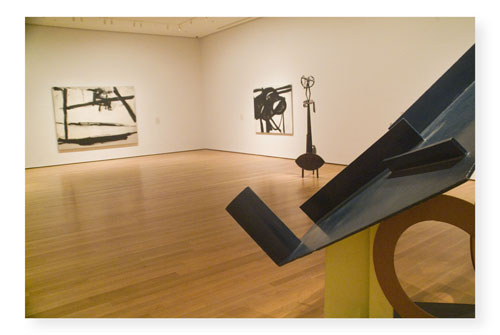 David Smith (sculpture), Franz Kline (paintings)
All images courtesy Resolve40, all rights reserved.

More photos: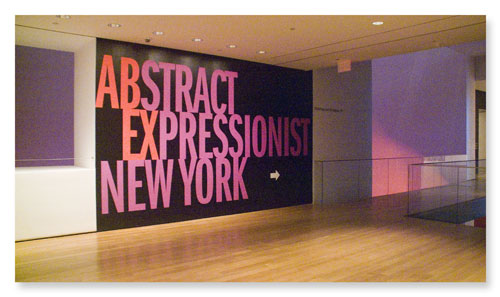 Entering "The Big Picture"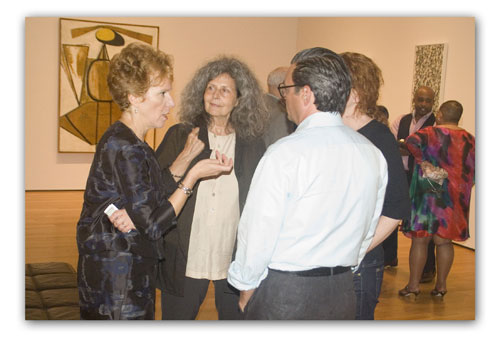 Curator Ann Temkin (l) and Hendel Teicher, wife of artist Terry Winters (c)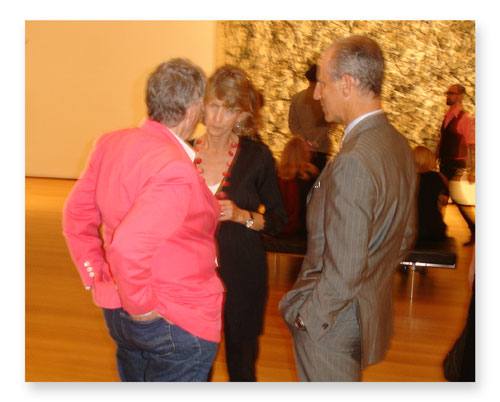 MoMA Director Glenn Lowry (r) and guests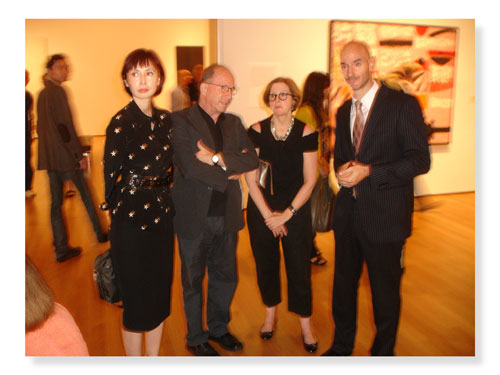 (L-R) Melissa Chiu, Jerry Saltz, Roberta Smith, Benjamin Genocchio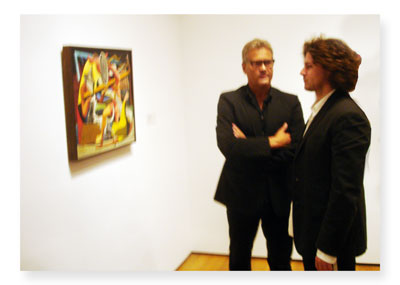 John Cheim (l) and Philip Larratt-Smith admire Philip Guston's "Gladiators" (1940)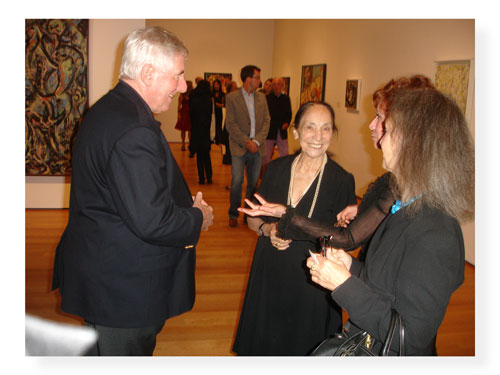 Georgianna Savas, sister of artist Theodore Stamos (c), David McKee (l)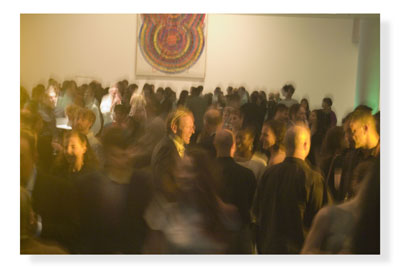 Opening Night in the MoMA Lobby
corrections - added Hendel Teicher's name & Jerry Saltz quote
SUBSCRIBE AND FOLLOW
Get top stories and blog posts emailed to me each day. Newsletters may offer personalized content or advertisements.
Learn more