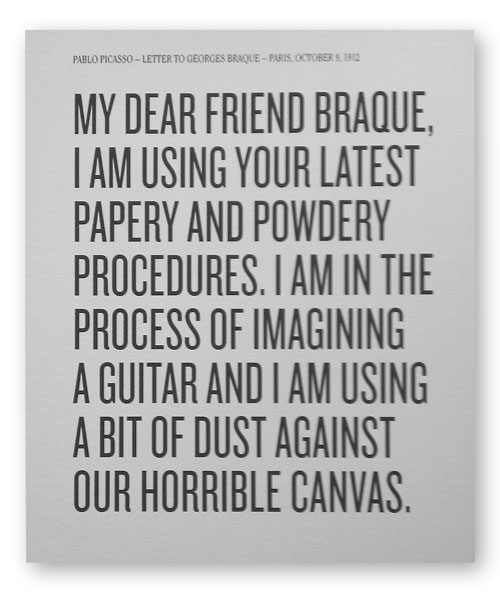 The roots of the MoMA's new exhibition, "Picasso Guitars" were planted when the legendary artist himself presented two of his storied pieces to the museum. One, created in the fall of 1912 from -- cardboard, paper, string and wire -- was like no guitar, or sculpture, anyone at the time had ever seen...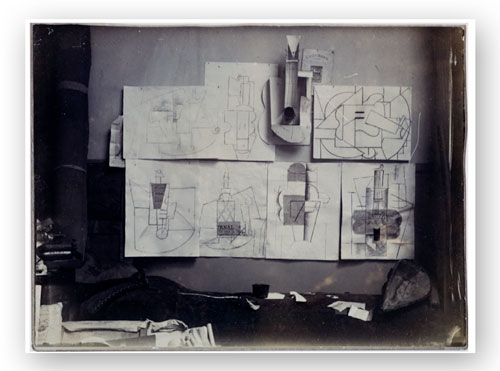 Pablo Picasso (Spanish, 1881-1973)
Installation in the artist´s studio at 242, boulevard Raspail. Paris, December 9, 1912, or later
Gelatin silver print
3 3/8 x 4 1/2" (8.6 x 11.5 cm)
Private collection
The show, bringing together works created during the artist's two-year exploration of the subject, presents the artworks along with studio photographs. Texts by Picasso's contemporaries on the walls at the entry convey the excitement of witnessing a master of innovation stirring the pre-conceptions of the art world, while the array within visually demonstrates Picasso blazing the trail in material and form for so many artists who were, and are still, to follow.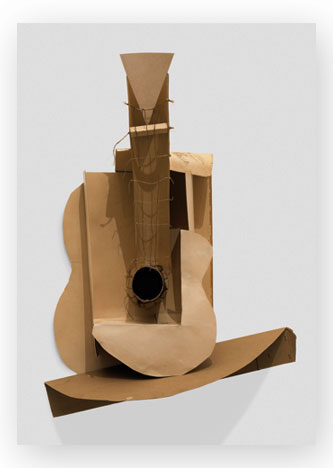 Pablo Picasso (Spanish, 1881-1973)
Still life with Guitar. Variant state. Paris, assembled before November 15, 1913. Subsequently preserved by the artist Paperboard, paper, string, and painted wire installed with cut cardboard box Overall: 30 x 20 1/2 x 7 3/4" (76.2 x 52.1 x 19.7cm)
The Museum of Modern Art, New York. Gift of the artist © 2011 Estate of Pablo Picasso/Artists Rights Society (ARS), New York
We toured the preview with Robert G. Edelman, a writer, curator, dealer and artist.
"The show focuses on an intense period of experimentation for the artist, representing a break with classical Cubism," he told us. Viewing these explorations, which include the use of "faux bois" -- a fake wood surface so important in Cubism -- as well as newspaper, cloth, wallpaper, sheet music and pins, he said that we witness Picasso's "Cubist statement being invented before our eyes," as well as a process that led "to a new freedom of invention that would be a source for Picasso's collage-inspired imagery for the rest of his life."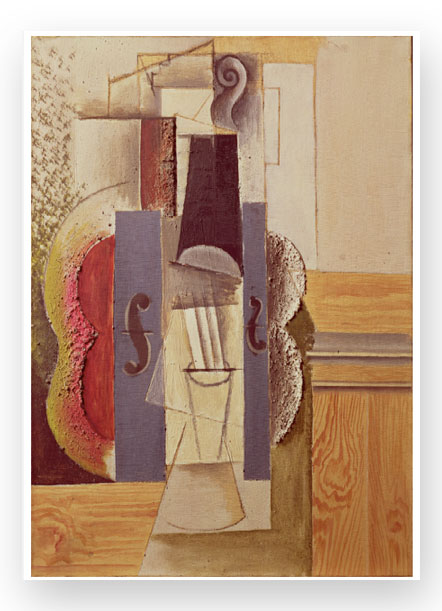 Pablo Picasso (Spanish, 1881-1973) Violin Hanging on the Wall. Possibly begun Sorgues, summer 1912, completed Paris, early 1913 Oil, spackle with sand, enamel, and charcoal on canvas 25 9/16 x 18 1/8" (65 x 46 cm) Kunstmuseum Bern. Hermann and Margrit Rupf Foundation © 2011 Estate of Pablo Picasso/Artists Rights Society (ARS), New York
In his opening remarks museum director Glenn Lowry said the show "extends the MoMA's commitment to Picasso and to re-examining of pivotal moments in the history of 20 Century art."
Since many of the works that are on loan never travel, this opportunity to experience this immersion in the inventiveness and vision of Picasso is unprecedented.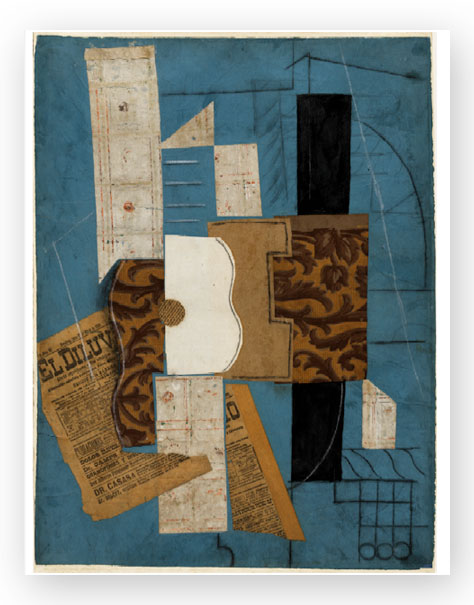 Pablo Picasso (Spanish, 1881-1973) Guitar. Céret, March 31, 1913, or later
Cut-and-pasted newspaper, wallpaper, paper, ink, chalk, charcoal, and pencil on colored paper 26 1/8 x 19 1/2" (66.4 x 49.6 cm) The Museum of Modern Art, New York. Nelson A. Rockefeller Bequest © 2011 Estate of Pablo Picasso/Artists Rights Society (ARS), New York
"When I was an art student my professor shared the prevailing wisdom of the time: 'to be a great artist you must paint with your penis'. Lynda Benglis took this modernist adage to its absurdist conclusion..." artist Debra Drexler, Professior of Painting at the University of Hawaii told us upon viewing a new retrospective of the artist's work in NYC.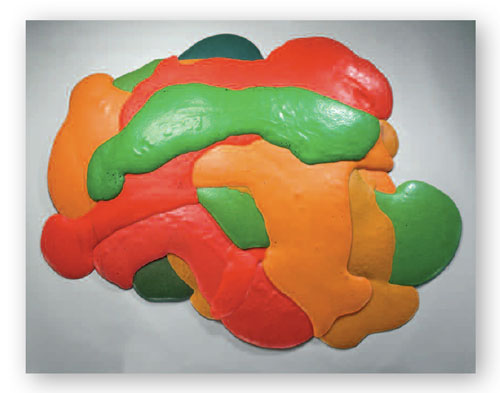 Lynda Benglis, "Night Sherbet A", 1968, courtesy of the artist and Cheim & Read, New York.
Seduced away from her roots in Minimalism and Colorfield by what Massimiliano Gioni, the New Museum's chief curator called "promiscuous form and shape", Benglis went on to capture and hold a unique position as American sculptor an feminist artist. In her first New York retrospective works spanning 40 years present her range of expression -- from self-portrait to abstraction, delicate to ponderous, brilliantly beautiful to explicitly sexual -- in myriad materials and configurations. Benglis's works demand to be seen on their own terms: on the floor; in the air; in the dark; and above all a with willingness on the part of you, the viewer, to be surprised and challenged.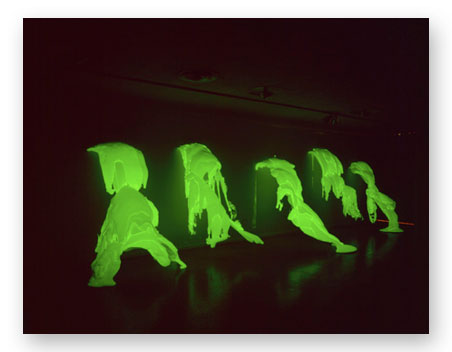 Lynda Benglis, "Phantom" 1971, collections Kansas State University (4 elements) and Elizabeth Goetz (1 element). Courtesy of Cheim & Read, New York, (c) Lynda Benglis. DACS, London/VAGA New York 2009.
"The museum took a risk in presenting the work directly on the floor in the dissident manner that Benglis intended...there was a panic ensuing, surrounding a clueless patron who had trod across the poured mark in Blatt," said Ms. Drexler. "I witnessed the difficult curatorial decision to impose an institutional rope boundary around the work, much like a Bengal tiger is caged in the zoo."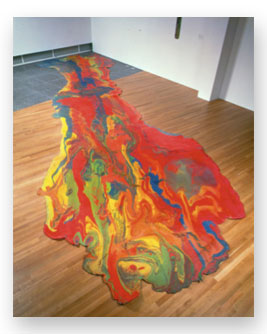 Lynda Benglis, Contraband, 1969. Pigmented latex, 116 1/4 x 394 1/3 x 3 in (295.3 x 1001.6 x 7.6 cm). Whitney Museum of American Art, New York. Purchase, with funds from the Painting and Sculpture Committee and partial gift of John Cheim and Howard Reed 2008. 14. Photograph: © 1990, Fredrik Marsh
The exhibition "Lynda Benglis" (through June 19th) joins another noteworthy retrospective "George Condo: Mental States", (through May 8th) on this season's roster at the New Museum.
SUBSCRIBE TO & FOLLOW CULTURE SHIFT
Every Friday, HuffPost's Culture Shift newsletter helps you figure out which books you should read, art you should check out, movies you should watch and music should listen to. Learn more