When Pat Canady arrives in Denver for the Democratic National Convention, this 65 year old Democratic party activist from Tucson, Arizona has a message for delegates from the other 49 states: if they think Arizona is certain to follow the 'favorite son' route in the 2008 presidential election, think again. "John McCain's done nothing for this state," Canady declared strongly. "I think there's a chance Arizona's going blue this year. At the very least," she says with a knowing smile, "we're going to force McCain to spend a whole lot of money just to defend his own homestate, and that's taking money he could be spending somewhere else."
A retiree with a background in early childhood education, lifelong Democrat Pat Canady is excited to be attending her first convention. "I've been involved in politics my whole life, my first campaign involvement was as a 'Kennedy Kid' in high school. But this is the first presidential campaign where I knew upfront, right from the start, who I was going to support. I've been supporting Obama since the day he declared." In addition to her delegate responsibilities, she'll be attending the Senior Caucus meeting as a member of the steering committee for the newly-formed Grandparents For Obama, and will be packing lunches for Meals on Wheels as part of a delegates' Community Service Day. She's also looking forward to attending a luncheon hosted by EMILY's List; scheduled speakers include Michelle Obama, Speaker of the House Nancy Pelosi, and Senator Hillary Clinton. When asked her opinion about Senator Clinton's upcoming role at the Convention, Canady was hopeful that it might defuse "some of the anger that might still be there" but she also feels it's indicative of Obama's sensitivity to the frustrations expressed by Clinton's women supporters. "Obama's a man who understands what women in this country face. He saw the hurtfulness of being a single mom; he watched his mother struggle. And he's got two daughters. He gets it." Canady's biggest hope for the convention comes down to one word: unity. "The lack of unity has been the downfall of the Democratic party in the past and that's what will kill us again," she said emphatically. "And this year the stakes are too high to let that happen."
Could Arizona be a swing state in the '08 presidential election? Canady won't go that far, but she expects a warm reception in Denver. "Oh yes, when they find out we're from Arizona I think there's going to be a whole lot of interest in us!"
---
For more Huffington Post coverage from the Democratic National Convention, go back to HuffPost's OffTheBus. Or check out Politics @ the DNC page, our Democratic Convention Big News Page, and our HuffPost bloggers' Twitter feed, live from Denver.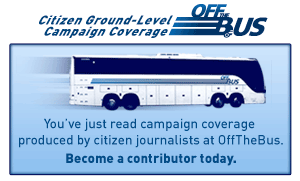 SUBSCRIBE TO & FOLLOW THE MORNING EMAIL
Start your workday the right way with the news that matters most. Learn more