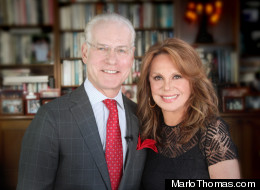 Tim Gunn told me that black isn't always slimming. Bobbie Thomas told me how to find the perfect skirt length. And Joy Bauer said that jicama can help combat bloating. Who knew? Of course, we all have our own beauty secrets and little rules of thumb we follow when buying clothes, but it's so great when the experts throw out a really interesting piece of advice we've never heard before.
We've had so many wonderful guests on Mondays With Marlo, and I've always enjoyed talking to the style and beauty experts we've had on. They always have so many ideas about expressing yourself through your personal style. And, yes, I know that fashion is fleeting and beauty is in the eye of the beholder, but let's be honest - who doesn't enjoy looking their best?
So, in that spirit, we've put together a slideshow of some of the best tips we've gotten from our most stylish friends. They may not all work for you, but when you hear it straight from the experts themselves, you know it's a note worth taking.
Enjoy!
15 Expert Tips on Fashion and Beauty
Black Isn't Always Slimming It is true that darker colors do have a slimming affect. However, black is only slimming if it fits you properly! As Tim says, the more volume your clothes have, the more volume you will appear to have. Watch.

Try Zinc For Healthy Hair The mineral zinc is involved in tissue growth and repair--and that includes hair growth. Low levels of zinc can cause hair loss, slow growth, and dandruff. But the amount you get from eating foods rich in zinc--such as oysters, crab, clams, liver, lean beef, most nuts and seeds, peanut butter, wheat germ, fat-free yogurt, and chestnuts--is plenty to keep your tresses gorgeous.

Jog In Place For A Glamorous Glow Got five minutes before stepping out? Jog in place for five minutes. Your increased heart rate will give your face and skin a beautiful, healthy glow while providing a mini cardio workout and energy boost.

Choose The Right Skirt Length For Your Body Forget about the runway, look at your body. If you have broad shoulders and a narrow hip, wear the mini drop-waist dresses. If you're an hourglass shape, a pencil skirt works best. Don't focus on being skinny, focus on balancing your body. So, if you're really petite on top, with curvy hips, add ruffles up top and keep it simple below, so you look long and lean and balanced. Watch.

Three Must-Have Make-Up Essentials For the cosmetically challenged, the question is often: "What do I buy?" or "What do I need?" According to Trae Bodge, everyone should have a good concealer, because our skin isn't even all the time. She also suggests a great blush, like a gel blush that can double as a lip stain. And lastly, a good mascara to lengthen your lashes. You can pull yourself together really quickly with just those three items in your makeup bag. Watch.

Try To Be Stylish Every Day First, it's important that you feel comfortable in your clothes. Secondly, surprise everybody! Do something that's a little bit different, this is a huge factor that makes up one's personal style. And third, always think outside of the box when you're getting dressed. Watch.

Men: Pay Attention to Detail According to Kelly, there are a few things that men can do to improve their everyday style. Not only does she recommend men invest in a nice pair of dress shoes, but she also warns that all men should wear their pants at an appropriate level, and always wear clothes that are suitable for their age! As for the details, Kelly says a nice shirt with cuff links is a cut above the rest and a great pair of dress socks can do wonders. Watch.

Avoid Capri Pants For many women, the capri pant is simply not a flattering shape. It cuts you off at the widest point of your calf, so it makes most women look shorter. The cargo capri pant is the worst, because it makes you look even shorter and wider. It belongs in a utilitarian context, such as plumbing. Finally, the dropped-crotch pant makes you look like wearing diapers; just don't do it! If you only dress for comfort, stay in bed. Watch.

Go Casual On A First Date Go for something inviting, such as a cowl neck sweater or a cardigan wrap sweater. Avoid constrictive, "high-maintenance" clothing. Sometimes a fun scarf or jeans are good choices because they give the impression that you're not trying to impress someone; you're trying to be yourself. As a rule: you should wear the dress, the dress shouldn't wear you. Watch.

Eat Tropical Fruit For Great Skin Eating guava, pineapple, papaya, kiwi and other tropical fruits that contain vitamin C will help defend your skin against damaging free radicals. Vitamin C is a powerful antioxidant that is naturally found in the skin, so eating tropical fruits and other vitamin C-rich foods can replenish your skin's stores. Vitamin C also helps your body produce collagen, a protein that helps keep your skin firm and elastic.

Don't Waste Money on Single-Season Items First off, Kelly says it's not a great idea to spend a lot of money on designer pieces, unless they can be sold at auction at Christie's or Sotheby's. Instead, Kelly recommends you get your trend pieces at places like Target and H&M, because those trends items aren't going to last longer than a season! Watch.

Beware The Formal Wear No-Nos Always wear something that fits! Make sure you have shoes you can walk in. There's nothing more distracting than a woman inching into a room. Too much make-up and hair is unnecessary. And, remember to wear a wrap, so you're not cold. Confidence is going to be your best accessory. Watch.

Try Jicama To Beat Bloating Expand your produce horizon and try jicama. This low-calorie root vegetable has a crisp texture and slightly sweet, nutty flavor and happens to be a great source of potassium, which has anti-bloating properties. Jicama is a high-volume, low-cal snack at just 50 filling calories per cup. See More

Get These Three Wardrobe Staples Everybody has their own ideas about the three essentials, and Isaac's go from top to bottom. He says you need a high-heeled black sandal, a great lacy bra and a meaningful handbag. Watch.

Avoid Bright Colored Hair Do not dye your hair purple, blue, rocker red or green, for that matter. Smurfs and troll dolls are not the look for fashion. If you are not selling records, color on your head is a big don't!
Follow Marlo Thomas on Twitter: www.twitter.com/MarloThomas