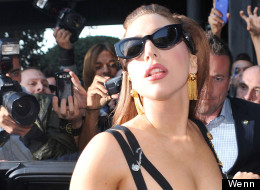 When Lady Gaga recently gained 25 pounds, the internet went crazy posting the "shocking" photos, along with derogatory comments and even speculating as to whether she may have packed on the pounds as a publicity stunt. Really? Who does that? In response to all the negative commentary, Gaga attributed the weight gain to simply eating too much pasta at her father's restaurant. But she also revealed that she has been suffering from eating disorders since she was 15.

Christina Aguilera was also in the news recently when she addressed her weight gain over the past year. She said that she had simply grown tired of constantly struggling to be super skinny in order to please record executives. She said that throughout her career, executives at her record label pressured her to remain thin and even went so far as to stage a weight intervention, but this time she told them, "I'm fat. Deal with it." She went on to say, "They need a reminder sometimes that I don't belong to them. It's my body."
Of course, eating disorders and the societal pressures to be thin are nothing new. And they are nothing to trivialize. They are painful for the girl or woman who is going through them, as well as their families. Even my good friend Katie Couric recently revealed that she, too, had suffered from bulimia in her teens and twenties as she strived for physical perfection. These revelations -- and conversations -- are a good thing. They help us know that, however down we may feel about our bodies at different times in our lives, there are many women we hold as role models who have been there, too. Lady Gaga, who is ahead of the pack in so many ways, sent a very positive message to her legions of fans -- to accept their bodies regardless of weight, scars or any other perceived "imperfections."
This positive reinforcement is much needed. Young women -- and some older ones as well -- can't help but feel insecure as they leaf through the fashion magazines' portrayal of young women with unattainable, airbrushed imagery that depicts an entirely unrealistic physical ideal. And even though we should know better by now, many of us are still comparing ourselves to that ideal.
So we thought our best response to the recent public scoldings these famous women are getting for putting on a few pounds is to remind us all that there are images of strength and success and beauty around us that are not airbrushed. And don't ask to be.
We all know that carrying too much weight can cause serious health problems. Obesity can lead to diseases that can threaten our lives. But that needn't force us to hold ourselves to one ideal. And, hey, who gets to decide what's beautiful? So let's remind ourselves and our daughters that achievement, talent and strength are beautiful in themselves. And that, by the way, physical beauty comes in a whole lot of sizes.
So in that spirit, here are ten women we love. Not a one among them is a size zero, but they all kick ass.
The Different Shapes of Beauty
In an age of manufactured pop stars, Adele is a wonderful example of true substance and talent rising to the top. The British superstar has topped the charts around the globe and the image she projects is as strong and beautiful as her vocals.

Though she may not appreciate being called "full-figured," there's no denying that the voluptuous "Mad Men" star is a complete knockout in her role as office manager Joan Harris. While some say she represents a physical ideal from another era, others may argue that she's ideal in any era.

Recording artist, movie star, producer and cover girl, Queen Latifah has always presented a confident, smart and positive image to audiences. In her ten years as one of the faces representing Cover Girl cosmetics, she has shown that beauty comes in many different shapes and sizes.

Though her weight fluctuations have been well-documented, Winslet has never allowed Hollywood to dictate her weight. In 2003, when she appeared on the cover of the UK edition of GQ magazine, she was digitally slimmed to such a degree that she felt compelled to make a public statement. "I do not look like that, and more importantly, I don't desire to look like that." Beautiful.

Though Jennifer Lopez is now a global superstar, and an international sex symbol, her body type was not always considered ideal by Hollywood standards. But Lopez was smart enough to know that you work with what you have and you make the most of it. And by fully embracing her figure and celebrating it rather than trying to hide it, she helped change perceptions about what is truly an "ideal" figure.

Star-on-the-rise Mindy Kaling stepped into the spotlight on the NBC series "The Office," and is now writing and starring in her very own series, "The Mindy Project." Whether she is acting, writing or walking the red carpet, Mindy seems well-aware that it is her uniqueness in a sea of same-ness that sets her apart, and that trying to conform to the ideals of others is truly a fool's game.

Ever since Clarkson won the first season of "American Idol" in 2002, both the media and the public have obsessed about her weight. But through it all, Clarkson has shown the same independence, resilience and confidence that is reflected in her music. By rejecting industry pressure to present herself as something other than what she is, Clarkson has become a positive role model to millions of young women.

Character actress Jennifer Coolidge has appeared in countless films and television shows, but she is perhaps best-known as the sexy "Stifler's mom" in the film "American Pie." Whether she's playing a bubble-headed manicurist in "Legally Blonde," a ditzy dog owner in "Best in Show," or the kooky neighbor on the hit show, "2 Broke Girls," Coolidge is consistently sexy, funny and endearing, and she has never needed to be a size zero to play the "hot blonde."

From her hilarious turn in "Bridesmaids" to her TV series "Mike & Molly," Melissa McCarthy has become a fan favorite with her brilliant comic timing and versatility as an actress. Though she may play characters who have issues with their weight, she is never the butt of the joke. Instead, she makes us laugh with her attitude, her energy and her spot-on characterizations.

As CNN's Chief Political Correspondent and host of "State of the Union," award-winning journalist Candy Crowley has earned industry-wide respect and admiration the old-fashioned way -- she worked her way up from a position as a radio newsroom assistant. On October 16, she will become the first woman to moderate a presidential debate in two decades.
Follow Marlo Thomas on Twitter: www.twitter.com/MarloThomas