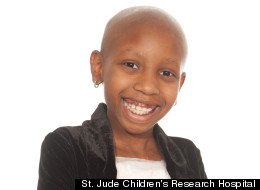 Today I want to introduce you to Paishence, a beautiful nine-year-old girl with a smile that could melt the icecaps. She's a patient at St. Jude and a part of our annual Thanks and Giving campaign, and her incredible and moving story is one of several we've been featuring on the TODAY show this week.
Like most nine-year-olds, Paishence loves to be outside. She likes climbing trees and playing in the dirt. But when her right leg began to hurt, her mother took her to the doctor, who said it was probably just growing pains. But when the discomfort continued, Paishence's mother returned to the doctor's office and asked him to look deeper. Tests soon revealed a mass on Paishence's right femur.
Her doctor sent her to St. Jude, and within a week, Paishence was found to be suffering from osteosarcoma, a type of bone cancer that is the second most prevalent childhood cancer. Luckily, Paishence and her mother were in the right place and treatment began right away.


Paishence's treatment includes chemotherapy, but she also had to undergo a limb-salvaging surgery. She and her family were terrified that Paishence would lose her leg, but the affected bone was successfully removed and replaced with a prosthesis that can be adjusted as she grows. This procedure, in which a titanium rod "grows" with the patient, was pioneered at St. Jude Children's Research Hospital. Luckily for Paishence, St. Jude's research has helped improve the survival rate of childhood osteosarcoma from 20 percent years ago to 70 percent today.
Paishence can't play outside right now, but she loves to read and do arts and crafts. She likes to keep busy and she amazes us all with her terrific attitude and wonderful creativity. She's spending her time these days writing a book about girls from different types of families who all come together as friends, and she's doing all of the book's illustrations, too.
Watching Paishence's progress is a nothing short of joyous for those of us who have gotten to know her, because when she flashes that smile, we all feel so much better.
If you find Paishence's story inspiring, please consider donating to St. Jude's.
Friends of St. Jude Children's Research Hospital
A long-time friend of St. Jude, Jennifer Aniston always brightens the day.

The "Flying Tomato" visits with patients.

Singer Sheryl Crow plays guitar for St. Jude patient Kennedi.

Robin Williams never fails to make the kids smile.

Dwyane Wade from the Miami Heat visits with his new friends.

Morgan Freeman with the children of St. Jude.

George Lopez spends some quality time.

Here I am dancing at Markell's off chemo party!

No Mo' Chemo!

Dog petting day at St. Jude!

Dog petting day at St. Jude.

Singer Gavin DeGraw with St. Jude patients Chase and Ellie.

Singer Michelle Branch with St. Jude patient Haley.

Singer Sheryl Crow enjoys cupcake decorating with St. Jude patient Mia.

With my brother Tony at the unveiling of my Dad's statue at St. Jude.

Here I am with my brother Tony and his daughter Kate at my dad's statue unveiling at St. Jude.

My father's new statue at St. Jude - with my brother Tony, nieces Kate and Kristina, and nephew Jason.

Here I am in front of my Dad's new statue at St. Jude with some of the wonderful patients there.

Brad Paisley and Kimberly Williams-Paisley with a St. Jude patient Katelyn Atwell.
Follow Marlo Thomas on Twitter: www.twitter.com/MarloThomas