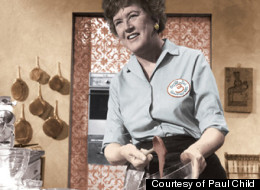 Julia Child was a great chef, but she was also hilarious -- a true original. There are a lot of chefs we admire today, but Julia was the only who could flip a pancake, miss, have it flop onto the floor and say "Oops!" -- then toss it back into the pan and carry on.
But Julia never set out to be a famous chef. As she herself once said, "I was 32 when I started cooking. Up until then, I just ate." Wasn't she delicious?
That was the magic of Julia Child -- who would have turned 100 this week. From her straightforward recipes to her stove-side candor to the ease with which she floated around the kitchen, she could make even the most food-challenged among us feel like we were master chefs.
She also brought bagloads of humor and enthusiasm to her cooking shows, making the art of fine cuisine seem easy and fun. It was precisely that giddy delight and what-the-hell sass that Dan Ackroyd loved to spoof on Saturday Night Live, with his famous impression of Julia. Her amazing life story also led to Meryl Streep's tasty portrayal of her on film (Julie and Julia); and her success on television landed her at number 46 on TV Guide's list of the "50 Greatest TV Stars of All Time."
Her late start in her career is legendary. It wasn't until she found herself a bored military wife in Paris that Julia decided to sign up for a cooking class at Le Cordon Bleu. That changed her life. She proceeded to become a true master of French cuisine, and she educated millions with her numerous books and television programs. In the end, she made a complicated -- and sometimes intimidating -- craft seem completely effortless, and she always put her audience at ease.
Her spicy irreverence notwithstanding, however, Julia made a serious impact. To this day, she is still revered by countless chefs and TV personalities who have followed in her footsteps.
When I asked Anthony Bourdain for his thoughts on Julia, he gushed with praise.
"Julia Child was the single most important, influential and game-changing figure in the history of American gastronomy," Anthony said. "Everything tracks back to her. And though uniquely situated to do so, she never endorsed a thing: not a pot, not a pan, not a chain of restaurants, not a spice blend, apron or boil-in-the-bag dinner. She will be remembered for what she did on this earth, which was to inspire millions to cook -- and eat -- better."
Emeril Lagasse echoed Anthony's sentiments:
"Julia was a mentor to me," he told me. "She absolutely influenced the way I approach and prepare food. She helped change the way the American public viewed cooking and dining. She was one of a kind, and an incredible human being."
So, yes, Julia was a complete original, and that's why I love her and miss her. She was who she was and always seemed to be having a great time. She never set out to change the world, educate the masses or become a best-selling author and TV star, but she accomplished all that, anyway -- with grace, humor and, of course, her signature sign-off: "Bon appétit!"
If you ask me, that's a pretty good recipe for success.
So on this 100th anniversary of Julia Child's birth, I'll leave you with this wonderful quote of hers that truly sums up her unforgettable spirit:
"The best way to execute French cooking is to get good and loaded, then whack the hell out of a chicken. Bon appétit. "
Happy Birthday, Julia! You're still cookin'!
As a cultural icon, Julia became fair game for TV's top comedians. In 1978, Dan Aykroyd impersonated her on "Saturday Night Live," mocking the frequent mishaps that she encountered on the show. In the skit, Aykroyd pretends to cut his thumb while cooking, and continues the show while trying to suppress the injury, refusing to stop filming.

Nora Ephron's film "Julie and Julia," starring Meryl Streep and Amy Adams, followed the lives of Julia Child and Julie Powell, a young blogger who seeks to cook all of Child's classic recipes in one year. The first major film based on a blog, "Julie and Julia" had a positive response from critics and was nominated for several prestigious awards.

In 1993, Julia became the first woman to be inducted into the Culinary Institute Hall of Fame. In 2000, she received France's prestigious Legion d'Honneur for popularizing French cuisine and in 2002, the Smithsonian National Museum of American History opened an exhibit that displayed the kitchen where she filmed three of her cooking shows in the 1990's. She was awarded the U.S. Presidential Medal of Freedom in 2003.

Julia and Paul worked as a team, each using their talents to contribute to Julia's vibrant career. Paul served as a photographer, manager, proofreader, recipe tester and anything else that Julia needed him to be. He reveled in her success, supporting her in every way possible.

Julia was known to be a prankster in her younger years. When she wasn't stirring up mischief, she threw her energy into various sports including golf, tennis and small-game hunting. Here, she is pictured in Smith College's 1934 yearbook.

Though she towered above her classmates at six feet two inches tall, Julia used humor and wit to fit in. Here she appears (front row, center) with fellow Junior Promenade Committee members at Smith College in 1934.

After college, Julia pursued a career in writing without much success. When World War II began she decided to focus her attention elsewhere, and moved to Washington D.C., where she volunteered as a research assistant for the Office of Strategic Services (OSS). In this position, Julia was sent around the world on assignments, liaising between government officials and intelligence officers. Here, she is pictured with OSS colleagues.

In 1945, while on an assignment in Sri Lanka, Julia met fellow OSS employee Paul Child. The two fell madly in love and married a year later.

When Paul was transferred to France in 1948, Julia found herself bored as a housewife with no children. She began taking classes at Le Cordon Bleu Cooking School and quickly grew passionate about French cuisine. Soon, she partnered with classmates Simone Beck and Louisette Bertholle to begin teaching French cooking to American women in her kitchen. The informal school was named The School of the Three Food Lovers.

Paul Child's position kept Julia moving throughout Europe, but she kept in communication with Beck and Bertholle, researching and testing recipes. Julia translated the recipes into English and inserted her personality into the classic cookbook "Mastering the Art of French Cooking," which was published in 1961.

In order to promote her cookbook, Julia made an appearance on a public TV show in Boston, which garnered such an enthusiastic response that she was invited back to do her very own cooking show. Julia became a local celebrity on "The French Chef", and the show was soon syndicated to almost 100 TV stations across the country.

Over the course of 10 years, "The French Chef" won a Peabody Award and various Emmy Awards. Julia's humor was a staple on the show, as were mishaps that she incorporated into her cooking lessons. Each show ended with Julia's signature "Bon appétit!"

Like any good chef, Julia wrote a host of cookbooks following the smash success of "Mastering the Art of French Cooking." She went on to pen "The French Chef Cookbook," which featured recipes that she had cooked on the show, "Mastering the Art of French Cooking, Volume Two" and "From Julia Child's Kitchen," which featured notes she had compiled on set and photographs taken by her husband. In 1980, she won a National Book Award for her book "Julia Child and More Company."

Julia's TV success extended far beyond "The French Chef." She starred in various television series in the 1970's and 1980's, including "Julia Child & Company," "Julia Child & More Company" and "Dinner at Julia's." She was just as active in the 1990's, starring in "Cooking with Master Chefs, In Julia's Kitchen with Master Chefs," "Baking With Julia, and Julia Child," and "Jacques Pépin Cooking at Home."

"Retired people are boring," was Julia's motto, so even in her 90's, she was working on her next endeavor. Julia's final book "My Life in France" was published after her death in 2004 with the help of her great nephew, Alex Prud'homme. The book chronicled Julia's life with her husband in post-World War II France, and eventually became a bestseller.
Follow Marlo Thomas on Twitter: www.twitter.com/MarloThomas